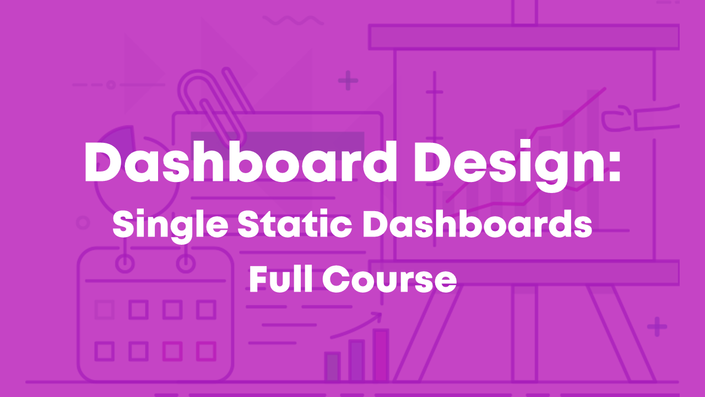 Dashboard Design: How to Make Static Dashboards in Excel (Full Course)
Design static one-pagers in Excel that inform, inspire, and look great.
Yes, you need a one-pager.
Leaders have more important things to do than read Dusty Shelf Reports.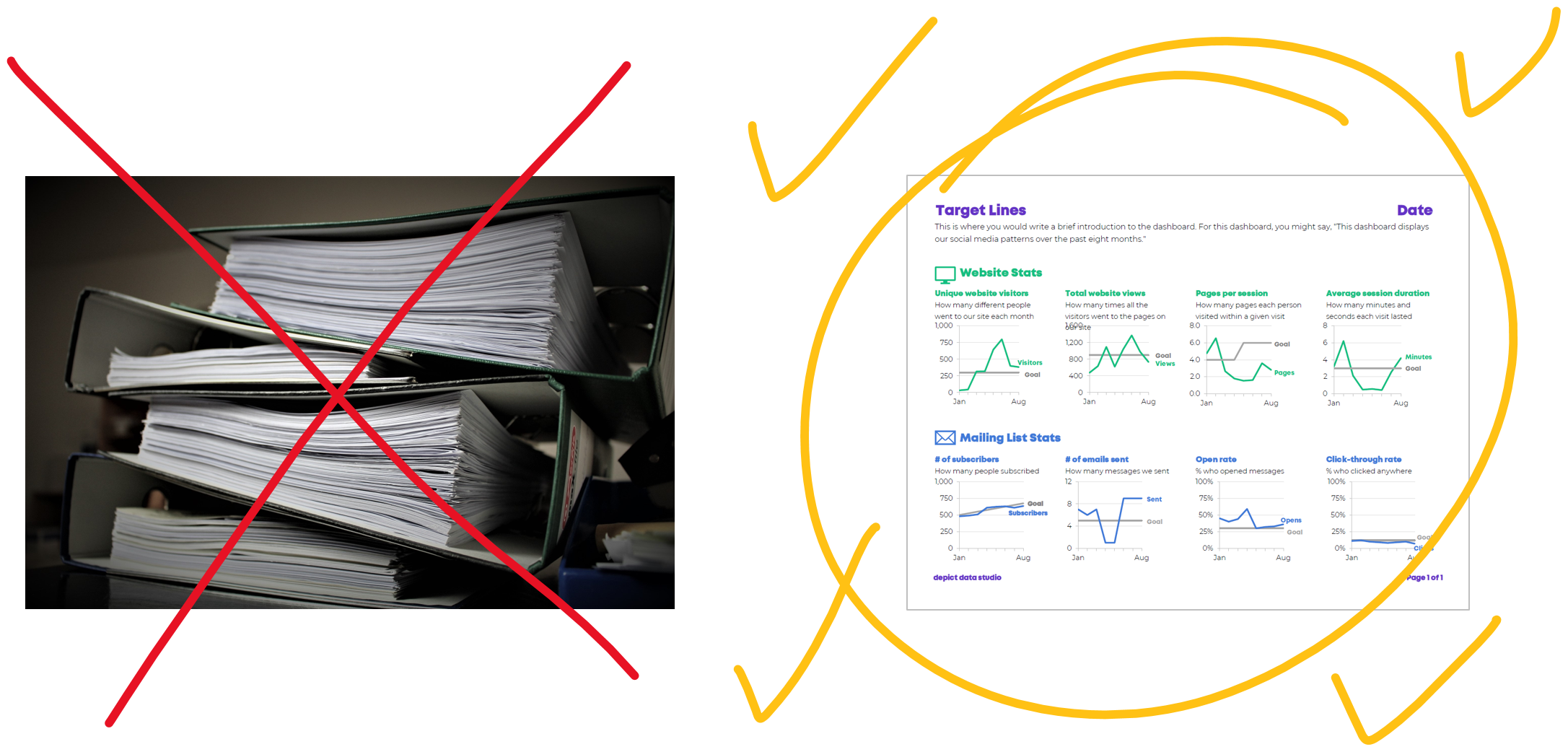 No, not this one-pager.
Here's what my work looked like in 2009...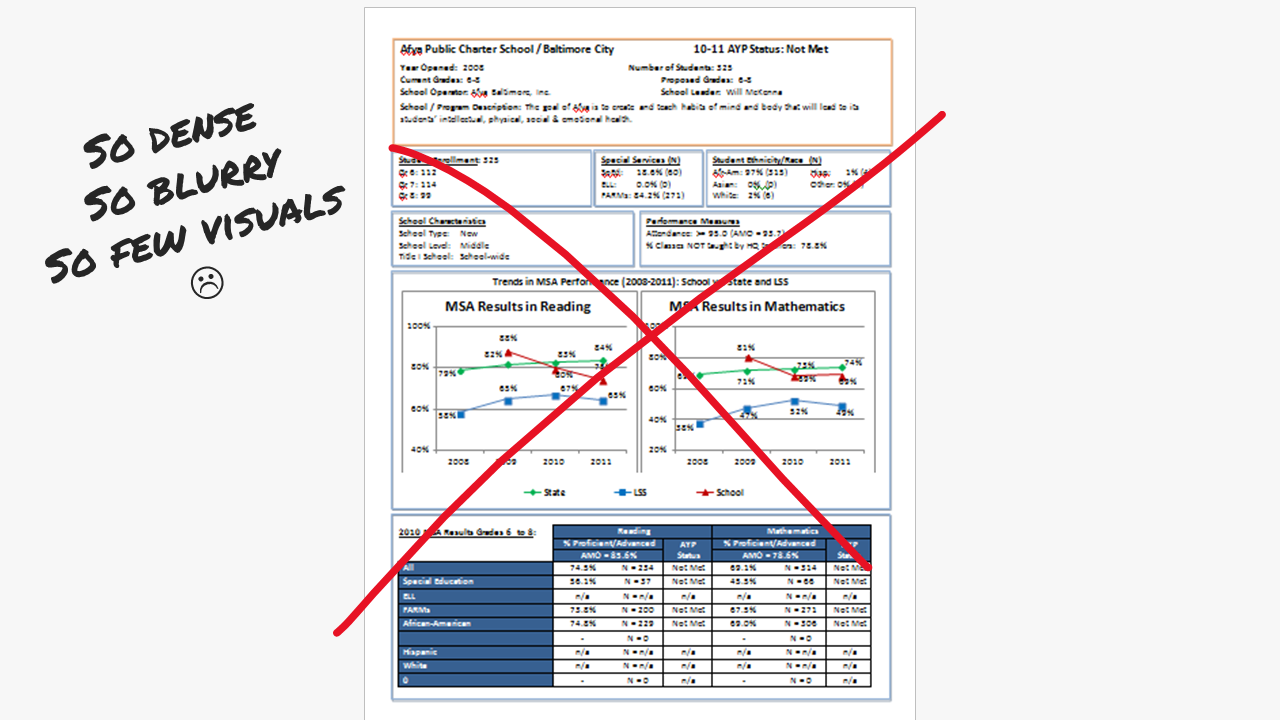 More of these dashboards, please.
Design dashboards that inform, inspire, and look great--all from the comfort of spreadsheet software you already have, like Excel.

Wait, what? There's no way you did that in Excel.
Stop searching for the perfect software program. You're already sitting on a gold mine.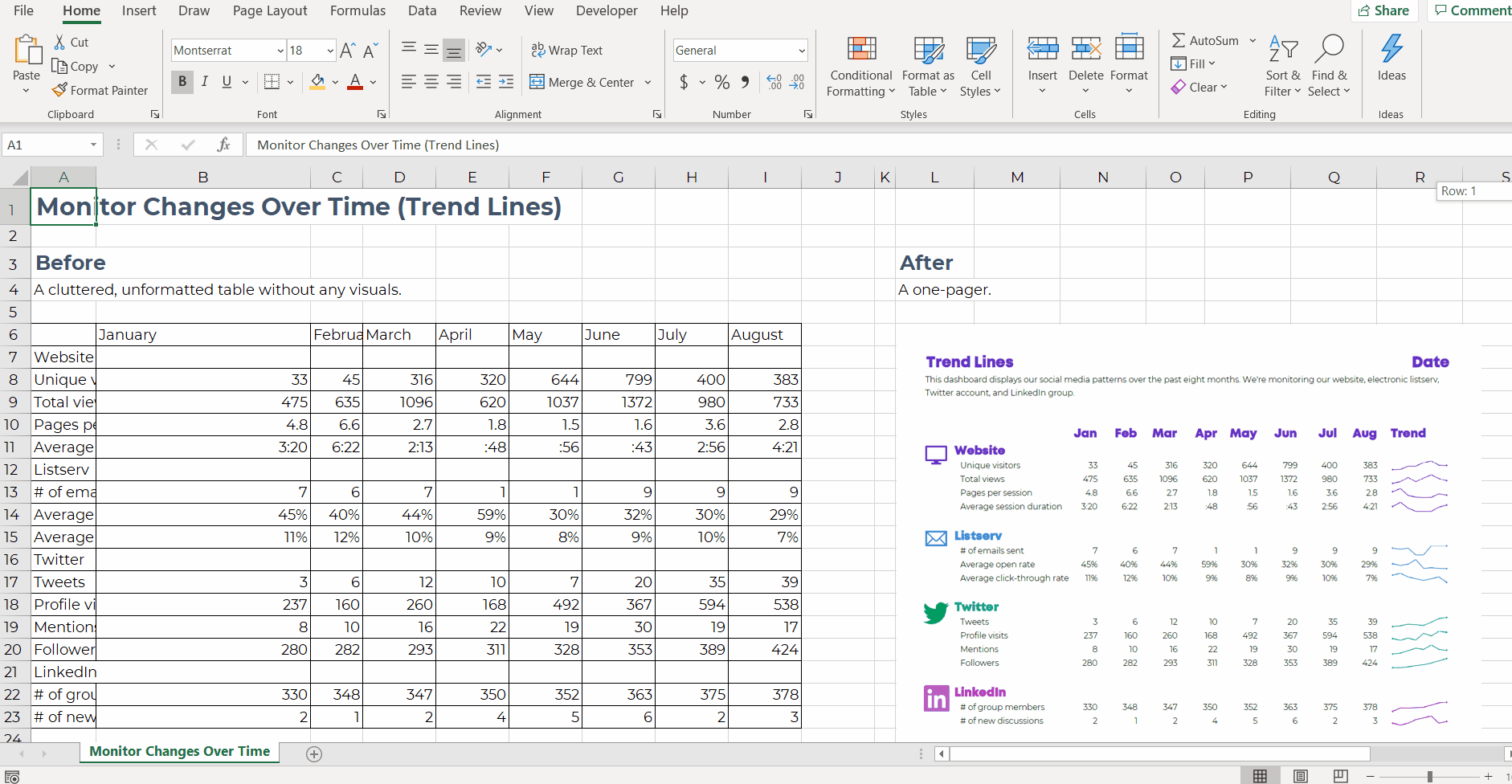 But how do I share these dashboards with my audience?
The completed dashboards get shared with your audiences as PDFs.
Your dashboards will make outstanding printouts for your staff meetings, board meetings, and conference sessions.
You can also share your polished masterpieces as email attachments.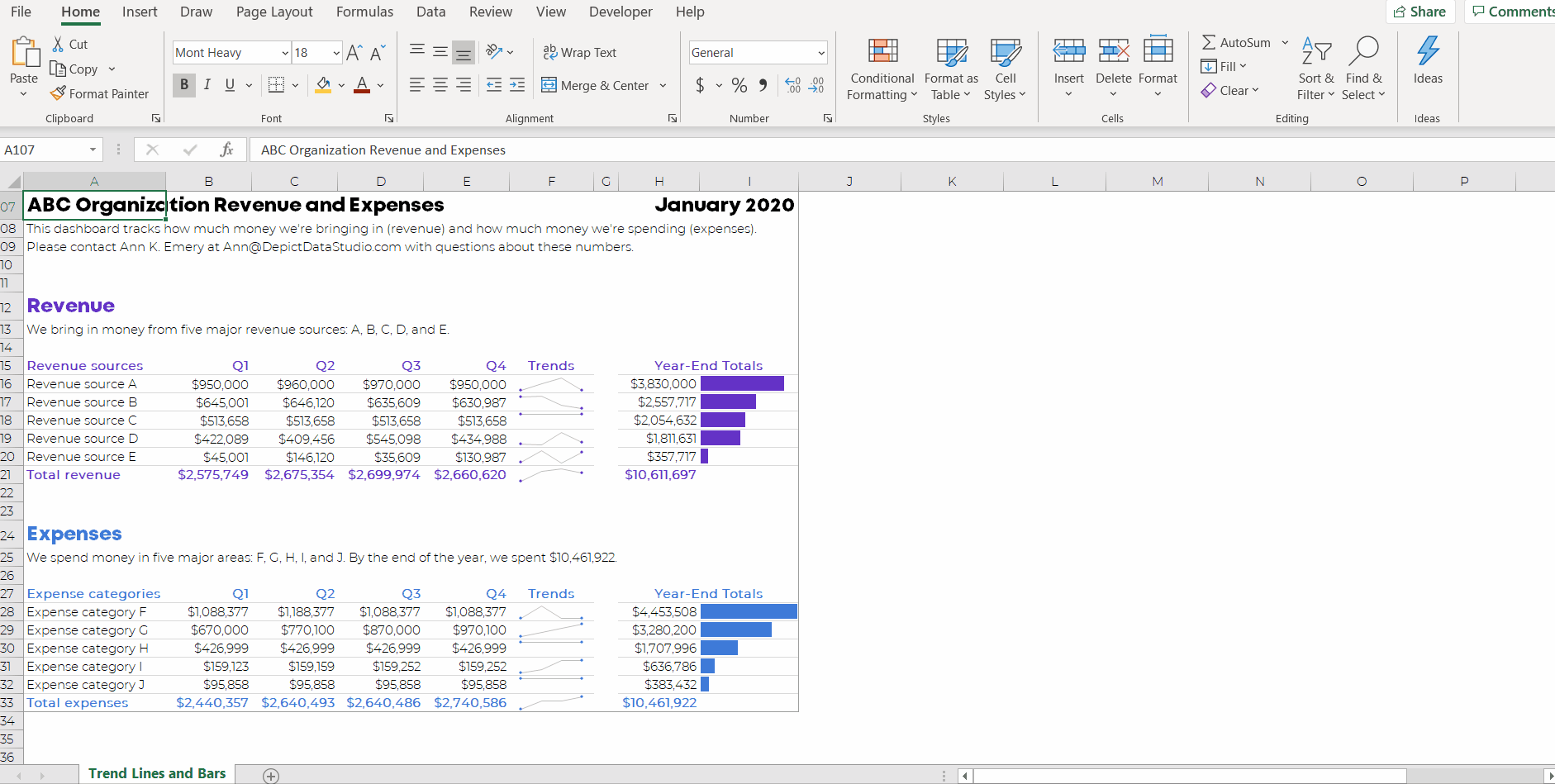 What about interactive dashboards?
Save your boss time. Send them a one-pager.

Don't make them remember another password to another dashboard software program. Don't make them click through a million drop-down menus and checkboxes to find the insights they're looking for.
Static dashboards deliver the right information to the right person at the right time.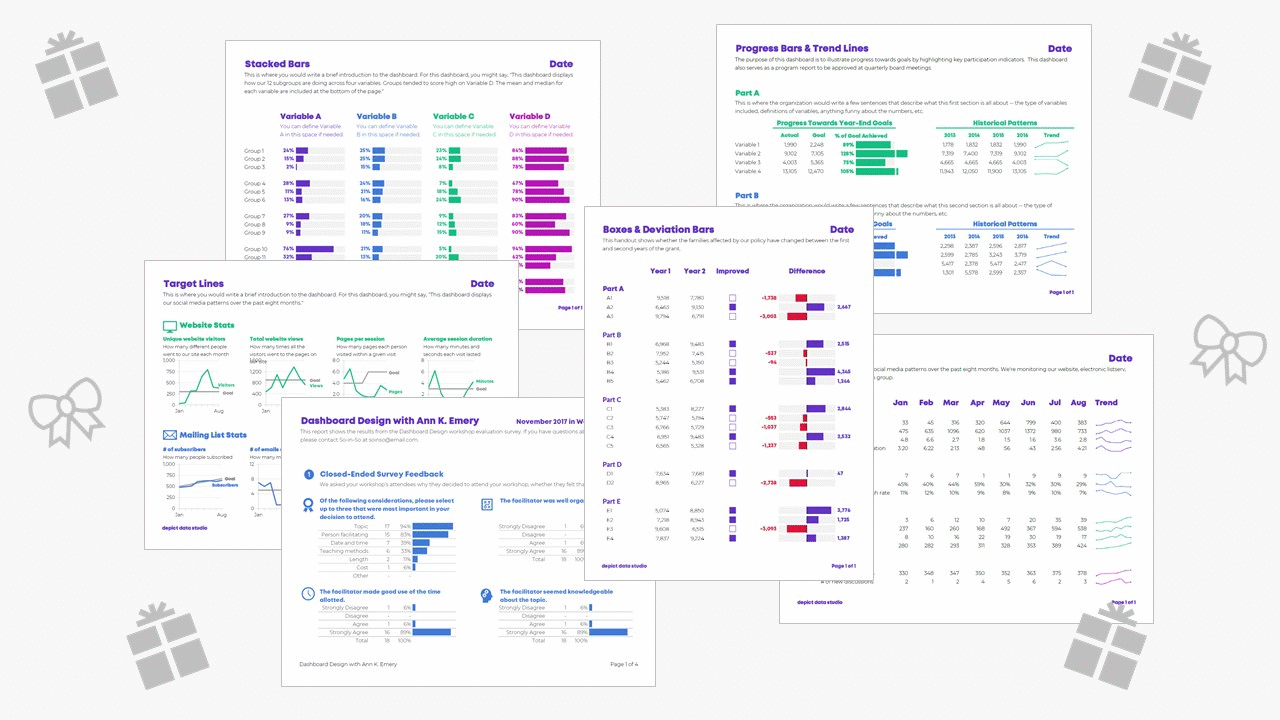 What's included in this Full Course?
I'm going to transform you into the dashboard hero that your organization needs. Here's what's included to make that happen.
Video lessons that you can watch anytime (the equivalent of my two-day Dashboard Design workshop)
Step-by-step instructions for transforming dense spreadsheets into skimmable one-pagers
2 Office Hours sessions every month to talk about your drafts and hear from guest speakers
6 additional Live Sessions just for participants in this cohort
50-page Report Redesign ebook with our checklists and case studies
Discussion boards to ask questions and post your own work
Private Facebook community of fellow participants
Weekly emails to cheer you on
Lifetime access so you don't feel rushed
Examples from a variety of industries (public health, foster care, libraries, satisfaction surveys, revenue/expenses budgeting, international development, juvenile justice, museums, and more)
Behind-the-scenes Excel magic tricks guaranteed to make your jaw drop
Video Lessons to Watch Anytime
You'll get instant access to videos lessons--the equivalent of a two-day training. You can watch these lessons anytime around your own schedule.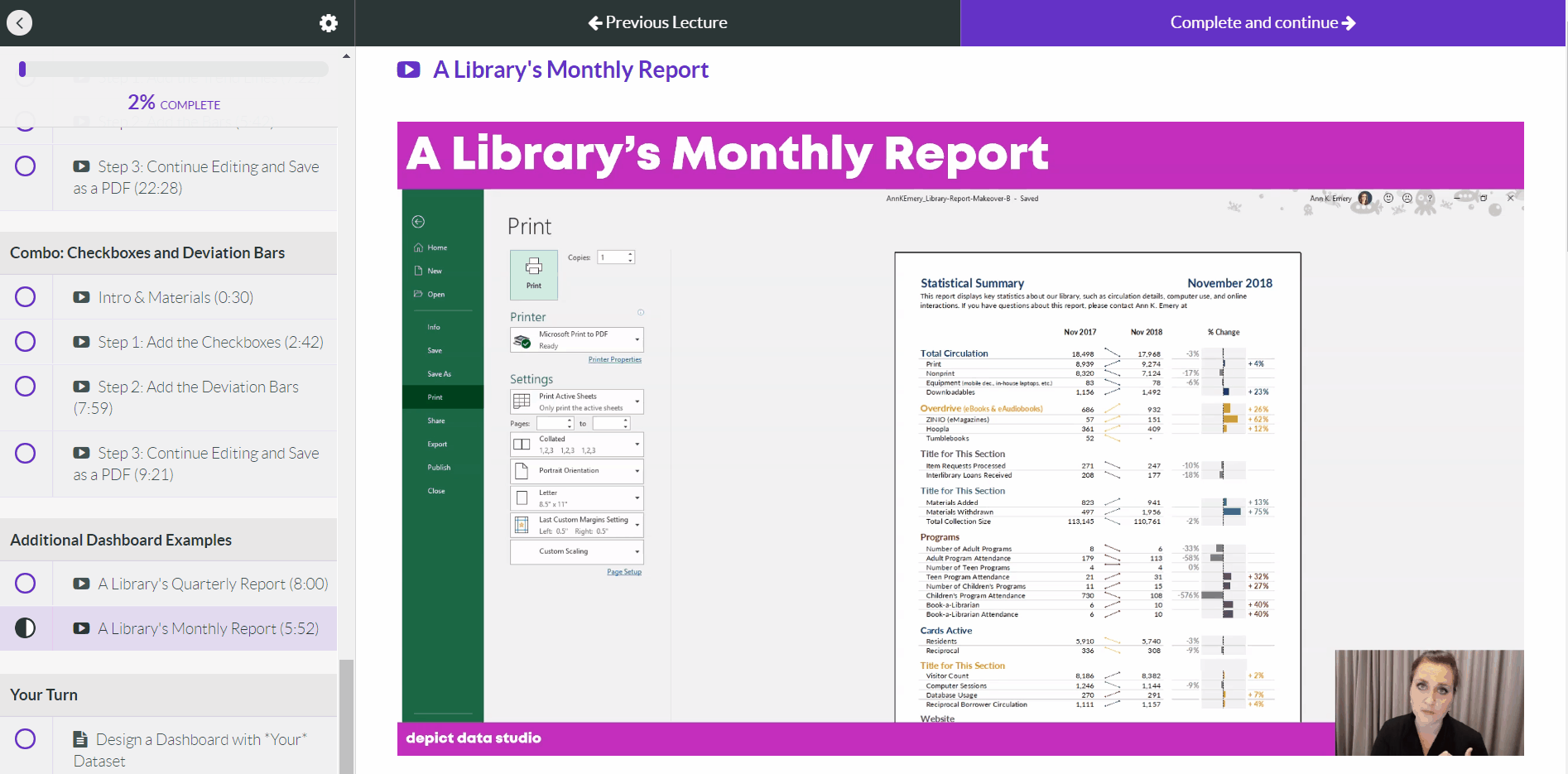 Office Hours Twice a Month
We'll even provide feedback on your projects. You'll get instant access to recorded lessons that you can watch anytime and two live Office Hours sessions every month to get targeted feedback on your drafts.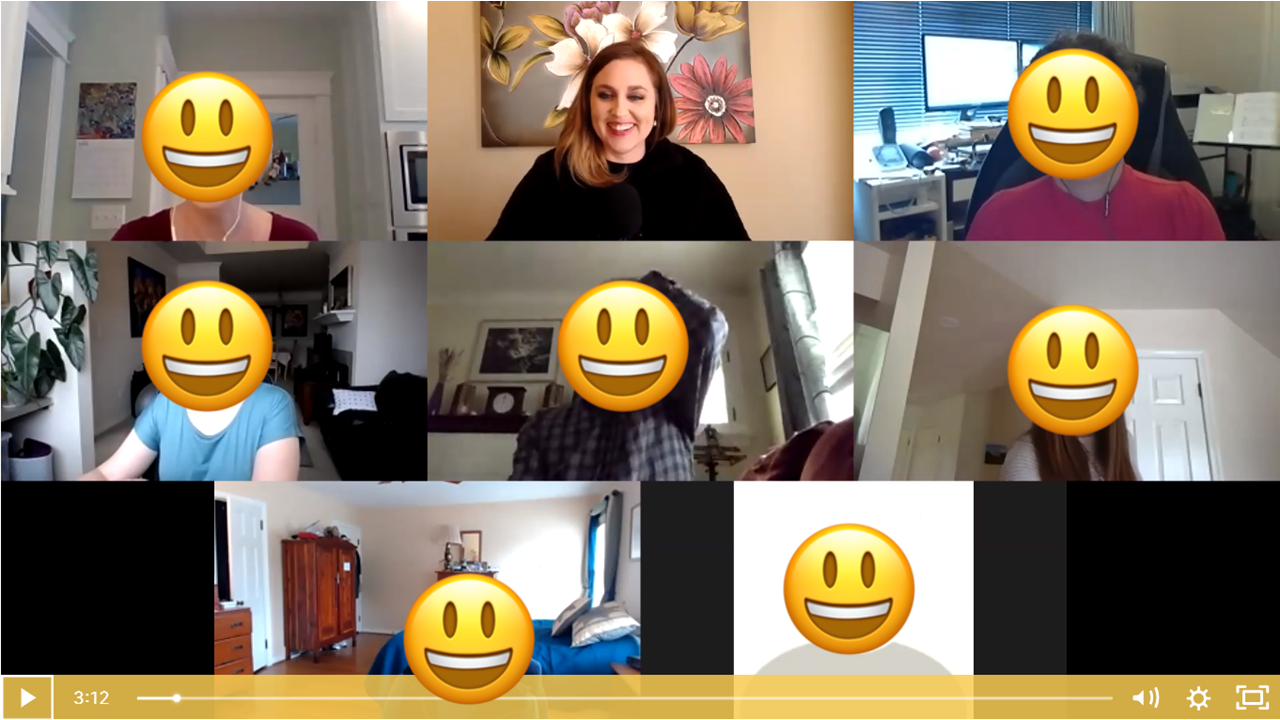 Guest Speakers in Office Hours
Sometimes we invite guest experts to speak with us during Office Hours. You'll be able to access recordings from our sessions with Elizabeth Grim (about Connecticut's COVID-19 response), Ione Farrar (about Tennessee's COVID-19 response), Brenna Butler (about user experience), Chris Lysy (about using data for social action), and Sara Vaca (about visualization qualitative data).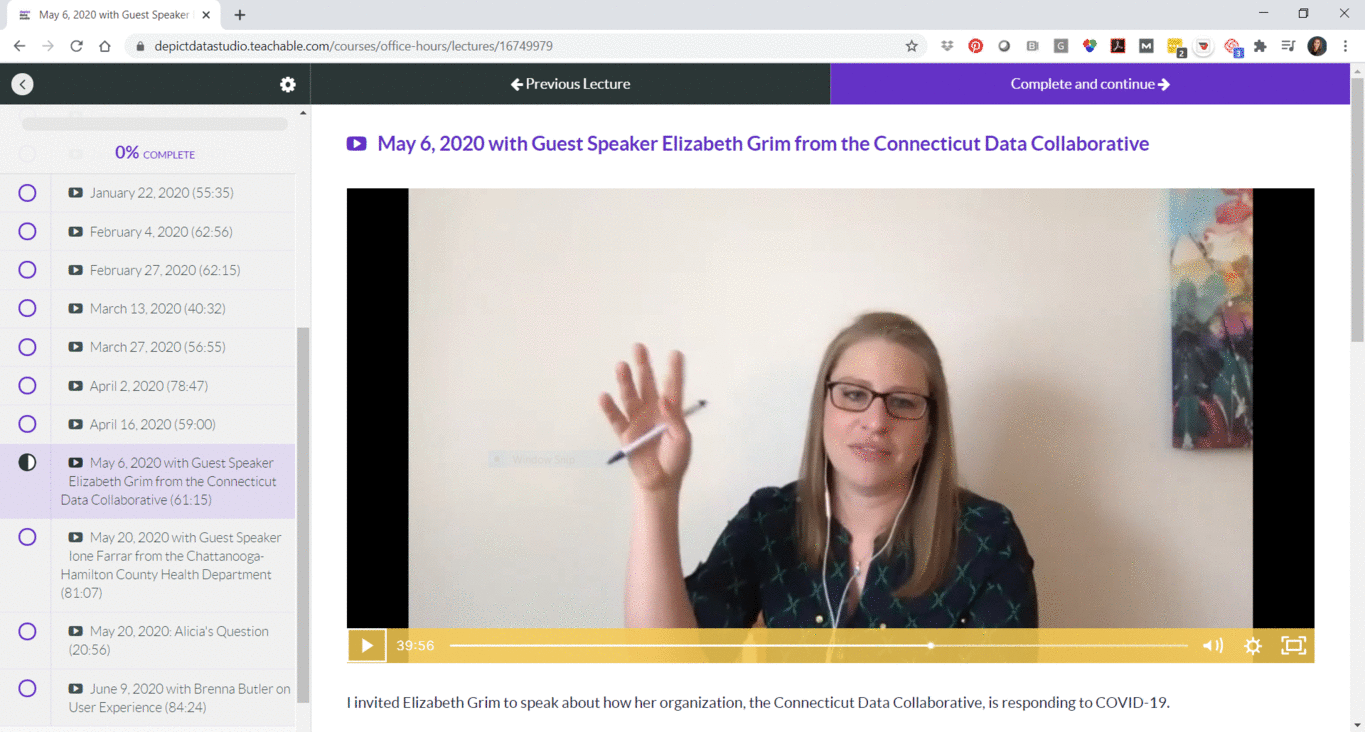 By Popular Demand! 6 Live Sessions
Office Hours are open to everyone who's taking online courses with me. By popular demand, we'll also hold six additional Live Sessions just for the participants in this cohort.
We'll work through case studies from fellow participants; hear from guest speakers; and learn about creating a series of matching dashboards in Excel.

We're meeting on the first Wednesday of the month for 6 months.
Wednesday, December 2, 2020 from 3 - 4 pm EST
Wednesday, January 6, 2021 from 3 - 4 pm EST
Wednesday, February 3, 2021 from 3 - 4 pm EST
Wednesday, March 3, 2021 from 3 - 4 pm EST
Wednesday, April 7, 2021 from 3 - 4 pm EST
Wednesday, May 5, 2021 from 3 - 4 pm EST
The sessions will be recorded in case you can't make it live.
50-Page Dashboard Design Ebook
You'll get a license to download our 50-page ebook, which contains our Dashboard Cheat Sheet and a dozen case studies from real projects
Discussion Boards to Ask Questions
Every module includes discussion boards where you can ask questions, comment on the lessons, and share your own tips with the community.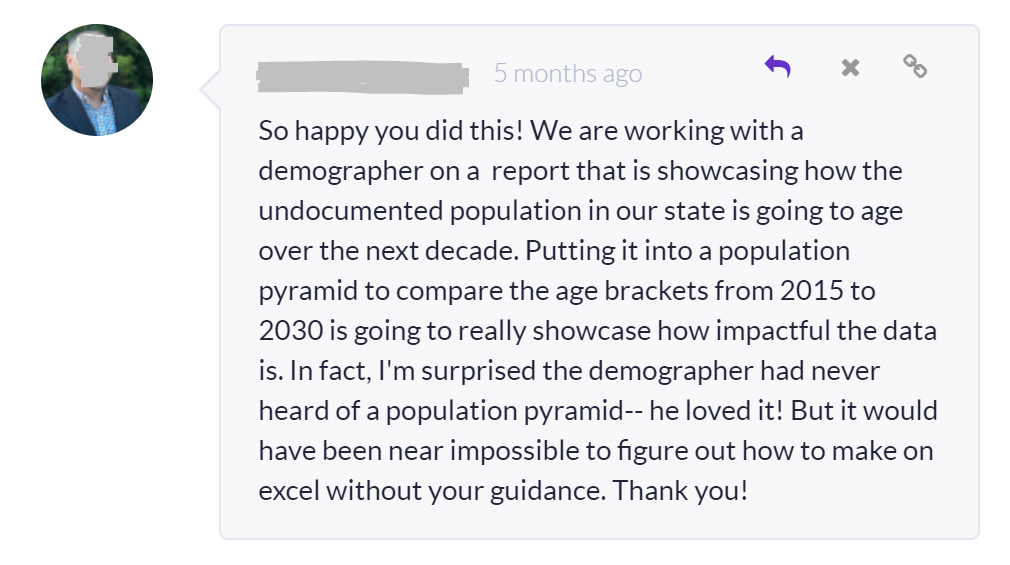 Private Facebook Community of Fellow Participants
You'll be invited to join our private Facebook community, where I offer additional Facebook Lives. You can also post your own questions and get feedback from me and from your colleagues.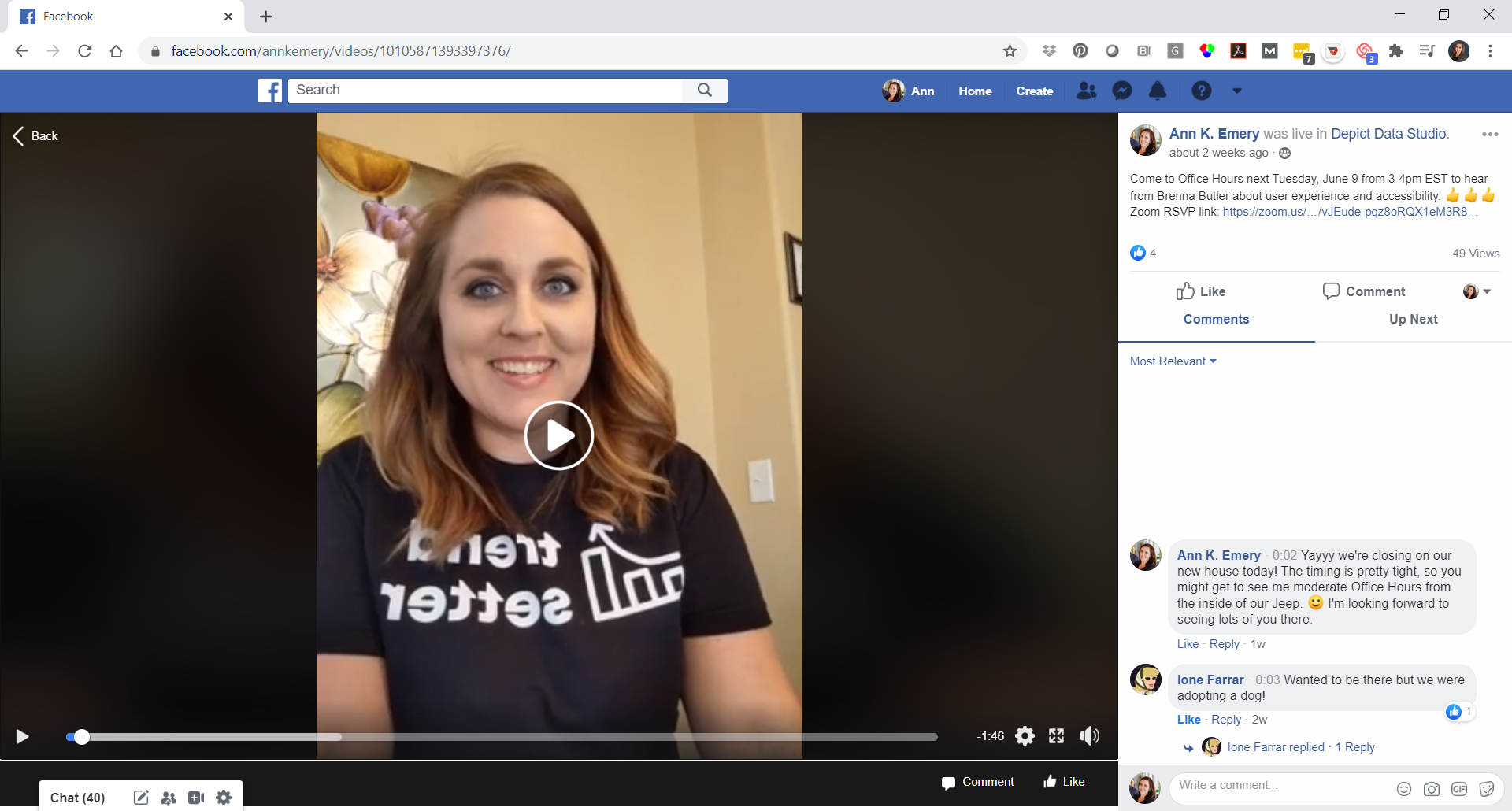 Weekly Emails to Cheer You On
I know you're going to skip straight to the juicy Excel magic tricks, but I'm going to email you on Mondays around 11 am EST and pretend like we're working through the course one module at a time.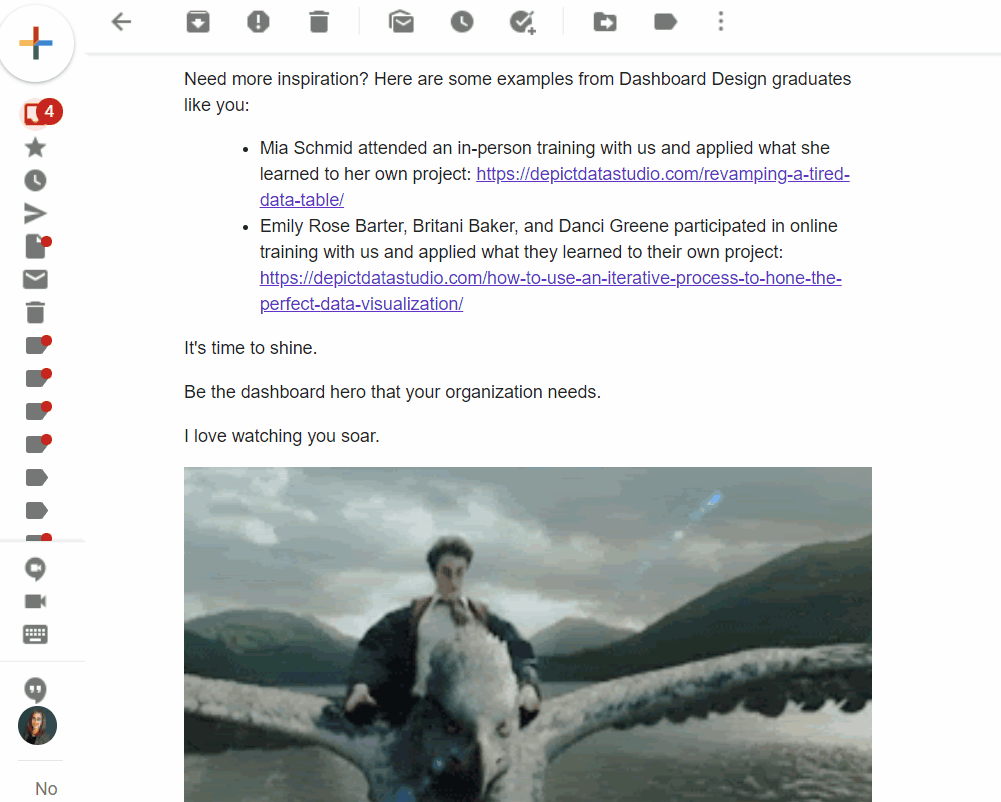 Once-a-Year Registration
Mark your calendars! This course only opens once a year for registration. The 2020 enrollment window is Monday, November 16th through Friday, November 20th. When it's open, it's open. When it's closed, it's closed.
We've also got special Early Bird Bonuses for the earliest registrants.
First 25 People
The first 25 people to register will receive a Swag Bag with a dataviz shirt, stickers, buttons, and magnets. This cohort's shirts will say "Information Architect."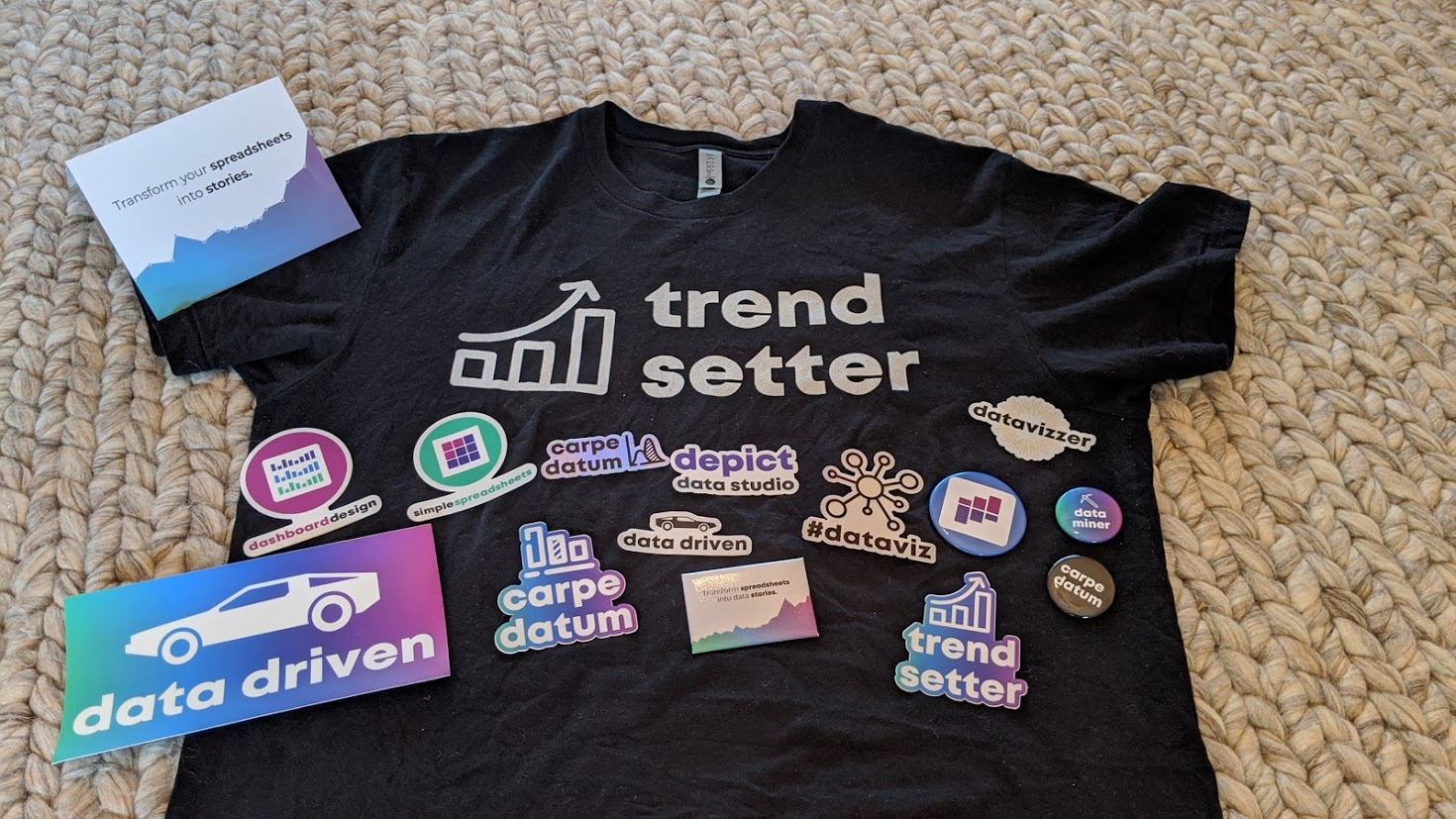 First 10 People
The first 10 people to register will ALSO receive verbal feedback on draft dashboard. I'll spend 15-20 minutes talking through everything you're already doing well, and then give you a couple priority areas to focus on the next time you design a dashboard like this. The feedback will be recorded and posted as a case study inside the course.
First 5 People
The first 5 people to register will ALSO receive a dashboard makeover. You'll send me your spreadsheet. Then, I'll work on it directly for ~30 minutes during one of the Live Sessions with the 2020 cohort. This is a great opportunity to have me consult on your project.
3,782+ participants from around the globe
have already taken the leap into better reports, slideshows, dashboards, and infographics by participating in our online courses.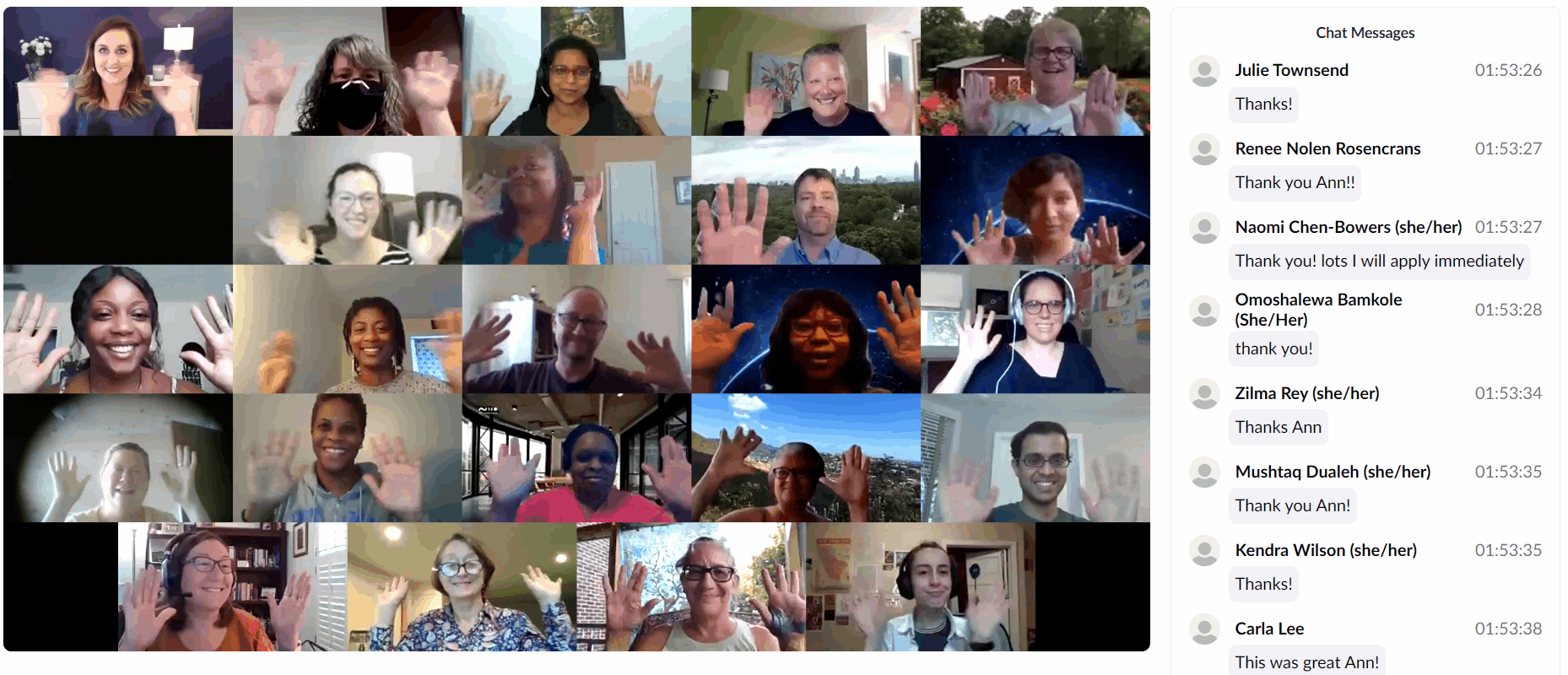 Registration Fees
Mark your calendars! Once-a-year registration is open from Monday, November 16th, 2020 through Friday, November 20th, 2020.
Dashboard Design: Full Course is the equivalent of a two-day training, plus 6 Live Sessions, 2 Office Hours Q&A sessions a month, license for our ebook, a dozen templates and how-to instructions, Facebook community, discussion boards, and weekly emails.
2020 registration fees:
One-time payment of USD $747/person
$249/month over 3 months
$125/month over 6 months
We also have group rates and group bonuses available. Email us at [email protected] to register your team.

Your Instructor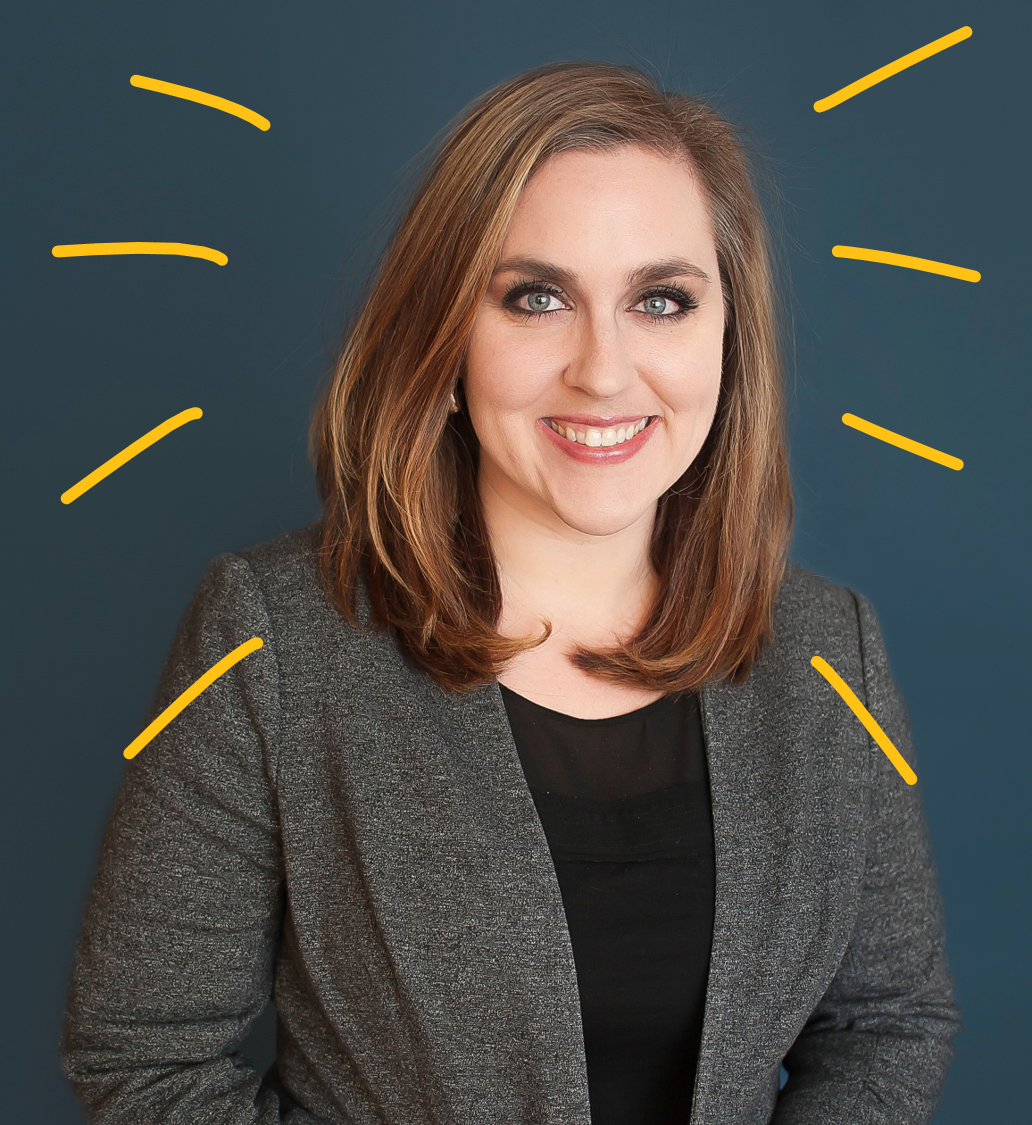 Each year, I lead dozens of in-person workshops for thousands of people. My online courses bring those skills to you, too.
Depict Data Studio also consults to the United Nations, State Department, and Centers for Disease Control, plus dozens more foundations, nonprofits, film companies, banks, hospitals, and universities worldwide.
Your data deserves to be out in the world--actionable, talked about, used--not gathering dust in spreadsheets.

Frequently Asked Questions
How long do I have access to the course?
Indefinitely. I used to limit access to just 12 months. I wanted to encourage you to get in here and learn with me, but instead it just stressed you out, so I'm not cutting off your access anymore.
Can't I just find this information on the internet or in books?!
No. I've given workshops and webinars on Dashboard Design, but you won't find these techniques in books, blog posts, or YouTube lessons.
I know you're a perfectionist and always update your courses.
Yes, and you'll receive all future updates and additions to this course.
What if I didn't read anything on this page and assumed we were going to cover interactive dashboards?
Contact us in the first 30 days and we will give you a no-questions-asked full refund.