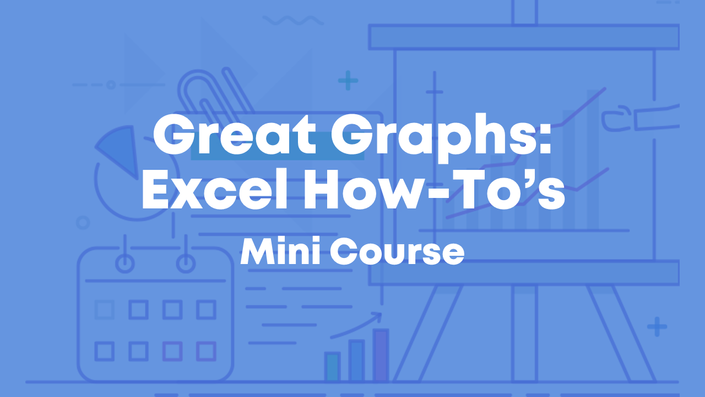 Great Graphs: Excel How-To's (Mini Course)
Make Better Dataviz with Software You Already Have
Are your takeaway findings getting lost?
Bad graphs can slow down the viewer's comprehension... increase cognitive load... and fail to inform decision-making processes.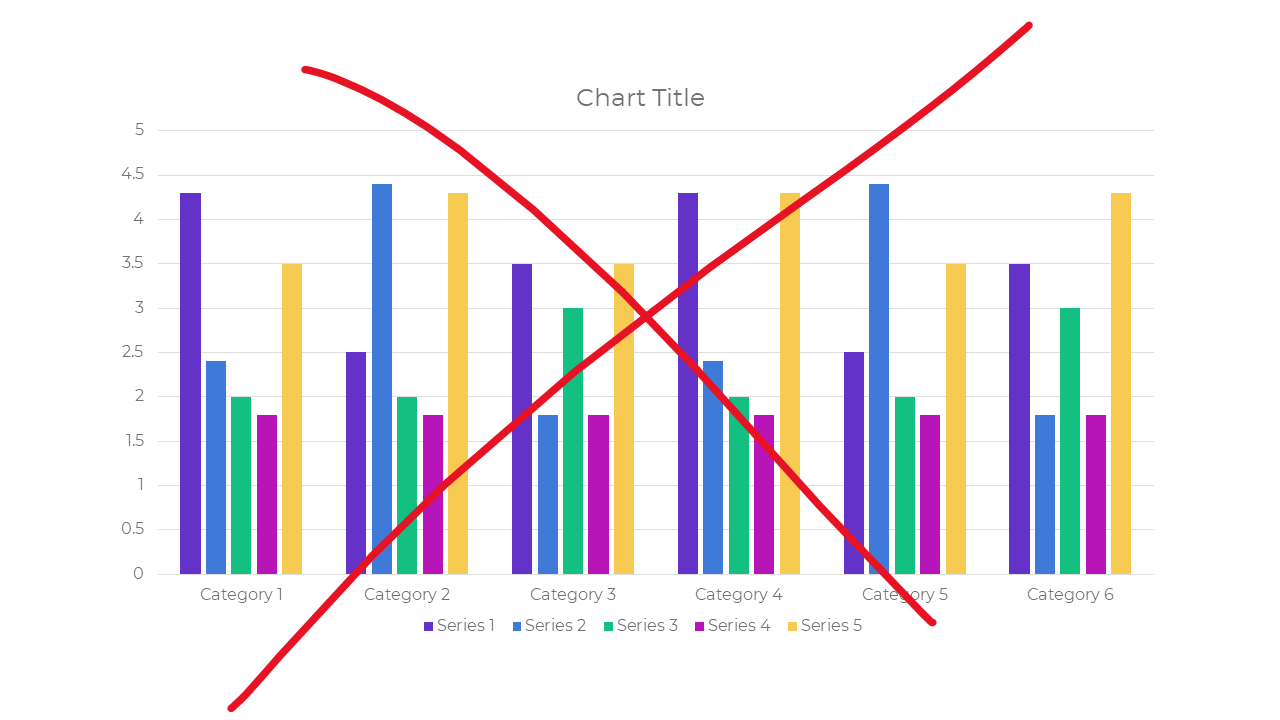 Dusty Shelf Reports aren't inevitable.
With intentional editing, you can design visualizations that inform and inspire--right inside of Excel, PowerPoint, and Word.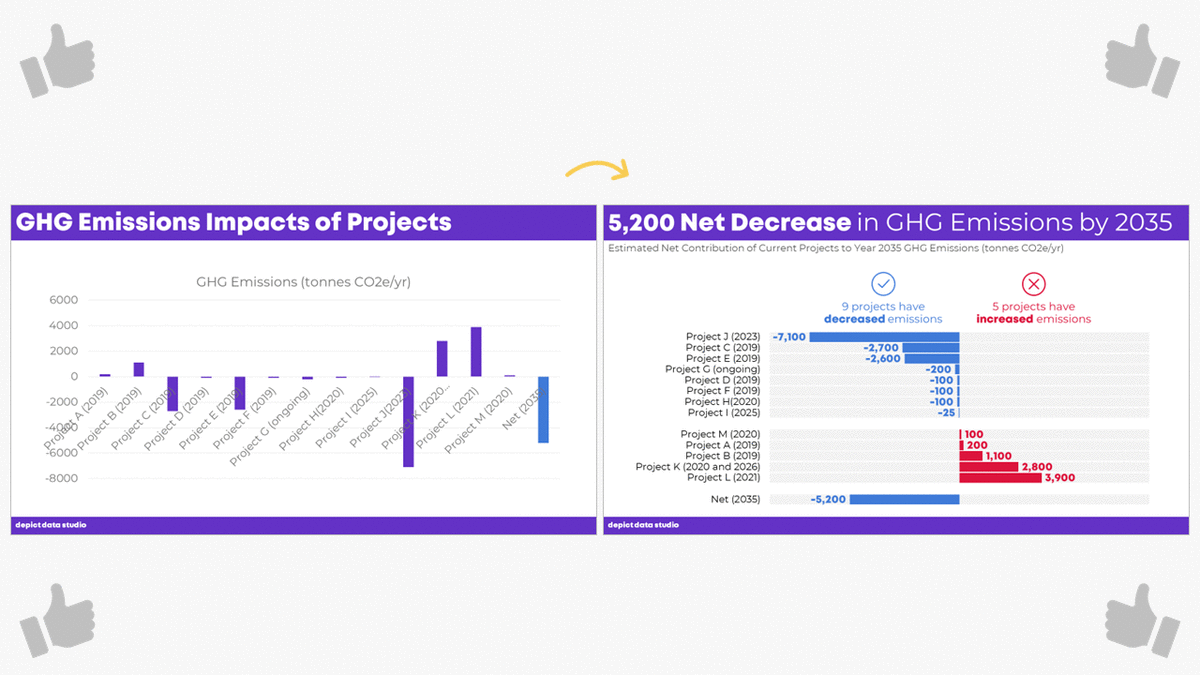 All you need is Excel, PowerPoint, and Word
You don't have to be a computer programmer or a graphic designer to be a great communicator.
What's included in this Mini Course?
This is our data visualization how-to course. Here's everything that's included:
Video lessons that you can watch anytime (the equivalent of my half-day Great Graphs: Excel How To's workshop)
Templates & how-to instructions to download and follow along
Discussion boards to ask questions and post your own work
Weekly emails to cheer you on
Lifetime access so you don't feel rushed
Examples from a variety of industries (public health, youth development, education, juvenile justice, museums, and more)
Who This Training is For
This training IS for those of us who make graphs ourselves. This course is NOT for supervisors who delegate all their graph production to someone else. (Supervisors, enroll your staff. Ask me about group rates.)

This training IS for people using everyday software like Excel, Word, and PowerPoint. This course is NOT for graphic designers who exclusively use Adobe Illustrator or Acrobat.
This training IS for people who love learning Excel magic tricks. This training is NOT for computer programmers who exclusively write code in programs like R or Python.
This training IS for people who are ready to dive deeper. This training is NOT for people just hearing about data visualization for the first time. (Not sure why a 3D pie chart with 50 slices is impossible to read? Let me train you on best practices first; then, come back and enroll in this course next year.)
This training IS for people whose time is precious. I've got two kids and I run a business. I'm well past the phase in life where I can afford to learn the long, hard way. I'm constantly hunting for solutions to give me my time back.
Discussion Boards to Ask Questions
Every module includes discussion boards where you can ask questions, comment on the lessons, and share your own tips with the community.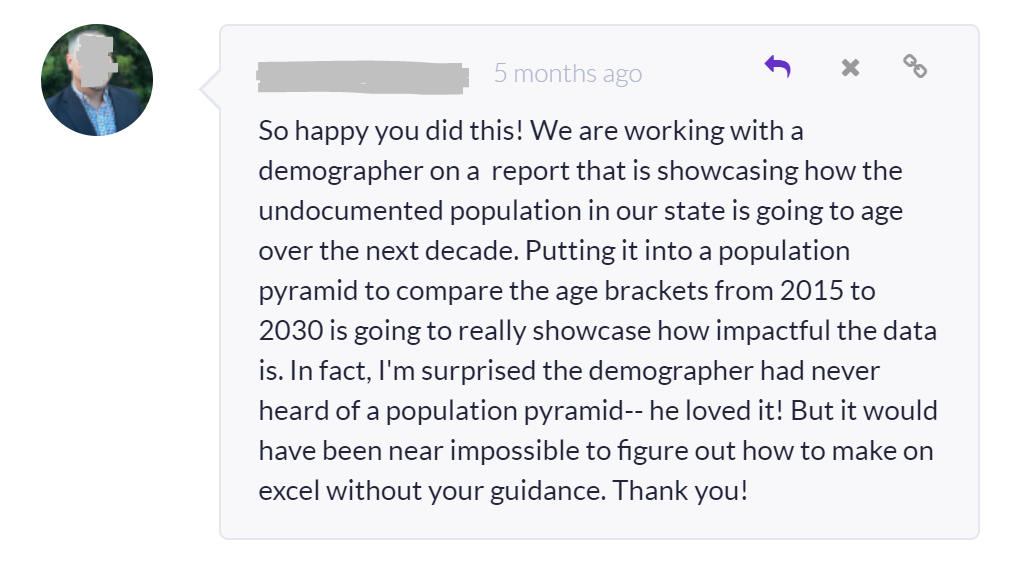 Weekly Emails to Cheer You On
I know you're going to skip straight to the juicy dataviz magic tricks, but I'm going to email you on Mondays around 11 am EST and pretend like we're working through the course one module at a time.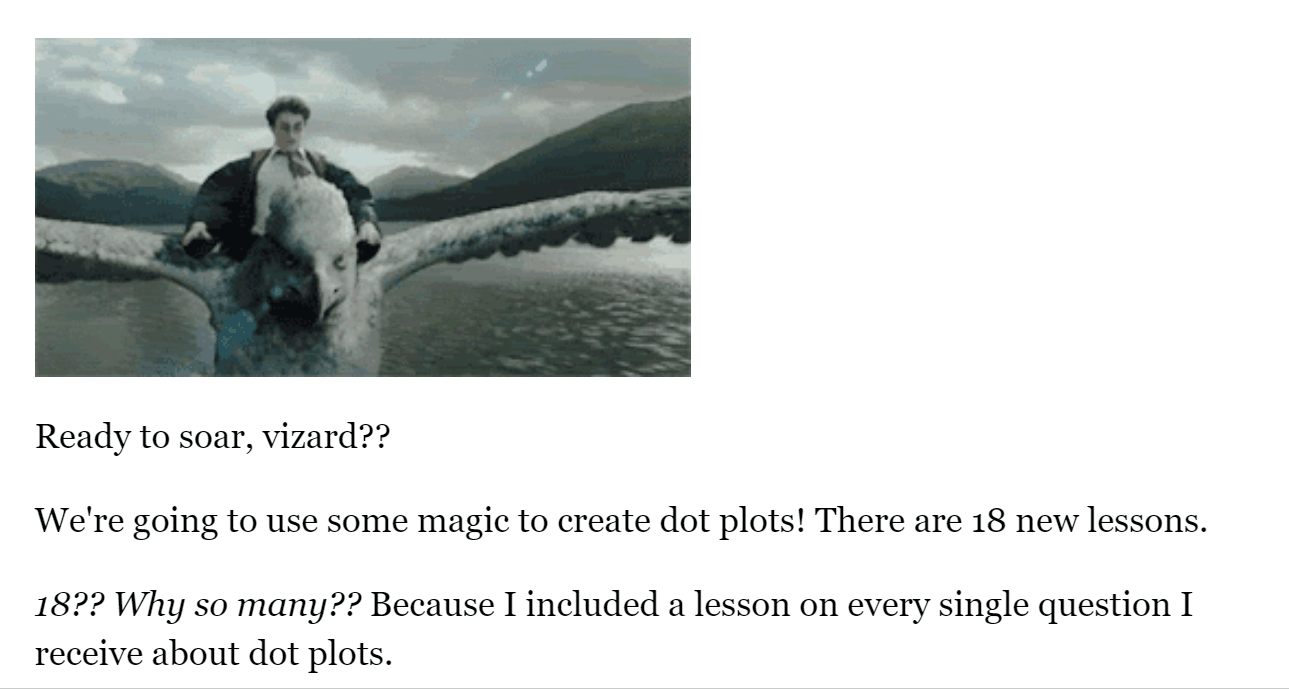 4,007+ participants from around the globe
have already taken the leap into better reports, slideshows, dashboards, and infographics through our online courses.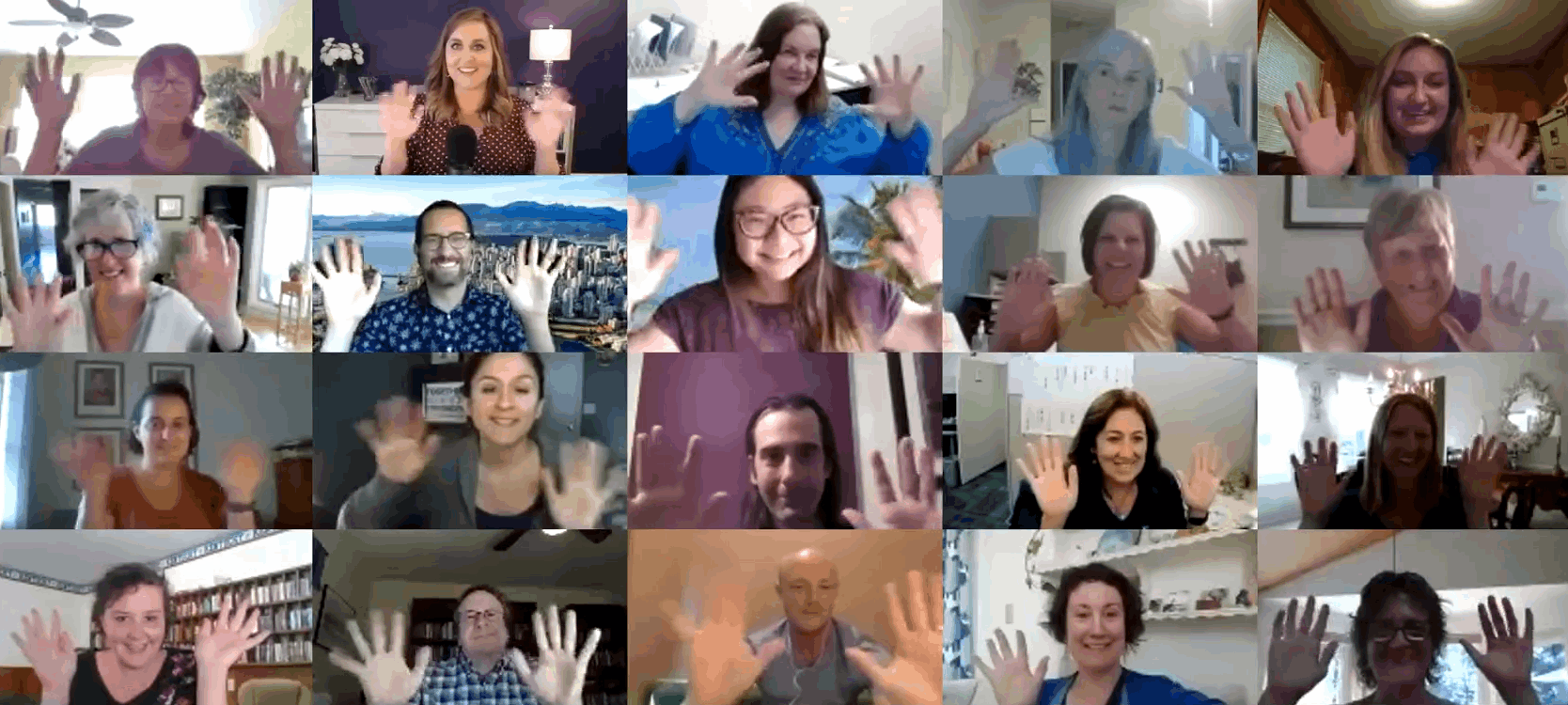 Your Instructor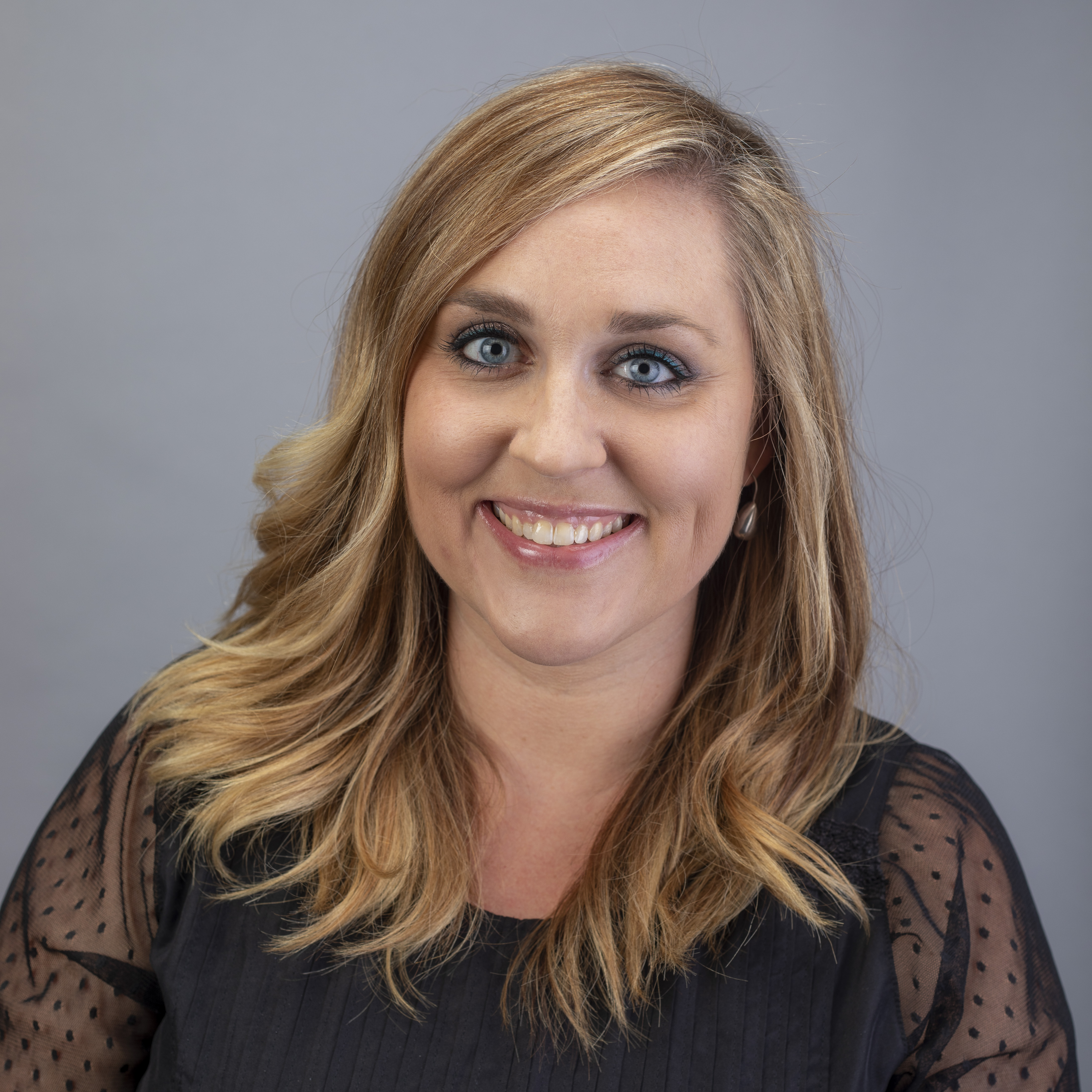 Ann K. Emery is an internationally-acclaimed speaker who equips organizations to get their data out of dusty spreadsheets and into real-world conversations.
Each year, she delivers over 100 keynotes, workshops, and webinars with the aim of equipping organizations to visualize data more effectively.
She has been invited to speak in 30 states and 10 countries; 4,400 people have enrolled in her online training academy; and she has consulted to 200 organizations, including the United Nations, Centers for Disease Control, and Harvard University.
She earned a Bachelor's degree from the University of Virginia and a Master's degree from George Mason University.
After traveling full-time as a digital nomad, Ann now resides in Florida along with her husband and three children.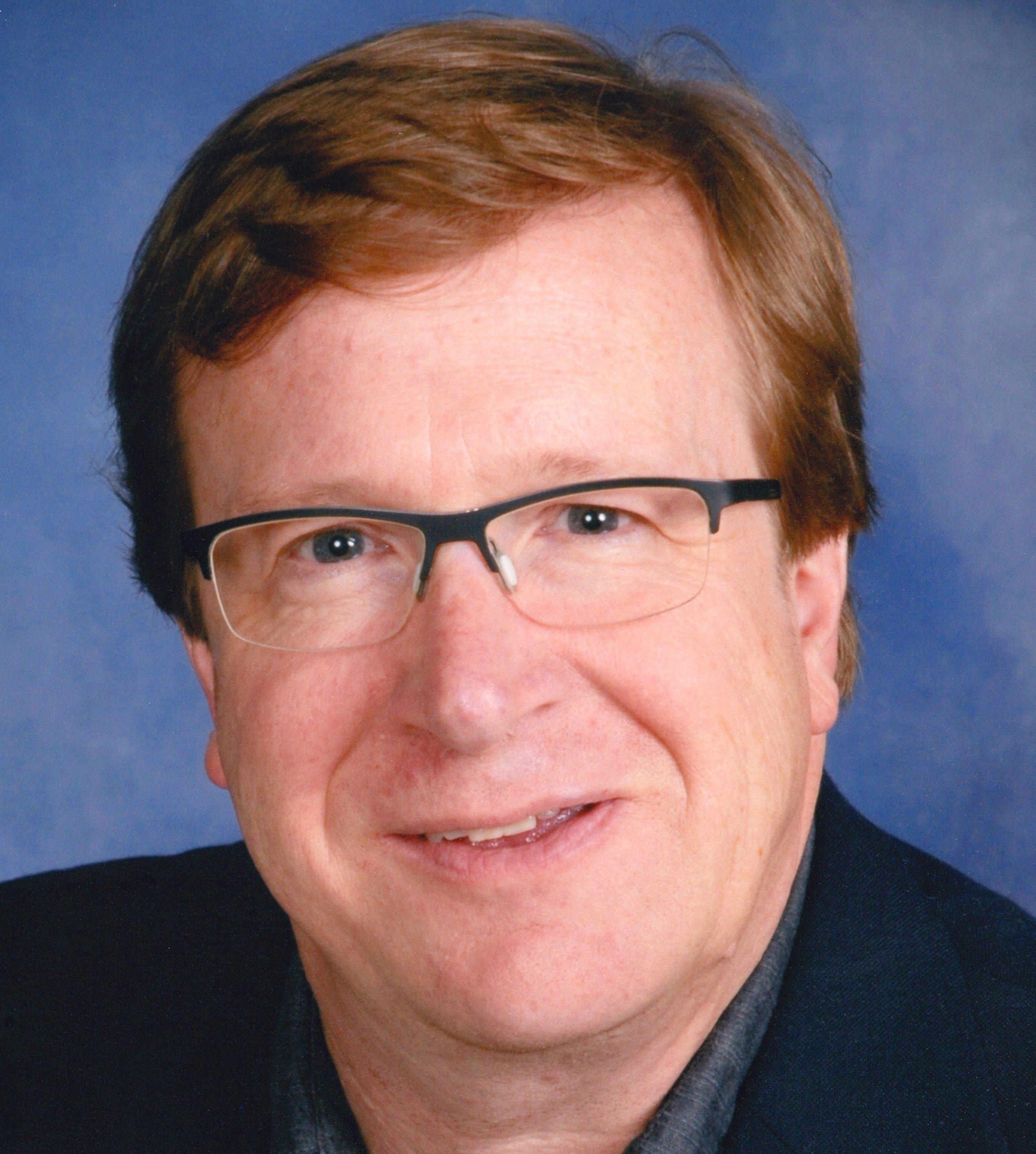 "The "Excel How To's" mini-course proved to be a very valuable experience. Unlike many basic software courses, Ann's offerings have some real substance. Rather than a few tips and tricks scattered across a range of topics, you will be guided through two core chart types (bar charts and dot plots) with enough depth that you can immediately apply her lessons to your own work. I used the ideas behind the bar chart lessons as the basis for a graphing activity I led with a group of data-skittish graduate students, and I'm using the dot plots to improve a set of dashboards I'm embedding in a science curriculum I'm writing for 10 year olds. Ann's trademark "clean, simple, and clear" style is the best I've found for making data accessible to non-technical audiences.
In addition to these two staples of data visualization, the geographic heat map lessons were a real bonus find in the course. I've been teaching ArcGIS to everyone from 10 year old's to graduate students for over 20 years, but had only connected Microsoft Office to GIS through Excel as a tool for managing data tables. While ArcGIS is much more powerful for geospatial analysis, I edited my syllabus for next spring to include a session on mapping with Office. (I already had her free "Dusty Shelf Reports" course included as a course requirement.)
In short, this course is as strong as her others. Depict Data Studio is the place to come for creative ways to use Office to create compelling data visualizations tailored to your intended audience. You'll be glad you did.
- Bob Coulter, Missouri Botanical Garden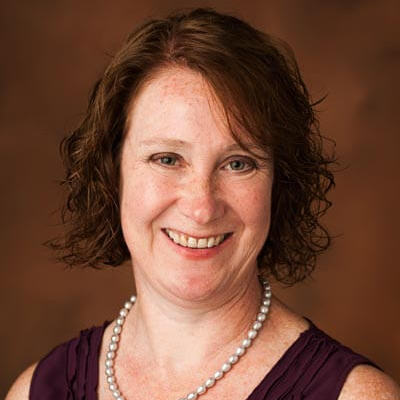 "Having attended Ann's keynote address at the 2017 Southeastern Library Assessment conference, I learned a few quick tricks to transform a stock Excel graph to something better.
Once I moved into an assessment role full-time, I knew I would be writing more reports and wanted to up my game with Excel graphs and charts so I knew just where to go for help. Ann's course in Great Graphs offered that and so much more.
When I had to write a summary of a laptop loan program survey, I transformed the plain, ordinary graphs to uncluttered, with clearly understandable graphs of the survey results.
Ann takes you beyond the basic Excel charts and graphs to learn how to make super cool waffle charts and icon arrays and adding spark lines and bars to a spreadsheet for quick visual analysis.
Two of my favorite tips were learning how to create new theme colors to input the color brand from my organization and using bold colors to highlight your point with the remaining graph in gray or lighter tones. I found this course to be very practical with beneficial tips to use immediately in my work and would recommend it to anyone desiring to up their game with charts and graphs for data visualization."
- Lee Ann Lannom, Assessment Librarian, Jean & Alexander Heard Libraries, Vanderbilt University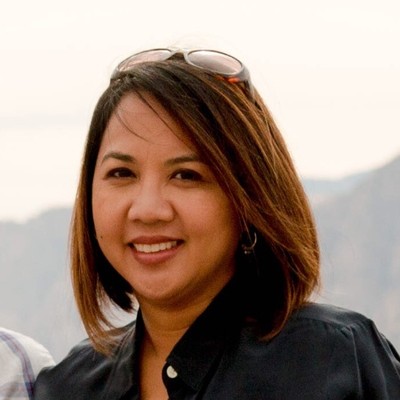 "The Great Graphs tutorials are exactly what I was looking for in learning data design techniques in Excel, especially using examples that makes sense in a nonprofit and philanthropic setting.
I like the short snippet format where I can quickly learn about a technique and then instantly apply it.
For instance, I was working on multiple data tables showing the number of services delivered and number of clients accessing housing services by quarter across multiple homeless services programs. Program leadership wanted a quick scan of the numbers by quarter for the entire fiscal year. They were used to looking at numbers this way.
I decided to add sparklines to the data tables so that program leadership can also quickly visualize the trend over time. I quickly reviewed the Great Graphs tutorial on sparklines and added trends to the data tables. I also learned other tips to create sparklines quicker and add other visual features such as high and low points in the data.
A data analyst I was working with on this project was amazed that this could be done in Excel. He was used to doing all his analysis in python or R, and wasn't too familiar with data design techniques in Excel.
Thank you, Ann, for creating these quick tutorials that anyone can follow, especially those in the nonprofit sector."
- Rocele Estanislao, Assessment & Evaluation Analyst, Kaiser Permanenete Bernard J. Tyson School of Medicine
Frequently Asked Questions
How long do I have access to the course?
Indefinitely.
I know you're a perfectionist and always update your courses.
Yes, and you'll receive all future updates to this course.
What if I am unhappy with the course?
We would never want you to be unhappy! If you are unsatisfied with your purchase, contact us in the first 7 days and we will give you a full refund.