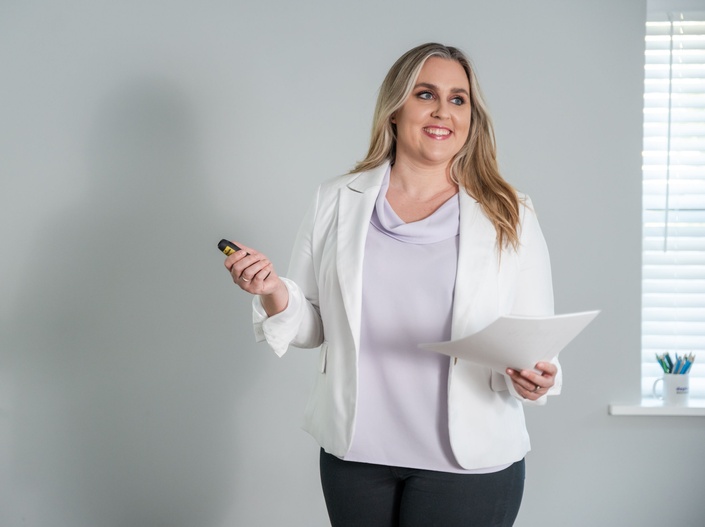 Powerful Presentations (Mini)
The Absolute Beginner's Guide to Slidedocs & Slidedecks
There's no one-size-fits-all approach to data visualization.
Graphs are supposed to be formatted differently for reports, one-pagers, dashboards, and presentations. Here's what my old presentations looked like: tiny text, mismatched images, and disorganized content. Yikes...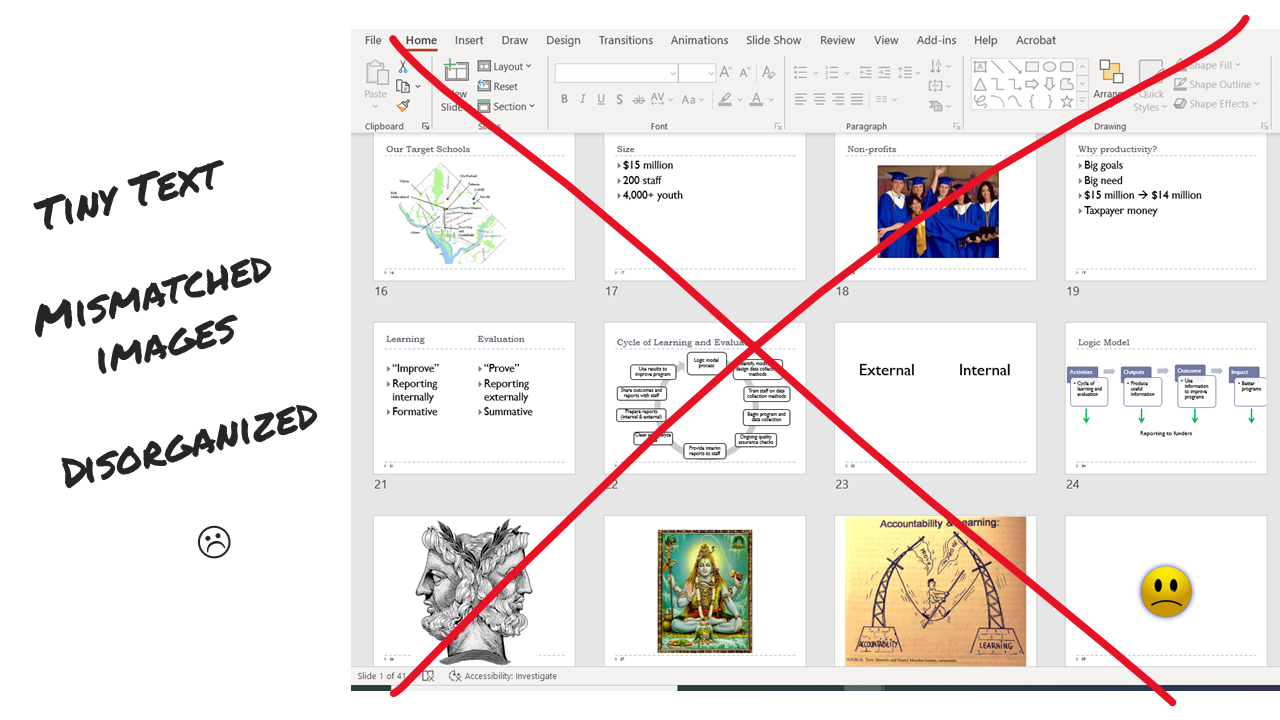 Transform into a Powerful Presenter
Over the past decade, I've delivered hundreds of presentations for thousands of people in 30+ states and a dozen countries. Ask me anything about:
speaking at conferences,
developing multi-day workshops,
delivering keynote speeches,
being interviewed on podcasts, and
presenting virtually over Zoom, YouTube, or through online courses.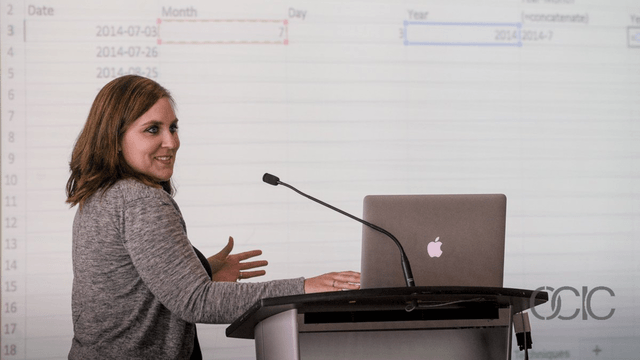 What's included in this Mini Course?
I'm going to transform you into the powerful presenter that your organization needs. Here's what's included to make that happen.
Video lessons that you can watch anytime (the equivalent of my half-day Powerful Presentations workshop)
Discussion boards to ask questions and post your own work
Lifetime access so you don't feel rushed
Examples from a variety of industries (public health, youth development, education, juvenile justice, museums, and more)
Distinguishing Between Slidedocs and Slidedecks
You'll master a critical presentation technique: differentiating between slidedocs (standalone documents) and slidedecks (presentation slides).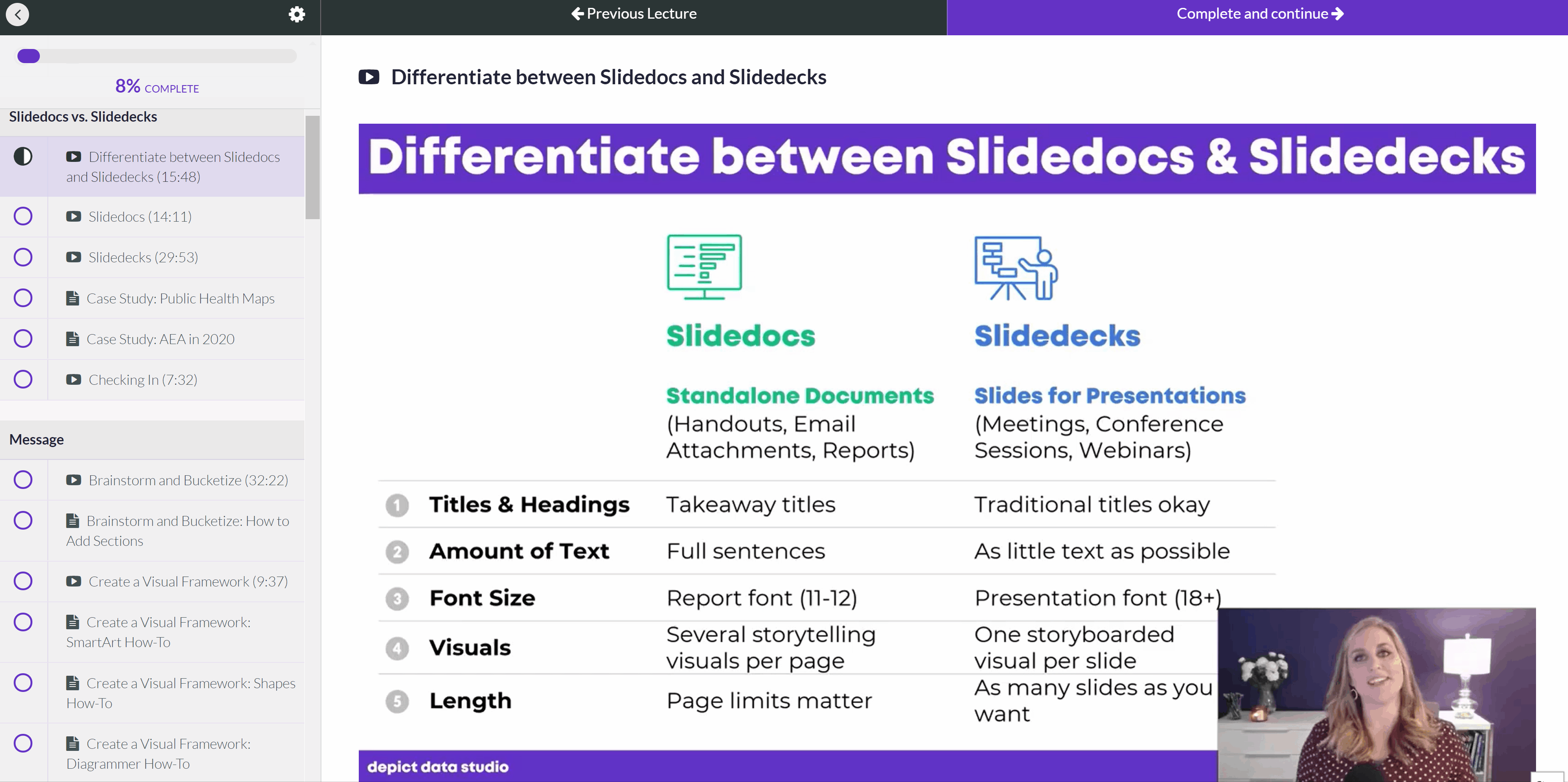 "Your Turn" Activities After Every Lesson
You'll learn a little by watching lessons... but you'll learn a lot by actively applying what you've learned to your own projects.
After every lesson, you'll be prompted to post your own work. This is a great opportunity to get the instructor's feedback and learn from colleagues from similar industries.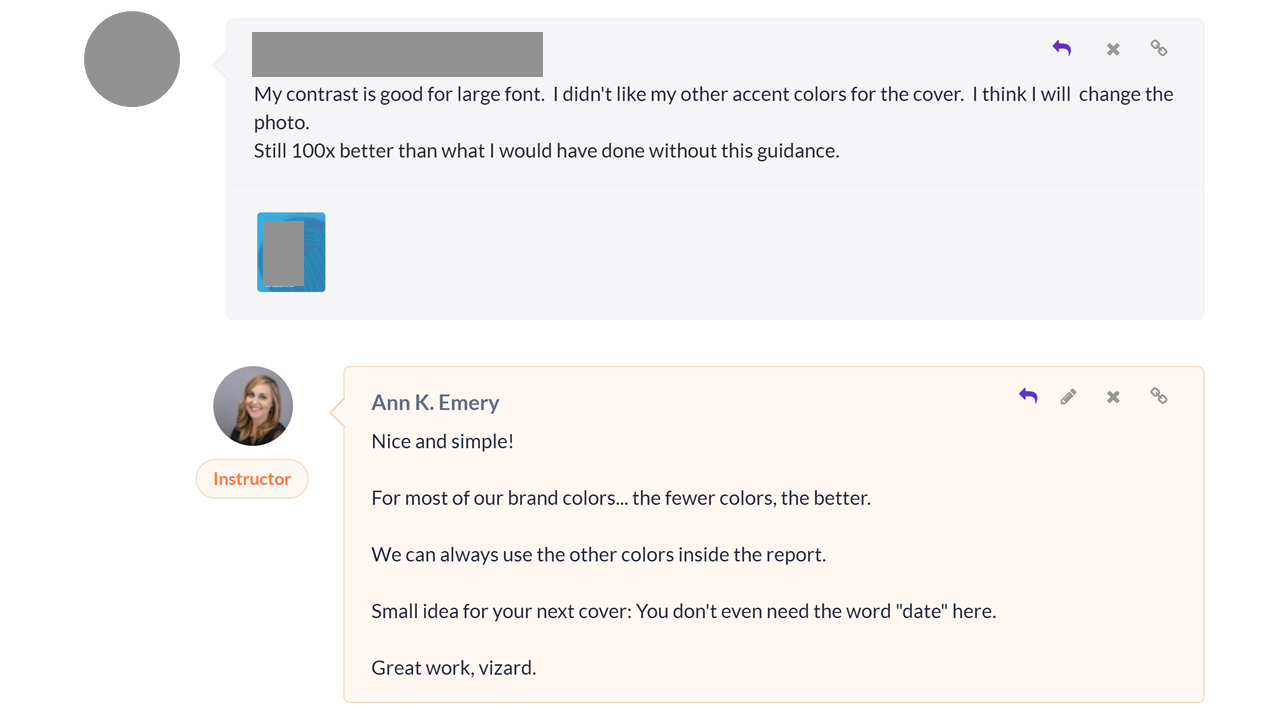 6,000+ participants from around the globe
have already taken the leap into better reports, slideshows, dashboards, and infographics through our online courses.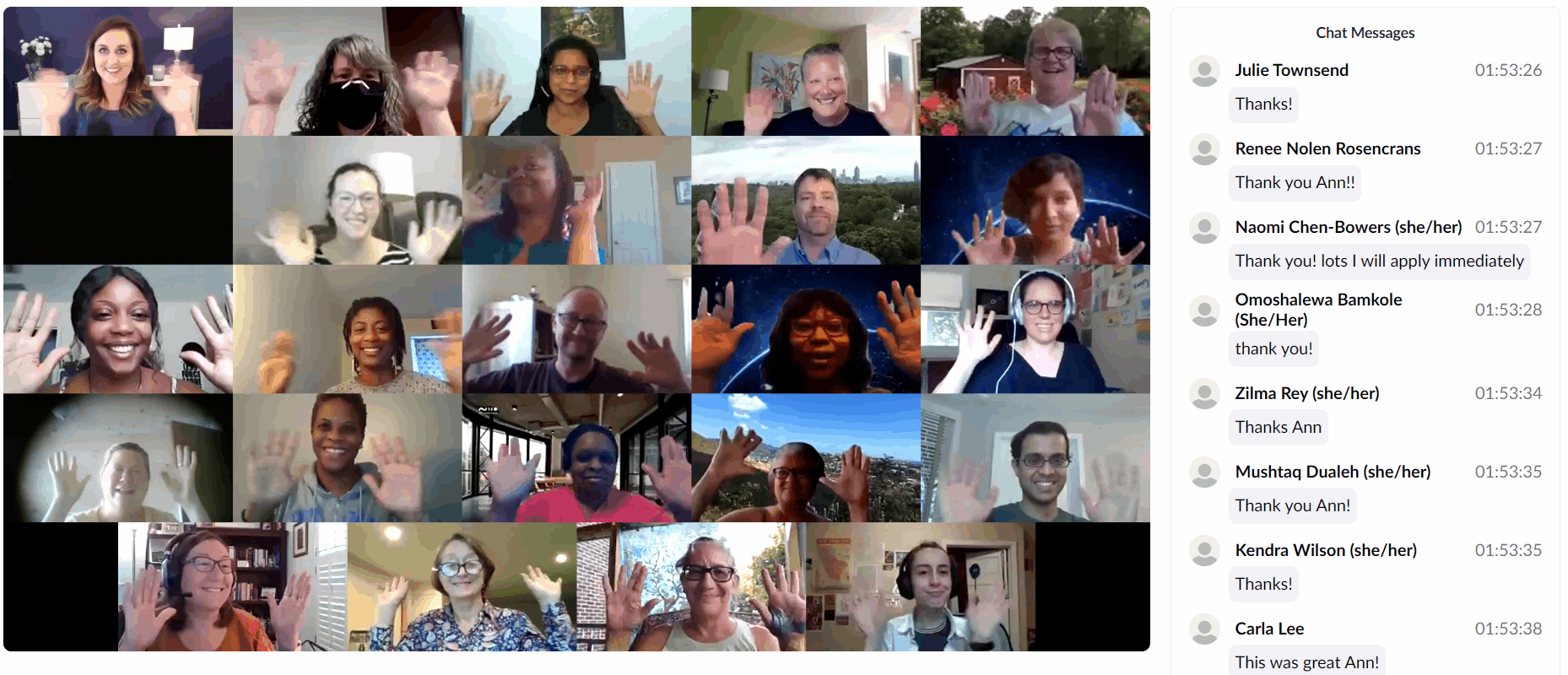 "I really appreciated all of the good ideas. I'm just not creative enough on my own to think about all of the possibilities!"
- Participant in a recent Powerful Presentations training

"How to storyboard slides [was so valuable]! I love that it can help tell the story while you are walking through data with your audience."
- Participant in a recent Powerful Presentations training

"Presentation frameworks and storyboarding [were helpful] and I appreciated the very tangible pointers (e.g. types of visuals to incorporate in slides, cover slides)."
- Participant in a recent Powerful Presentations training


Your Instructor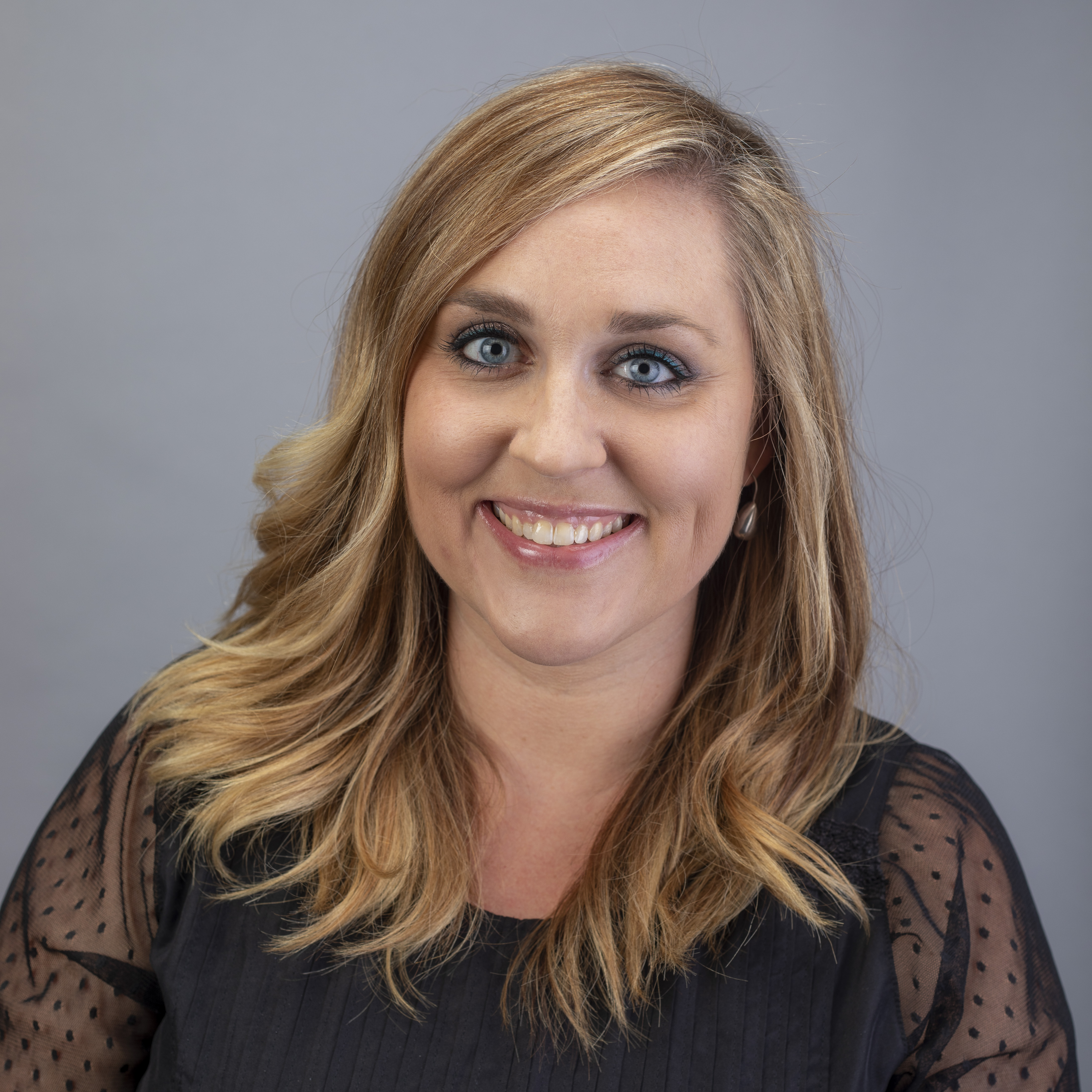 Ann K. Emery is an internationally-acclaimed speaker who equips organizations to get their data out of dusty spreadsheets and into real-world conversations.
Each year, she delivers over 100 keynotes, workshops, and webinars with the aim of equipping organizations to visualize data more effectively.
She has been invited to speak in 30 states and 10 countries; 7,000 people have enrolled in her online training academy; and she has consulted to 200 organizations, including the United Nations, Centers for Disease Control, and Harvard University.
She earned a Bachelor's degree from the University of Virginia and a Master's degree from George Mason University.
After traveling full-time as a digital nomad, Ann now resides in Florida along with her husband and three children.