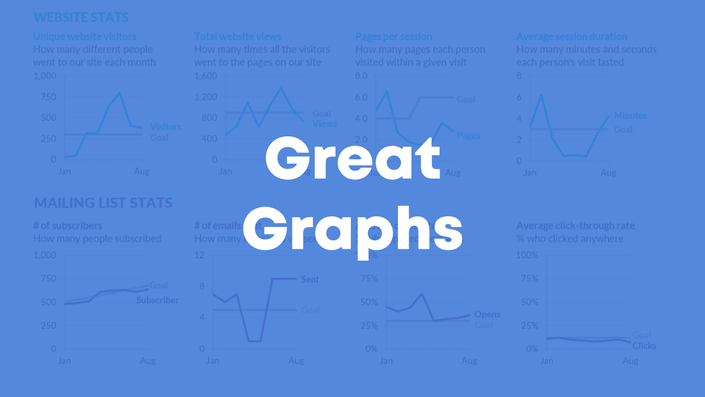 Great Graphs
Transform Spreadsheets into Stories with Better Data Visualization, Dashboards, Infographics, Presentations, and Reports.
Join the Interest List
Great Graphs: From Spreadsheets to Stories is only open once a year--and the course will open again in 2019!
Enter your email address to be the first to hear about registration details and to get special early bird pricing.
Does this sound familiar?
"I'm a Data Analyst and I struggle with reporting survey results in a compelling way. How do I tell the story better? Especially when I'm dealing with a small sample size?"
"I work in program evaluation and am currently struggling to find the right way to present data that will speak to our different stakeholders."
"I struggle with clean & clear design and data viz. I'm excited to learn more about how to make what I produce more accessible to the average person."
"I currently work on writing stories and creating newsletters of our branch global health activities. I want to use more data in these products so they will be more "evidence-based!"
"I'm an evaluation consultant who really wants to break out of academic speak, but struggle due to years of indoctrination. I'm here because I need help!"
"I continually need to improve my own skills in writing, editing, design, layout, and data visualization, and also need to help build the skill sets of auditors to do these things."
"Most of my work looks like it came from the 1990s. I sorely need an upgrade for 21st Century tools and expectations."
"I use Google Sheets and DataStudio. I'm struggling with picking the right charts and selecting what to go where when I have picked one."
"I want to seamlessly combine the rational and creative sides of my brain. I want to become more confident in convincing my teammates there are better ways to present our information and develop my ability to lead us there."
"When there are visuals/diagrams included, it can be really daunting (i.e. how am I going to turn this into something that actually looks good)."
Is your data sitting around in spreadsheets, dusty, unused, and forgotten about? Your data deserves to be out in the world: utilized, actionable, talked about. Visualizing data through charts, tables, and diagrams helps you deliver bite-sized information that viewers can understand at a glance and retain for the long run.
During this course, we'll walk through a step-by-step design process that you can apply to your own projects. You'll learn how to customize your visualization for your audience; choose the right chart for your message; declutter your visuals so that viewers' attention is focused on the data; reinforce your branding with custom color palettes and typography; and increase accessibility by ensuring that your visuals are legible for people with color vision deficiencies. Finally, you'll learn to tell a story through dark colors (saturation), explicit titles, and call-out boxes (annotations).
This Year-Long Course Includes:
200 lessons delivered through 20 hours of video
Optional monthly "office hours" sessions
Optional 1-to-1 consultation
Downloadable spreadsheets, templates, & handouts
Software-agnostic data visualization principles
Before/after makeovers inspired by research, evaluation, and analytics teams like yours
Examples from a variety of industries (public health, government, education, grantmaking, international development, hospitals, universities, and more)
Practical how-tos in Excel, PowerPoint, Tableau, & R
Team of 14 instructors
How Your Projects Will Improve
Transform your report's dense appendices into slides that communicate just one takeaway finding at a time:


Consolidate your redundant tables and graphs into a single graph that conveys your message:

Get rid of your boring bullet points and add straightforward visuals and easy-to-follow color coding:

Take your software program's default settings to the next level with crystal clear titles, subtitles, dark/light contrast, and memorable icons:

With examples from public health agencies...


...and university professors and faculty members...

...and grantmakers and their grantees...


...and Federal government agencies...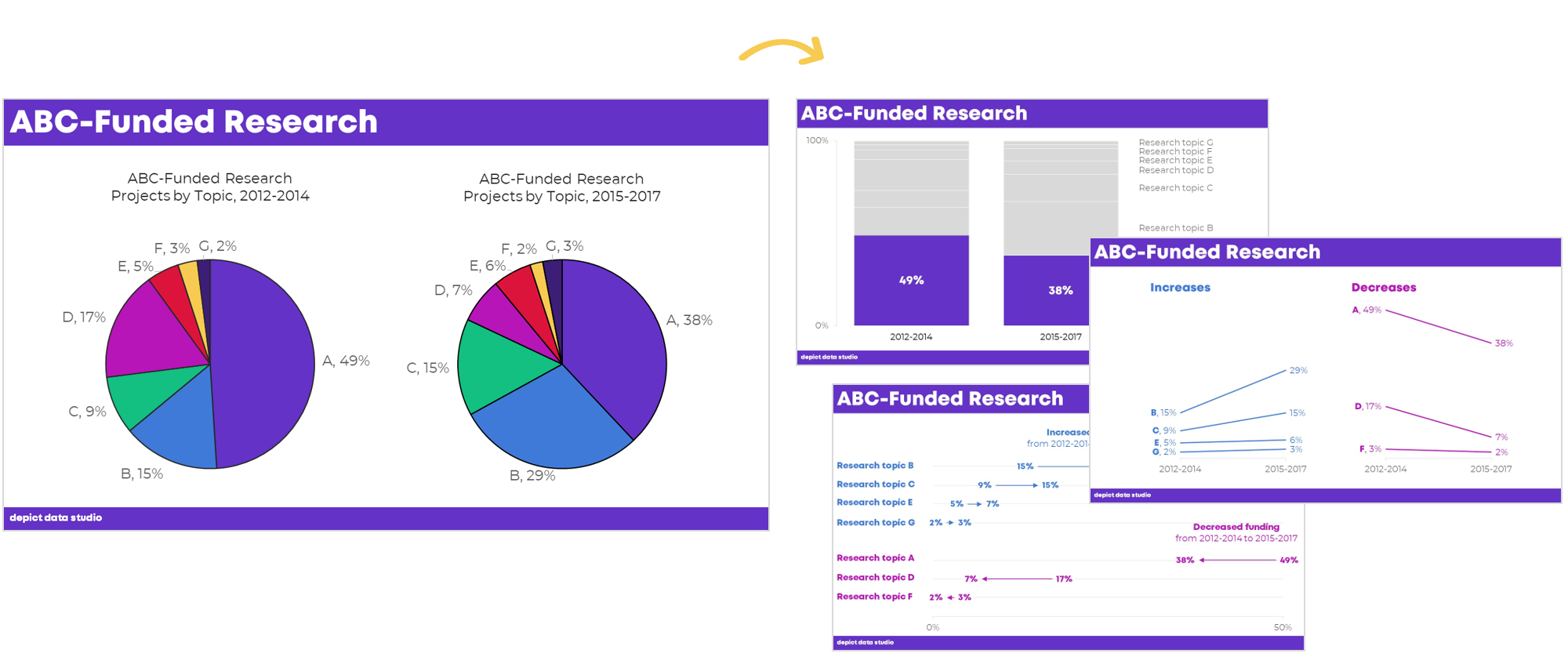 ...and local and state agencies, and their contractors...

... Great Graphs will help you create your own before/after data visualization makeovers.
Get your data out of spreadsheets and into real-world conversations. Gain practical how-to tips in free and low-cost software programs like Excel, Tableau, and R. Learn from a team of 14 guest experts. Get feedback on your individual projects through group webinars and one-on-one consultations.
This Course is Designed for People Who...
can already communicate their research results to fellow researchers but need to learn how to translate their results for non-technical audiences;
have a gut feeling that their important data is gathering dust in lengthy reports;
have way too many tables in their reports (and a bunch of boring bar charts) and need help thinking outside the box;
have been asked to design one-pagers, infographics, or other summaries of their work and need pointers for getting started;
have begged their staff members to stop using 3D exploding pie charts with little success (identifying the pie chart problem is the first step; your staff need to know what to do instead);
want to get started using Tableau and R; and
feel like everything is taking way too long in Excel.
What People Are Saying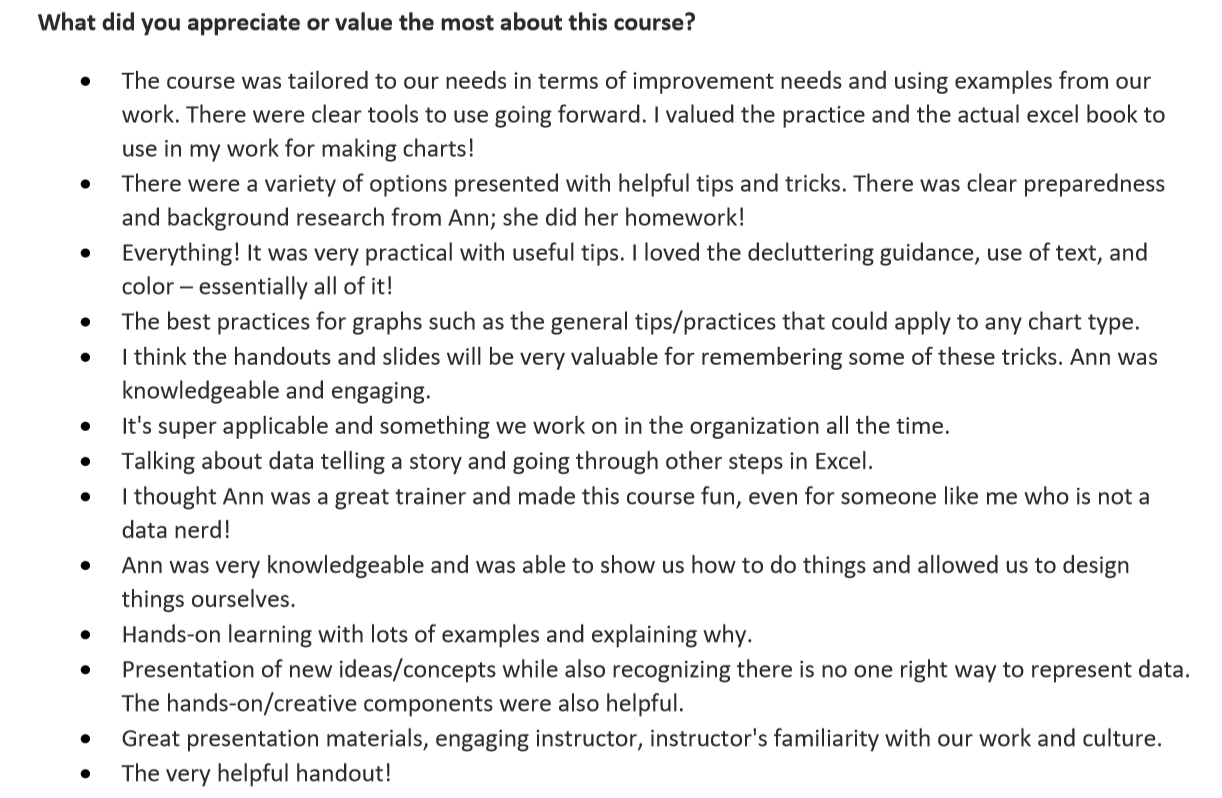 Class Curriculum
Analyze Your Audience
Available in days
days after you enroll
Choose the Right Dissemination Format
Available in days
days after you enroll
Your Instructor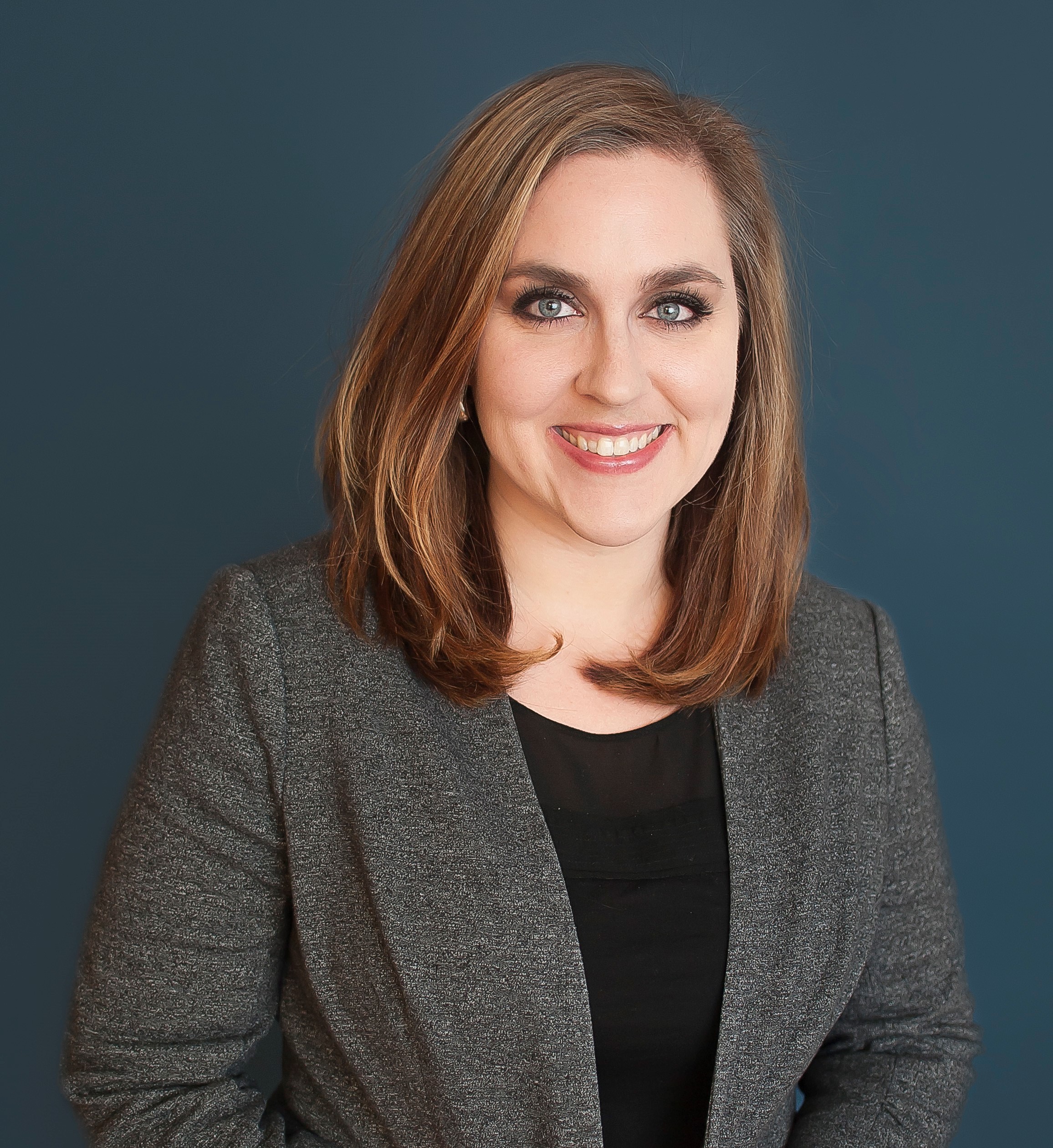 Your data deserves to be out in the world--actionable, talked about, used--not gathering dust in spreadsheets. Let me transform your technical information for non-technical audiences. I've consulted to clients like the United Nations, State Department, and Centers for Disease Control, plus dozens more foundations, nonprofits, film companies, banks, hospitals, and universities worldwide. Each year, I lead dozens of in-person workshops for thousands of people. My online courses bring those skills to you, too.
Learn from a Team of 14 Instructors
Bonus! You'll hear from Ann K. Emery and from guest experts. The guest experts work in a variety of different industries and they specialize in a variety of different software programs.

Guest experts include: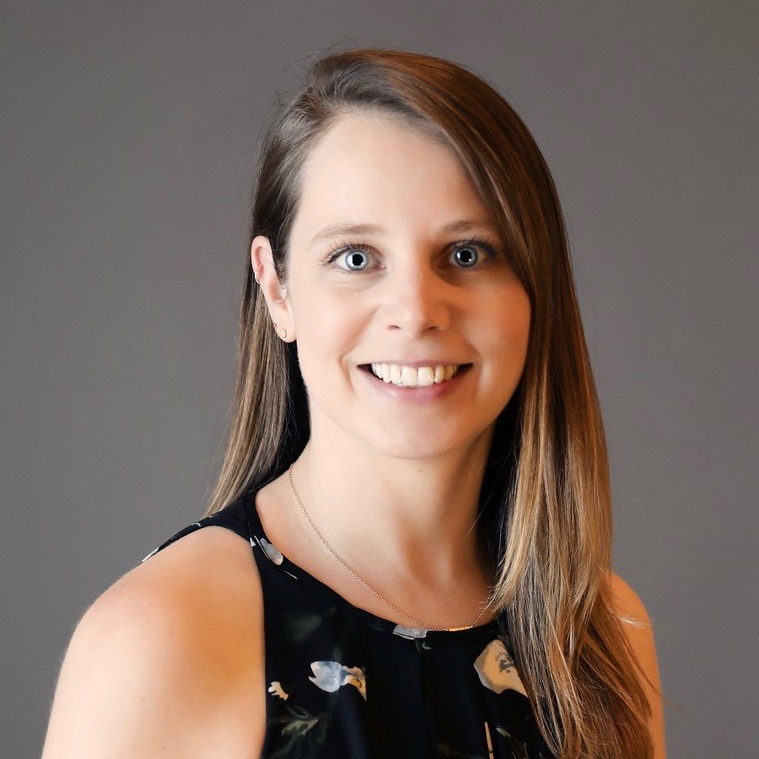 Lyssa Wilson Becho: Lyssa Wilson Becho is a project manager at The Evaluation Center and a Doctoral Candidate in the Interdisciplinary PhD in Evaluation at Western Michigan University. Her interests lie in improving the way we conduct evaluation through research on evaluation theories and methods, as well as creating useful and understandable evaluation reports through information design. She is dedicated to empowering programs to tell their story through increasing evaluation capacity, data literacy, and general excitement about the power of evaluation.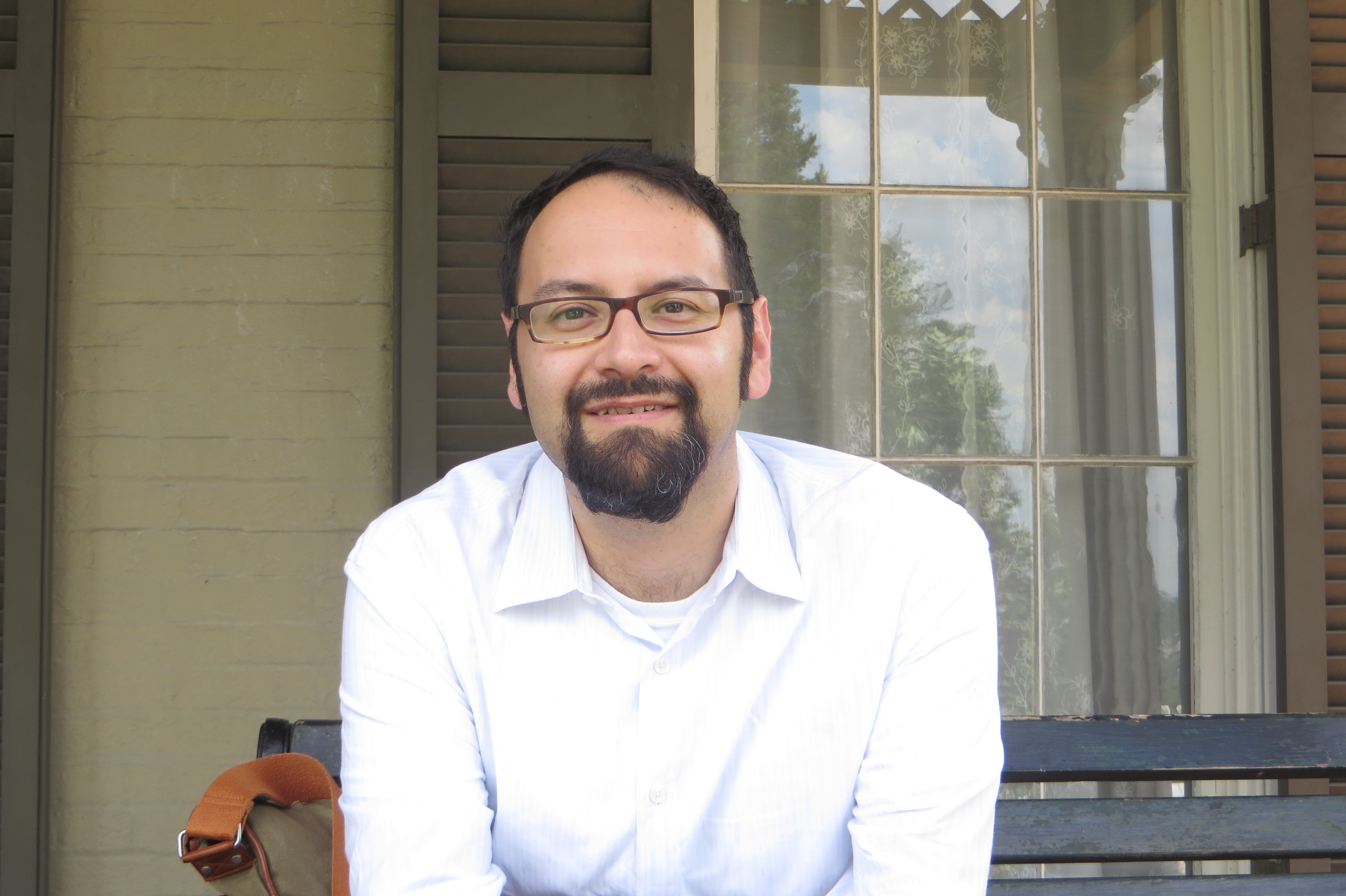 Isaac D. Castillo: Isaac D. Castillo is the Director of Outcomes, Assessment, and Learning at Venture Philanthropy Partners (VPP). Isaac has over 20 years of performance management, evaluation, and outcome measurement experience. Prior to coming to VPP, Isaac served as the Deputy Director for the DC Promise Neighborhood Initiative (DCPNI) and as a Senior Research Scientist at Child Trends where he worked with nonprofits throughout the United States on the development and modification of performance management systems and evaluation designs. In addition, Isaac was also the Director of Learning and Evaluation for the Latin American Youth Center (LAYC) where he led the organization's evaluation and performance management work. Isaac received his B.S. in Human Resources Management from Syracuse University and a M.S. in Public Policy Analysis from the University of Rochester. Isaac is a member of the American Evaluation Association and serves on the Board of Directors for the Eastern Evaluation Research Society (EERS) and the Superstar Foundation. You can follow Isaac on Twitter at: @isaac_outcomes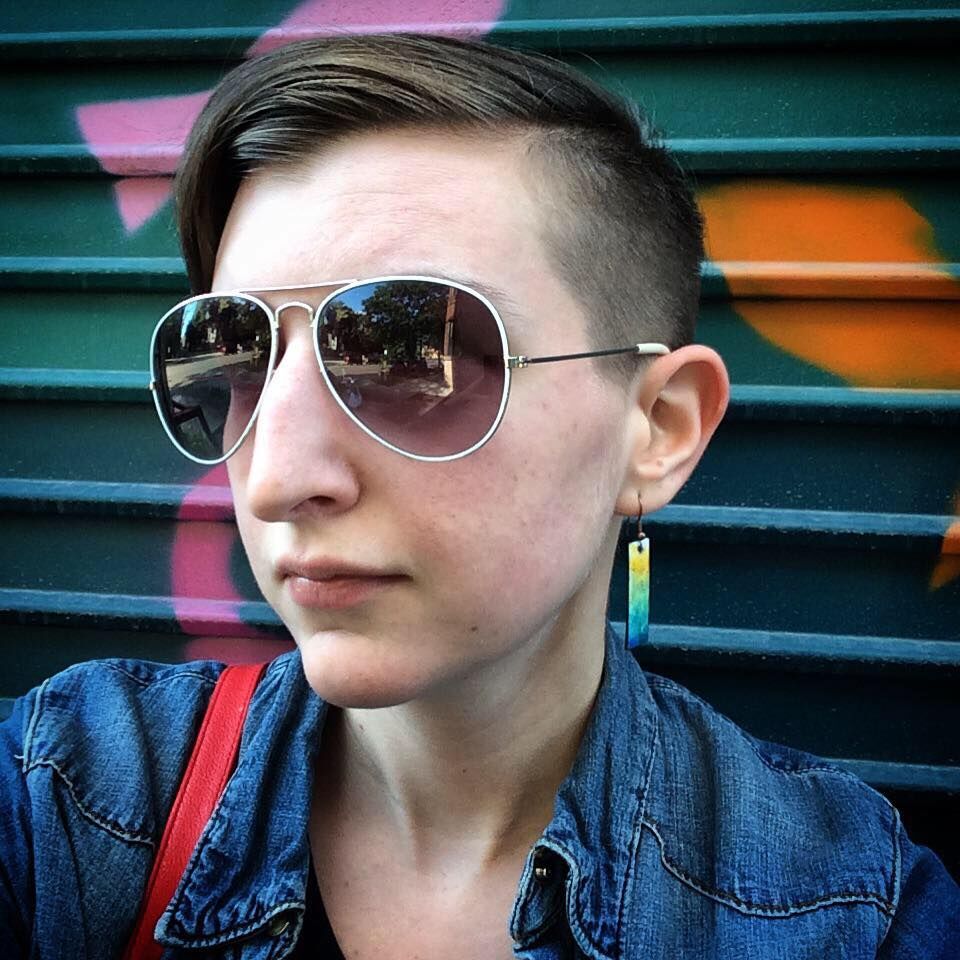 Amy Cesal: Amy Cesal is a graphic designer specializing in data visualization. She's currently a contractor with Ad Hoc and was previously a Technology and Innovation Fellow at CFPB. Before government, Amy worked at the Sunlight Foundation, where she created one of the first style guides specifically for data visualization. Amy also holds a master's degree in Information Visualization from the Maryland Institute College of Art.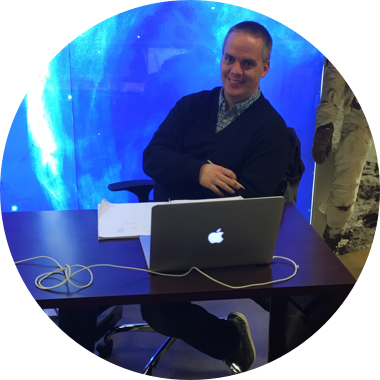 Chris Lysy: Chris Lysy is a professional data designer and illustrator constantly exploring the overlap between contemporary design practice, digital communications, and data science. You will find examples of Chris' work and his cartoons at freshspectrum.com.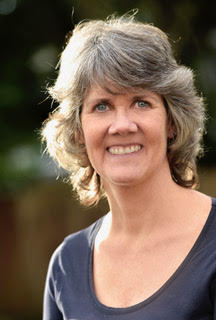 Kylie Hutchinson: Kylie Hutchinson took her first course in evaluation in 1988 and was forever hooked. After winning the Canadian Evaluation Society's Student Competition and several years of working for nonprofits, she leapt into evaluation consulting. For many years she delivered the Canadian Evaluation Society's Essential Skills Series in British Columbia and has provided training on a variety of evaluation topics for organizations such as the American Evaluation Association, Canadian Evaluation Society, African Evaluation Society, Danish Evaluation Society, and the US Centres for Disease Control. Kylie has a passion for translating evaluation theory into practical tips and products for evaluators in the trenches including a mobile learning course on evaluation for senior managers. She is the author of A Short Primer on Innovative Evaluation Reporting, Evaluation Failures: 22 Tales of Mistakes Made and Lessons Learned, and Survive and Thrive: Three Steps to Securing Your Program's Sustainability. Kylie tweets regularly on evaluation topics at @EvaluationMaven.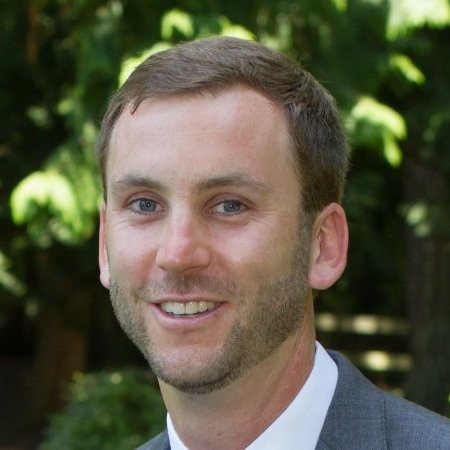 David Keyes, Ph.D.: Combining skills in research, data visualization, website design, and digital reporting, David Keyes is a consultant who helps researchers creatively communicate their work. David focuses especially on helping researchers embrace the power of the internet to communicate with online, interactive reporting. When not developing creative communication strategies for researchers, David is also one half of the team behind R for Eval, which provides workshops, online courses, and custom trainings for evaluators interested in learning R. A recovering academic, David holds a Ph.D. in anthropology from the University of California, San Diego. He is online at dgkeyes.com and on Twitter @dgkeyes.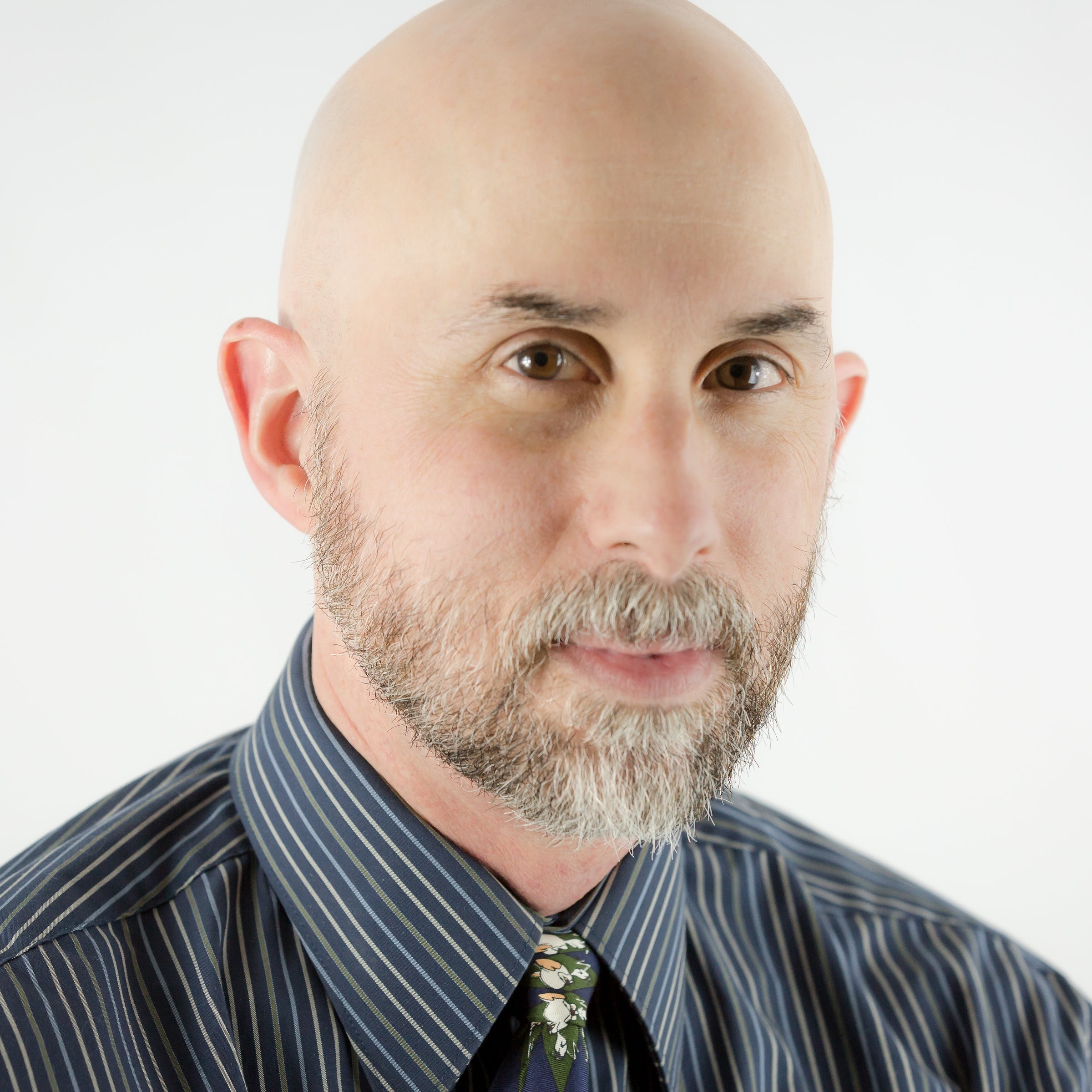 David Napoli: David Napoli has worked with data for over 20 years as an analyst, actuary, statistician, research manager, and director. His experience includes evaluation and outcomes studies, ROI analysis, IBNR determination, predictive modeling, risk adjustment methodologies, advanced data visualization, dashboard design and implementation, database development and management, and identifying and evaluating trends and forces in data. David has extensive experience working with claims data, including for Medicaid, Medicare, and Commercial lines of business. He recently held the position of Director of Business Intelligence for a nonprofit health plan. David's educational background includes Bachelor's and Master's degrees in aeronautical engineering (yes – he was a rocket scientist), and early in his career he realized he desired to concentrate his professional efforts in an industry focused on helping people more than his fondness for space exploration. He also completed coursework towards his doctorate in Health Services Research with a focus on Biostatistics at the University of Colorado School of Public Health (All but Dissertation), and teaches Data Analytics and Data Visualization courses part-time for General Assembly and the Leeds School of Business at the University of Colorado Boulder.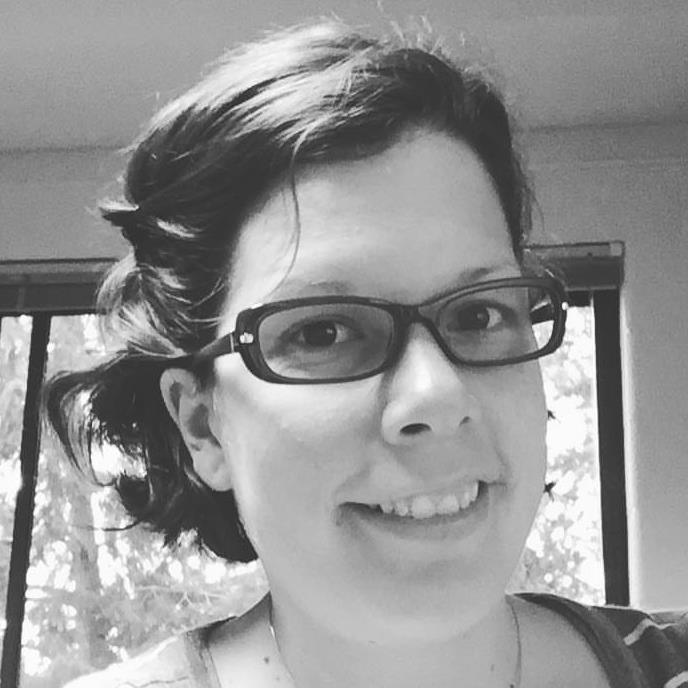 Emma Perk: Emma Perk is the co-principal investigator for EvaluATE, the evaluation support center for the National Science Foundation's Advanced Technological Education program and co-creator of Creating One-Page Reports. Her interests lie in improving evaluation communication to increase use through data visualization, data storytelling, and document design. She serves as EvaluATE's co-principal investigator, project manager, and outreach coordinator. She also leads the evaluation for two Upward Bound grants located in Southwest Michigan.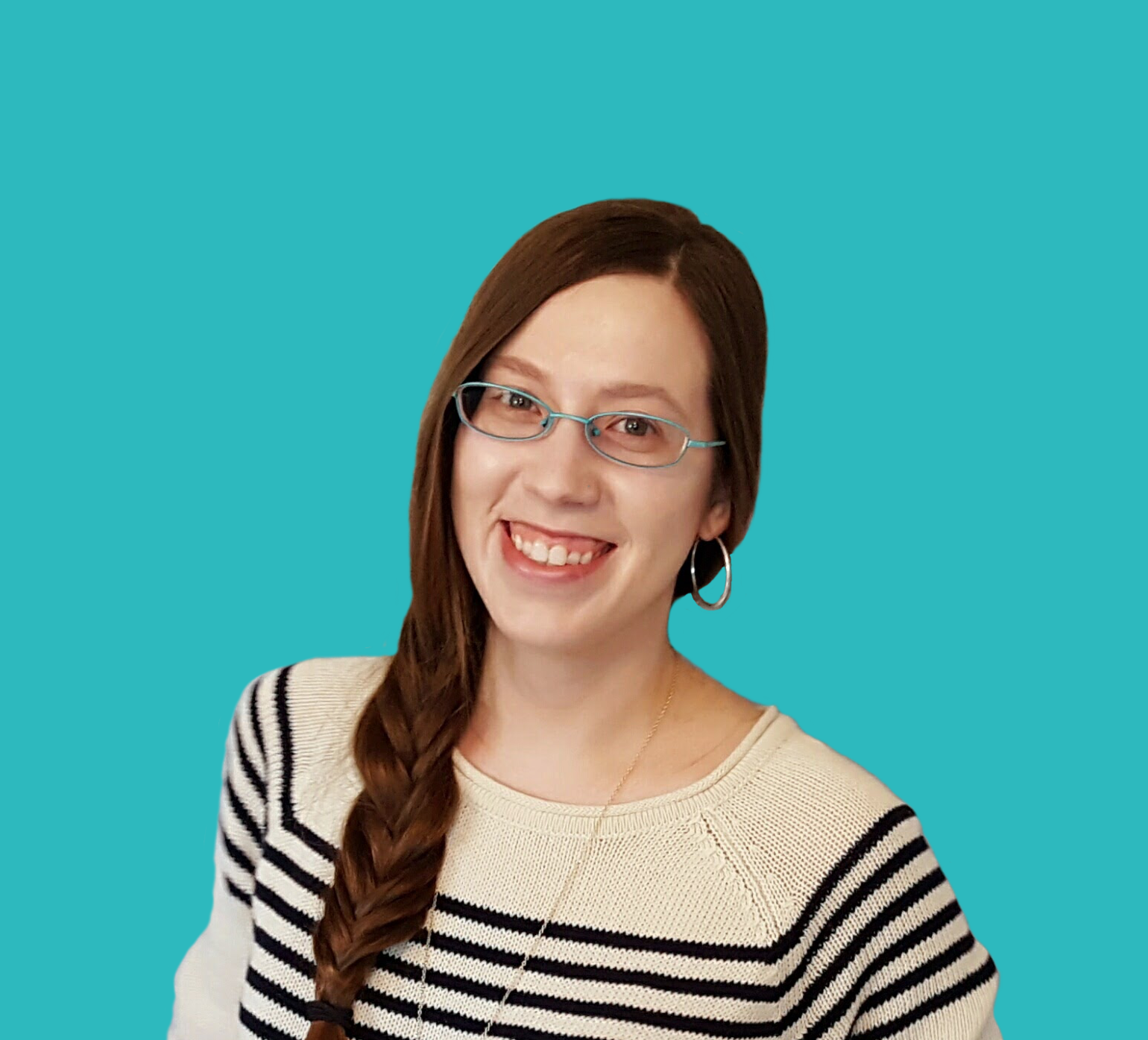 Echo Rivera, Ph.D.: Dr. Echo Rivera has a PhD in Community Psychology and over 12 years of research and evaluation experience. Through her work in academic and applied settings, she noted a widespread need for more effective presentations that went beyond text, templates, and bullet points. Her goal is to increase the impact and use of information across a variety of disciplines, such as academia, science, evaluation, and social research. Her strategies will help you learn how to tell data-based stories that will resonate and increase the likelihood that your audience will actually understand, remember, and use your information.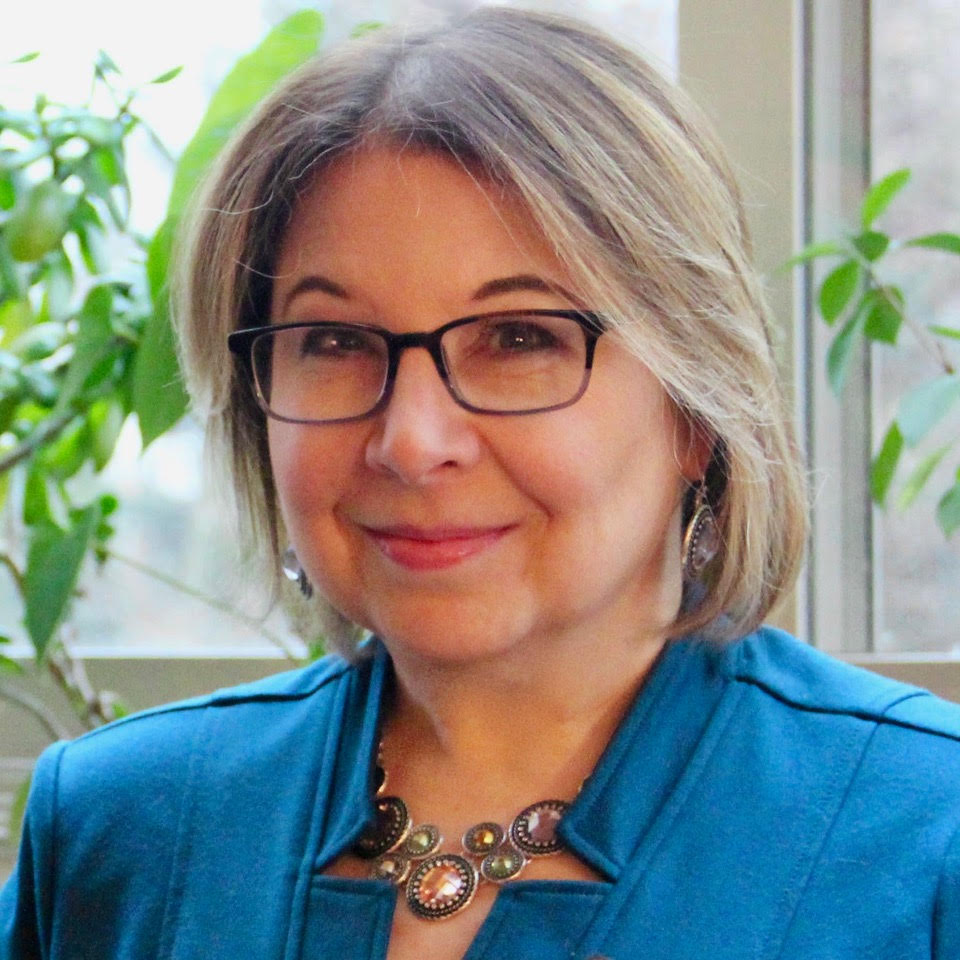 Sheila B. Robinson, Ed.D.: Sheila B. Robinson, Ed.D of Custom Professional Learning, LLC, is an educator, consultant, and program evaluator with a passion for professional learning. She designs and facilitates professional development courses on program evaluation, survey design, data visualization, and presentation design. Sheila is an active American Evaluation Association member where she is Lead Curator and content writer for AEA365 Tip-A-Day By and For Evaluators, their daily blog on program evaluation, and Coordinator of the Potent Presentations Initiative (p2i). She is also a regular content writer for Frontline Education. Sheila has taught graduate courses on program evaluation and professional development design at the University of Rochester's Warner School of Education. Her book, Designing Quality Survey Questions was published by SAGE Publications in 2018.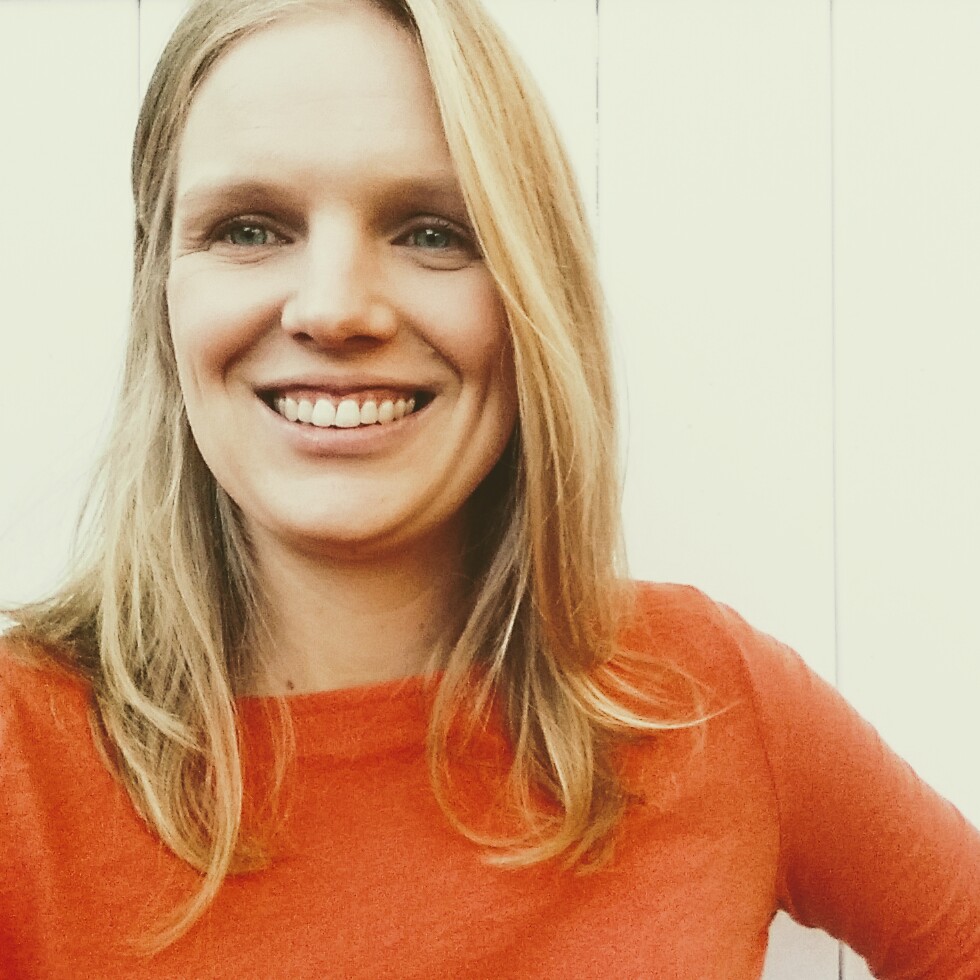 Elissa Schloesser: Elissa Schloesser helps transform your complex info and smart ideas into enlightening designs. She brings over 10 years of experience creating information graphics and designs that effectively communicate plans, make educational resources more engaging, and report results in a meaningful way. She holds a Master of Planning in Public Affairs and a Bachelor of Science in Design. Learn more about her work at www.myvisualvoice.com.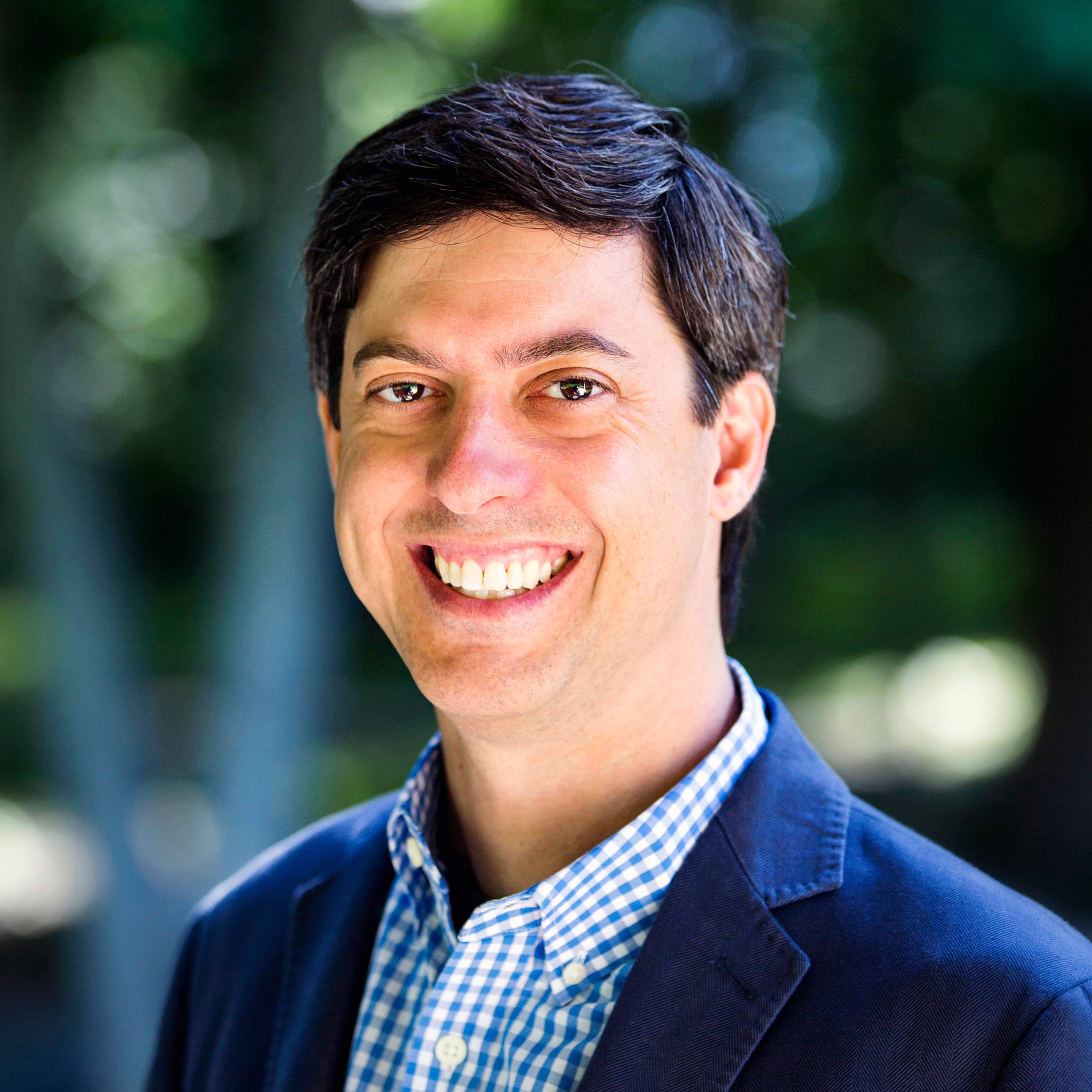 Jon Schwabish, Ph.D.: Jon Schwabish is an economist, writer, teacher, and creator of policy-relevant data visualizations. He is considered a leading voice for clarity and accessibility in how researchers communicate their findings. His book Better Presentations: A Guide for Scholars, Researchers, and Wonks helps people improve the way they prepare, design, and deliver data-rich content. He is on Twitter @jschwabish.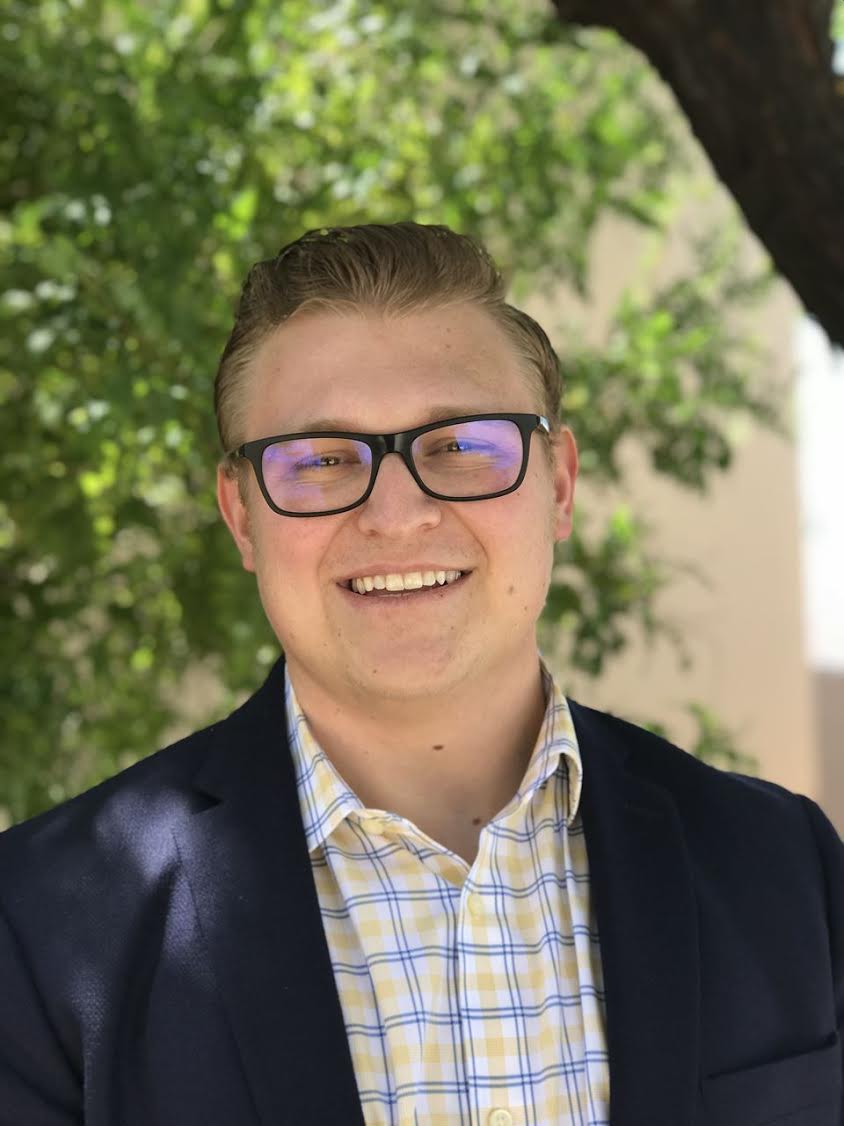 Deven Wisner: Deven Wisner is a capacity builder for data-driven decision making across a variety of disciplines, including regulatory consulting, human capital, finance, and marketing. In addition to overseeing Human Capital & Business Analytics for two organizations and acting as the Principal consultant for Wisner Analytics, Deven teaches at the University of Arizona, South. At the root of all his work is a passion or empowering individuals to utilize evidence-based decision making as an effective method for achieving their goals and objectives.
Frequently Asked Questions
When does the course start and finish?
This course is only open once a year. The 2018 cohort runs from October 2018 through September 2019. The 2019 cohort will begin in fall 2019. Join the interest list to be the first to hear about registration details, to get early registration to secure your spot, and to get special early bird pricing. Throughout the year-long cohort, I'll email you every week to share encouraging messages and make sure that you're progressing.
What makes this course unique?
My favorite aspect of this course is that it's taught by a team of FOURTEEN instructors. Ann K. Emery teaches the majority of lessons, but you'll also learn from authors, faculty, graphic designers, and data analyst extraordinaires like Lyssa Wilson Becho, Isaac D. Castillo, Amy Cesal, Kylie Hutchinson, David Keyes, Chris Lysy, David Napoli, Emma Perk, Echo Rivera, Sheila B. Robinson, Elissa Schloesser, Jon Schwabish, and Deven Wisner. Kylie Hutchinson literally wrote THE book on effective reporting, Jon Schwabish wrote THE book on better presentations, and Sheila B. Robinson wrote THE book on survey research. Each guest expert was selected for their strong analytical training and natural visual abilities.
How is this course different from your workshops?
You learned a lot during your org's in-person workshop! Now, prepare to soar to the next level with this online course. We'll go broader and deeper. You'll see more techniques, more examples, more before/after makeovers, more software how-tos, and more applications to reports, slideshows, dashboards, and infographics. You'll also hear from 13 guest experts, who provide insights not provided in the live workshop.
How is this course different from your webinars?
A typical webinar is 60 minutes long. This course is 20 hours long. You're getting more than 20 times the tips, techniques, ideas, examples, makeovers, and resources than a webinar.
How did you choose which skills to include?
I teach skills in a very intentional sequence: from analyzing your audience, to choosing the right chart, to selecting a software program, to editing your graph. In other courses I've taken, the instructors have focused on "what NOT to do." I've left those classes feeling afraid to try anything new. This course focuses on "what TO do" first, second, and third in an easy-to-replicate order.
How do I know if your teaching style is right for me?
Enroll in my free course called Beyond the Dusty Shelf Report. You'll see examples of before/after makeovers from real reports, dashboards, and slideshows. That course is the appetizer. This course is the main dish (with lots of yummy desserts, too). I don't read from scripts. I sound like a human. If you want a dry, robotic teacher reading from a script, then this course isn't for you.
What if I have questions about my individual project?
Enroll in the Silver Tier and you'll get access to monthly office hours sessions where you can submit your drafts and get feedback from me and from your fellow students. Enroll in the Gold Tier and you'll get an hour of one-on-one consulting time with me. We'll share screens and work through your individual questions together. Together, we can tackle what it would take you all day to fiddle with on your own.
Can't I just find this information on the internet or in books?!
Yes. If you've got the time to read books, subscribe to blogs, listen to podcasts, and take classes on your own, then go for it. This course is a shortcut. In 12 months, I'll teach you what it took me a decade to learn on my own.
Can I get the same information from your blog?
Yes and no. I freshly-recorded 150+ lessons just for this course. I used to post tutorials on YouTube, but that was back in 2012, and I posted the videos as the mood struck me, not in a logical, cohesive course. My blog posts don't follow a cohesive order, either.
Which software program are we using?
This isn't a software how-to course. The vast majority of lessons are software-agnostic. In other words, these universal best practices can be (and should be!) applied to any software program. I've also included how-to tutorials, like how to find your custom color codes with an eyedropper, how to decipher your fonts with a free website, and tips for getting started with Excel, Tableau, and R.
What if I am unhappy with the course?
We would never want you to be unhappy! If you are unsatisfied with your purchase, contact us in the first 30 days and we will give you a full refund.
This course is not open for enrollment.