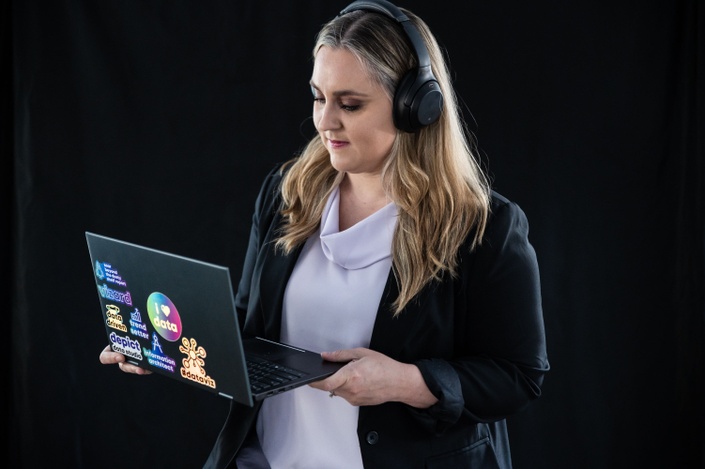 Interactive Dashboards in Excel
A Beginner's Guide to Pivot Tables, Pivot Charts, and Slicers
Want to up your Excel game?
Ready to speed up your spreadsheet skills?
In this course with Ann K. Emery, you'll:
learn which dashboard types are possible in Excel (static or interactive, single or series);
familiarize yourself with the tech options available (regular tables vs. Excel Tables, pivot tables vs. formulas, pivot charts vs. regular charts);
create an interactive dashboard in Excel using the sample dataset that we'll provide (you'll do basic

data

cleaning and recoding; insert a brand new pivot table; drag and drop your variables to tabulate the

data

; build pivot charts that can be automatically updated; and then use slicers to add interactivity to those pivot charts);
create a second dashboard in Excel with regular charts; and
create a third dashboard in Excel with quickie charts.
Here's more information on what's inside each module.
Intro to Excel Dashboards
4 lessons; 37 minutes
In this module, you'll learn:
how to narrow down which type of dashboard your viewers need (single or series, static or interactive),
which features are possible in Excel (regular tables or Excel Tables, pivot charts or regular charts, etc.), and
how to set up your Theme Colors and Theme Fonts.

Case Study 1: Pivot Charts
4 lessons; 1 hour 50 minutes
In this module, you'll learn how to:
build pivot tables,
build pivot charts,
add slicers, and
save the dashboard as a PDF (optional).

Case Study 2: Regular Charts
3 lessons; 23 minutes
In this module, you'll learn how to:
use formulas to create summary tables,
create and edit charts, and
save the dashboard as a PDF (optional).

Case Study 3: Quickie Charts
4 lessons; 33 minutes
In this module, you'll learn how to:
use formulas to create summary tables,
create heat tables.
create trend lines, and
create summary bars.

Putting It All Together
1 lesson; 2 minutes
Finally, we'll discuss the pros and cons of each approach.
You'll receive a PDF cheat sheet, too.

Captions on All Videos
By popular request, all our videos have been captioned.

Spreadsheets to Download
You'll follow along as we build dashboards together.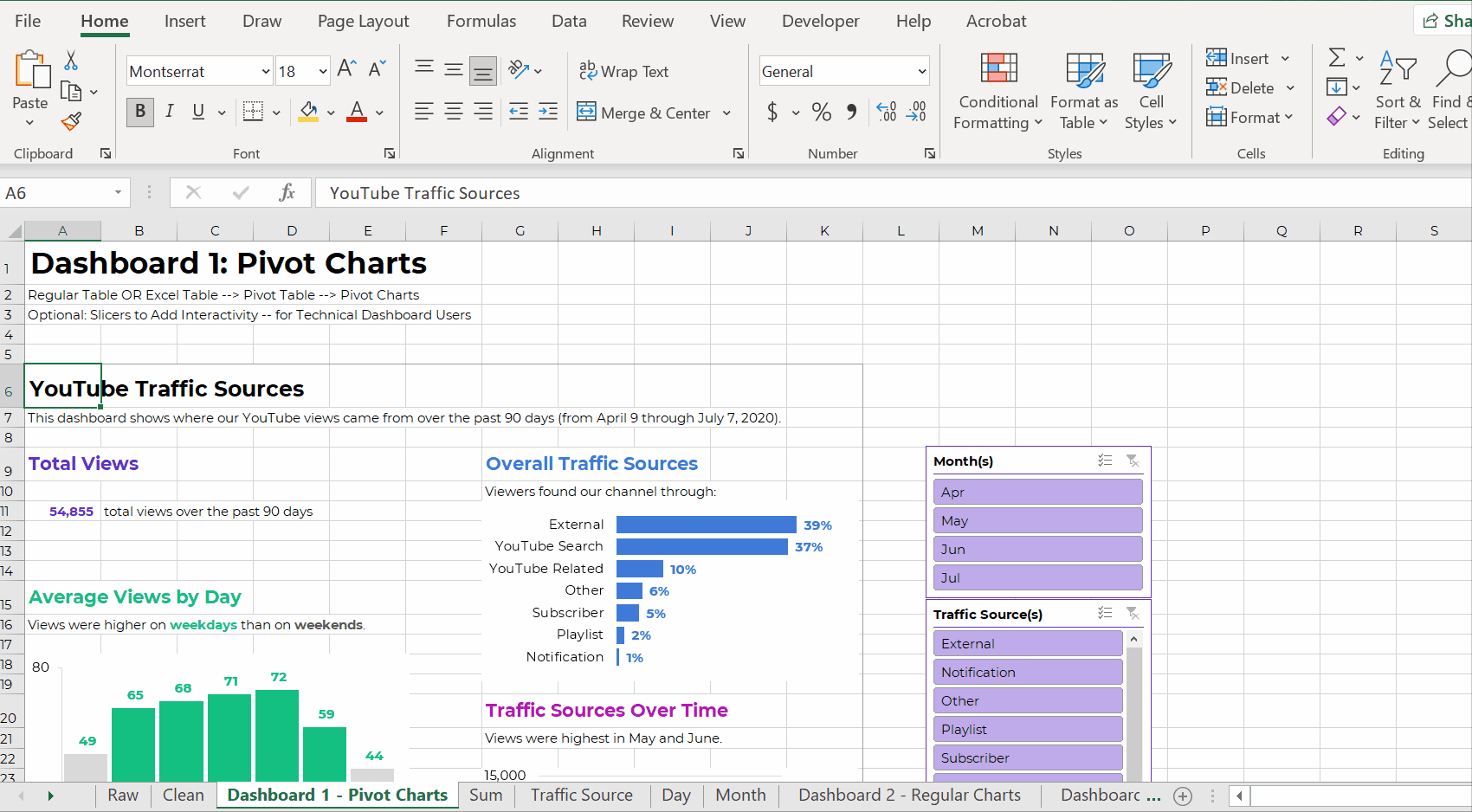 Data Vizards Community
You'll be invited to join our students-only group on LinkedIn.
Inside, you can:
Post screenshots of your draft reports, slideshows, or dashboards and ask others for feedback
Share tips, tricks, and links of your own (Figure out something cool in Excel? Share it with us here! Listen to a great dataviz podcast? Let us know!)
Post your resume (if you're job-hunting) or post a job opening (if you're hiring)
Network with fellow researchers, evaluators, analysts, and data people of all experience levels and skill ranges

Discussion Boards to Ask Questions
Every module includes discussion boards where you can ask questions, comment on the lessons, and share your own tips with the community.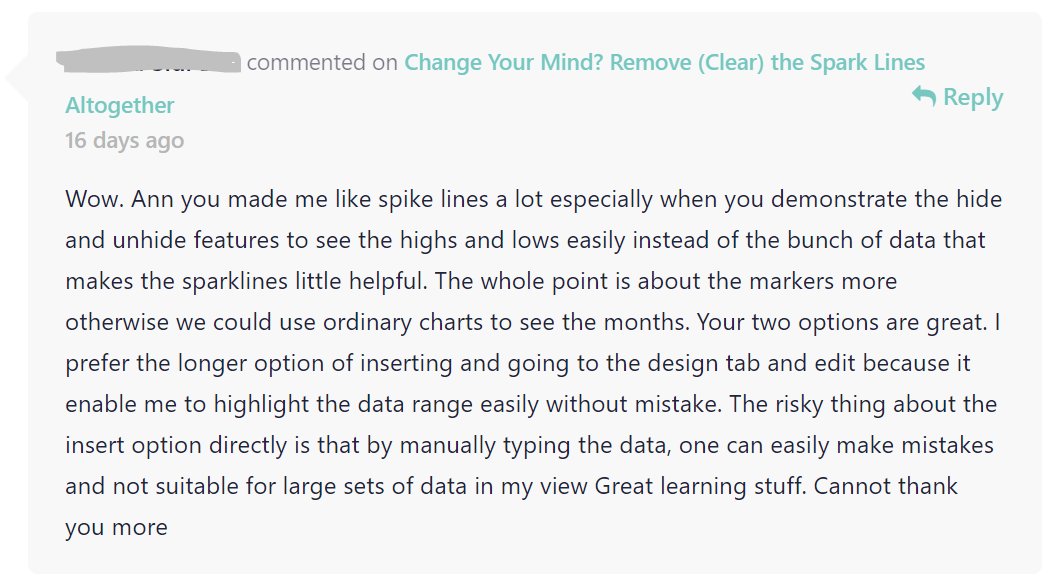 Certificates of Completion
Build your resume and share it on social media.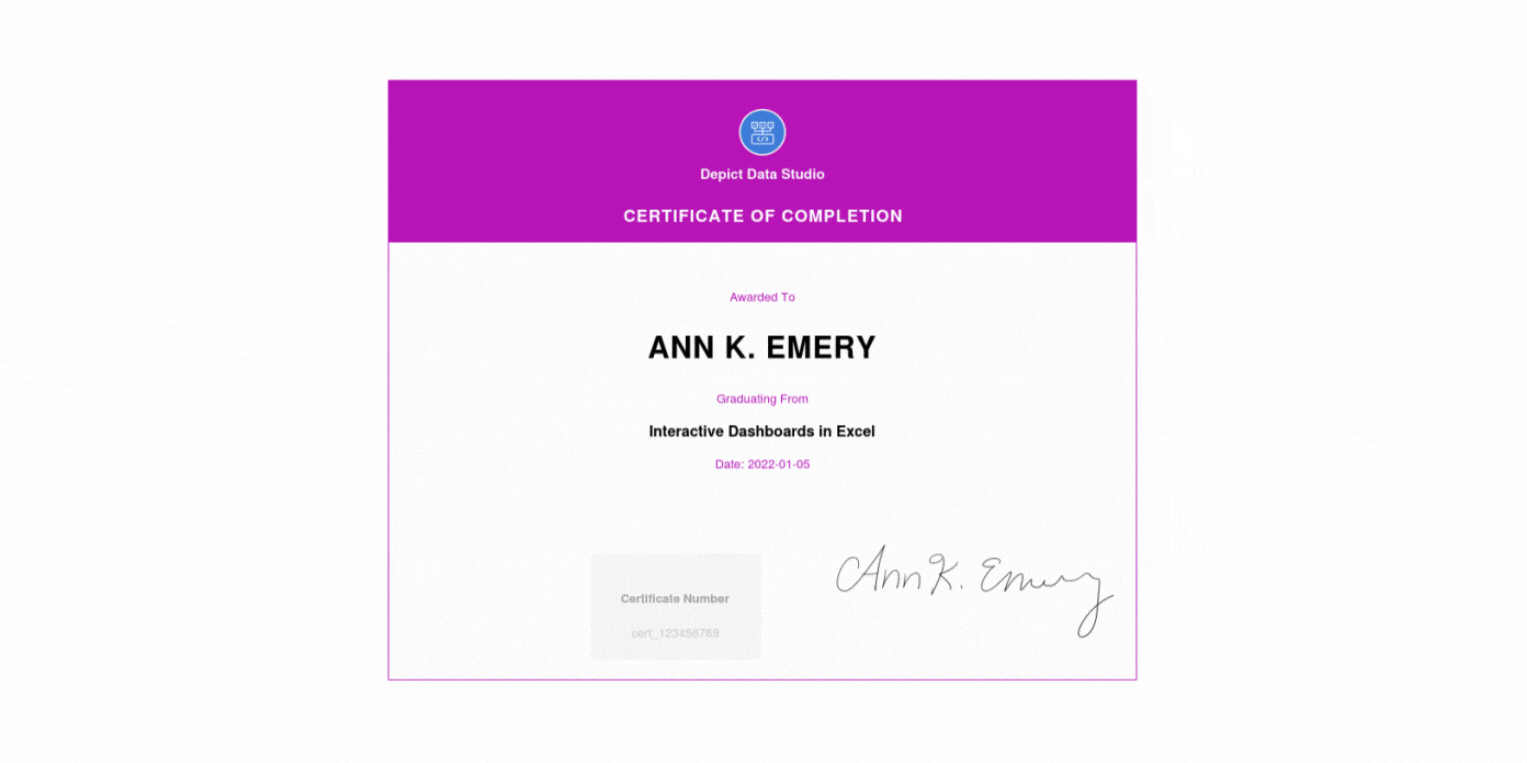 Time Required: Half a Day
The first case study, about interactive dashboards with pivot tables, pivot charts, and slicers, takes about 2 hours to complete.
The 2 additional case studies, about regular charts and quickie charts, take another hour to complete.
Be proactive. Put in 3 hours of time now. Prevent 3 days of dashboard headaches later.
Excel Users of All Levels are Welcome
Beginners, you'll have your eyes opened to what's possible in Excel.
Intermediates, you'll gain some new spreadsheet techniques that you might not have used before.
Advanced users, you'll get a confidence boost and leave the course knowing that you're already on the right track.

What Participants Are Saying
6,000+ participants from around the globe have taken our online courses since 2018.
Here's how those researchers, evaluators, scientists, and professors are describing our courses.

"I work at a grantmaking organization and it is my job to update the board three times a year on the grant applications we are considering for awards, the grantmaking budget, and other information...
Fortunately, after completing about 70% of the Dashboard Design course, I was able to revitalize a tired spreadsheet into an information powerhouse and a colorful budget visualization into a professional presentation.
It's the same information, just presented differently!...
This resulted in a much more well-received document with lots of compliments from board members!...
The lessons were fun and I was able to put my skills to the test in a matter of weeks!"
- Kristen Summers, Senior Grants Manager, Saint Luke's Foundation, Dashboard Design participant

"A data analyst I was working with on this project was amazed that this could be done in Excel . He was used to doing all his analysis in python or R, and wasn't too familiar with data design techniques in Excel.
Thank you, Ann, for creating these quick tutorials that anyone can follow, especially those in the nonprofit sector."
- Rocele Estanislao, Project Manager, Data Management, Los Angeles Homeless Services Authority, Great Graphs participant

"Once I moved into an assessment role full-time, I... wanted to up my game with Excel graphs and charts, so I knew just where to go for help...
When I had to write a summary of a laptop loan program survey, I transformed the plain, ordinary graphs to uncluttered, with clearly understandable graphs of the survey results.
Ann takes you beyond the basic Excel charts...
I found this course to be very practical with beneficial tips to use immediately in my work and would recommend it to anyone desiring to up their game with charts and graphs for data visualization."
- Lee Ann Lannom, Assessment Librarian, Jean & Alexander Heard Libraries, Vanderbilt University, Great Graphs participant

"I'd been following Ann's blog for quite some time, but I was eager to get access to additional data viz lessons ...
Ann's course played a big role in the improvement of my data visualizations, and most of all made it way more fun.
My goal is now to help some of my colleagues improve their data visualizations too , so that our organization can better act on all the data that we're collecting and achieve more impact."
- Sophie van der Wansem, Digital Product Developer, PharmAccess Foundation, Great Graphs participant

"I would often see charts, graphs, and other data visuals in journal articles, and think to myself, 'Wow, this is horrible; I have no idea what I am supposed to learn from this!" But I had no idea how to make it better or offer constructive suggestions...
My own publications and posters have benefitted—no more hard-to-read charts filled with clutter!
The videos were easy to follow along and the detailed lessons with Excel hacks saved me a ton of time.
Thank you Ann and I cannot wait to take your next course!"
- John R. Heberger, Epidemiologist, Centers for Disease Control and Prevention, Great Graphs participant

"The outcome: More effective use of data in decision-making.
Our new performance monitoring dashboard has made it so much easier for our team to review quarterly progress in one place and visualize how our system of early childhood programs are working for children and families in the county.
The dashboard has become a quarterly staple at our staff meetings, where we review as a group and use the data to generate next steps.
It is also easy to share with senior leadership, so they can see at-a-glance the important work our programs are doing."
- Shawna Rohrman, Ph.D., Evaluation Manager, Cuyahoga County Office of Early Childhood, Dashboard Design participant


Your Instructor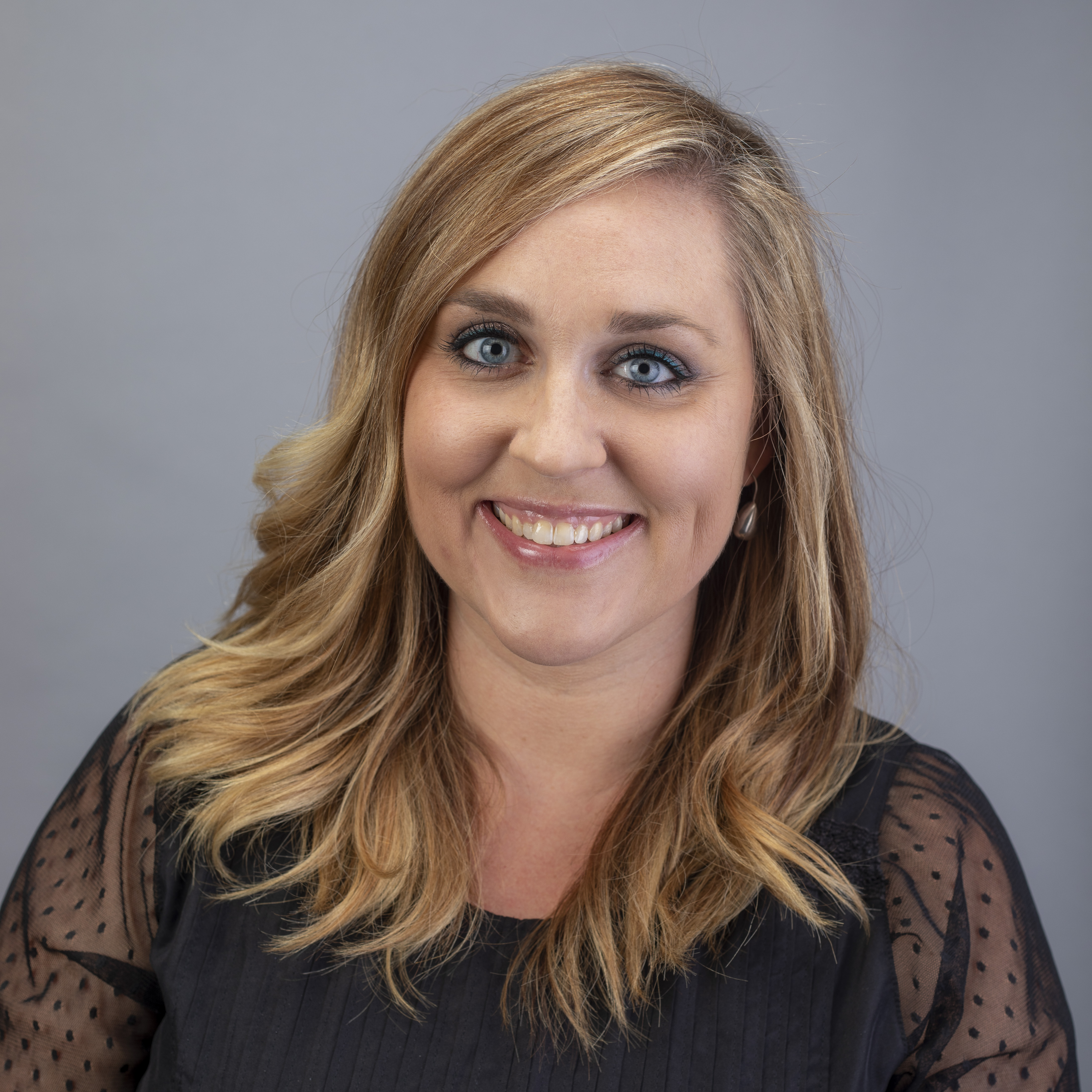 Ann K. Emery is an internationally-acclaimed speaker who equips organizations to get their data out of dusty spreadsheets and into real-world conversations.
Each year, she delivers over 100 keynotes, workshops, and webinars with the aim of equipping organizations to visualize data more effectively.
She has been invited to speak in 30 states and 11 countries; 9,000 people have enrolled in her online training academy; and she has consulted to 200 organizations, including the United Nations, Centers for Disease Control, and Harvard University.
She earned a Bachelor's degree from the University of Virginia and a Master's degree from George Mason University.
After traveling full-time as a digital nomad, Ann now resides in Florida along with her husband and fivechildren.