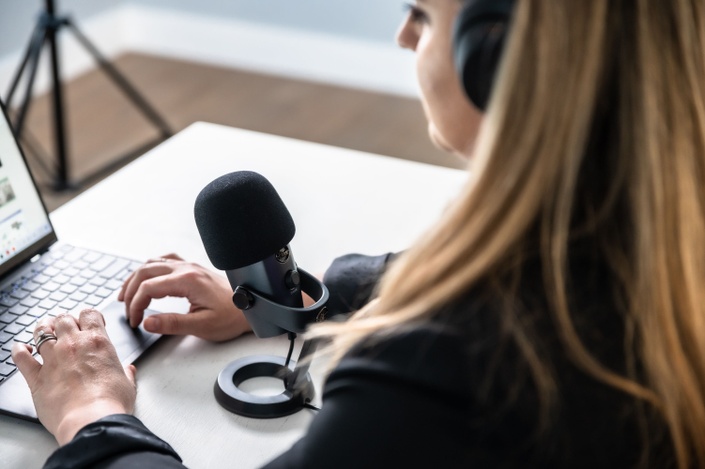 Interactive Dashboards in Tableau
The Absolute Beginner's Guide to Tableau
Want to get started with Tableau?
This half-day course is the absolute beginner's guide to Tableau.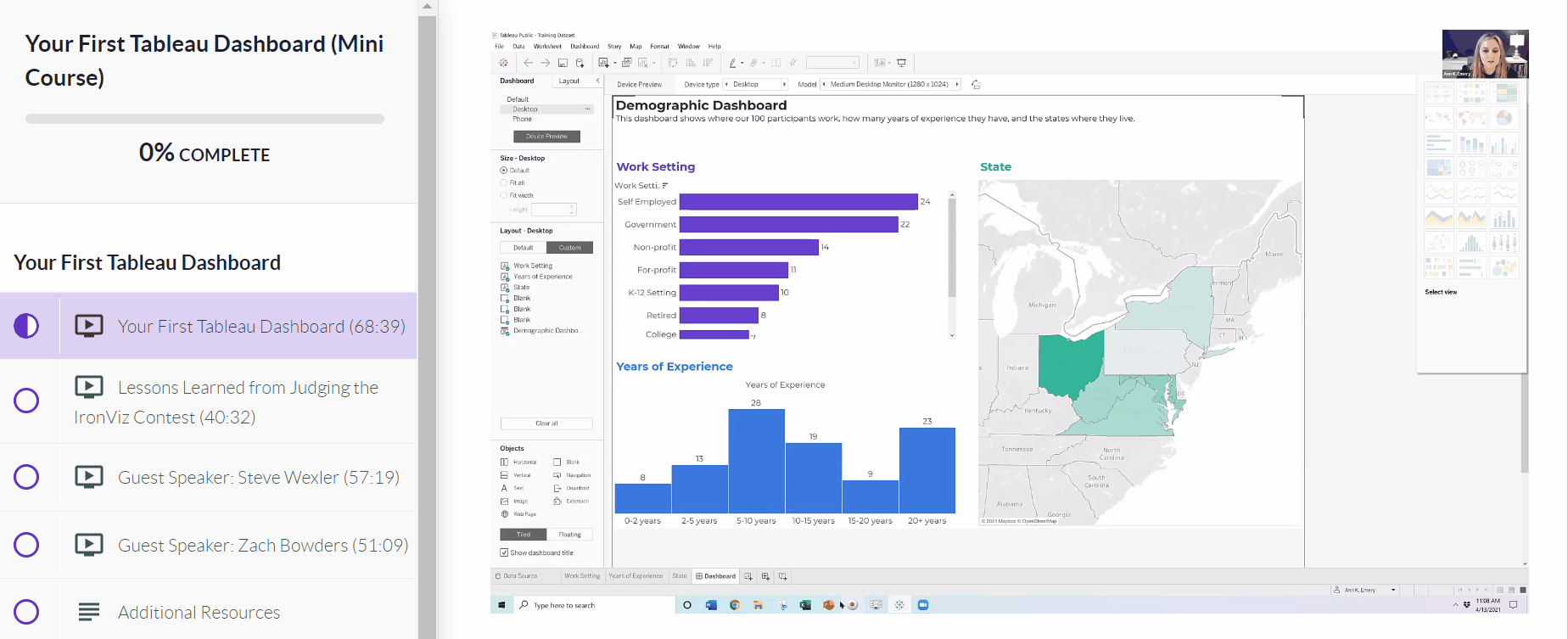 Your First Tableau Dashboard
68 min
You'll download the sample dataset, and then build and format your very first Tableau dashboard.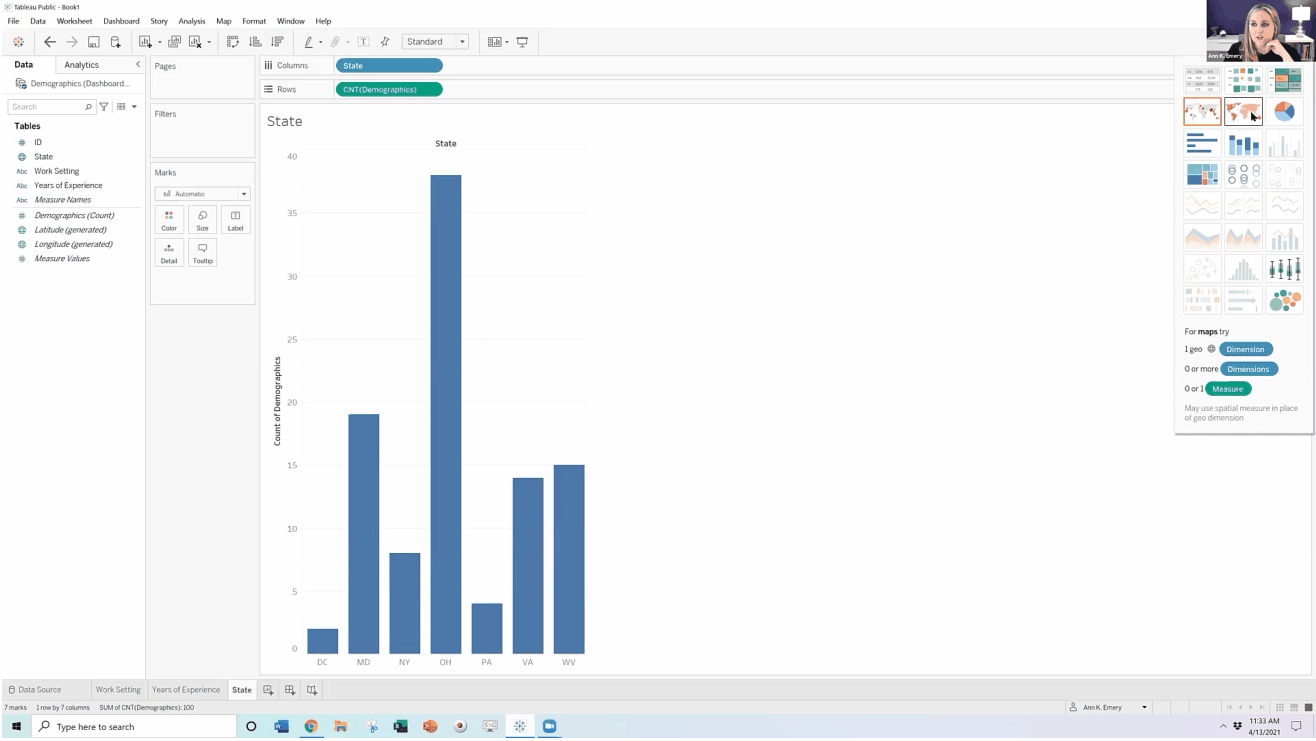 Lessons Learned from Judging Tableau's Iron Viz Contest
40 min
In 2020, I was invited to judge Tableau's Iron Viz entries. Iron Viz is the world's largest data visualization competition, and I was honored to be invited to judge the finalists alongside fellow dataviz gurus like Nathan Yau, Shirley Wu, and Jon Schwabish.
You'll see the top 10 entries from participants worldwide, and learn what judges like me looked for as we narrowed those 10 entries down to 3 finalists. I talked through what's working (and what's not) in a few of those entries.
This is a great lesson for both beginner- and intermediate-level Tableau users. Beginners, you'll see what's possible in Tableau. Intermediate users, you'll get ideas for fine-tuning your own dashboards.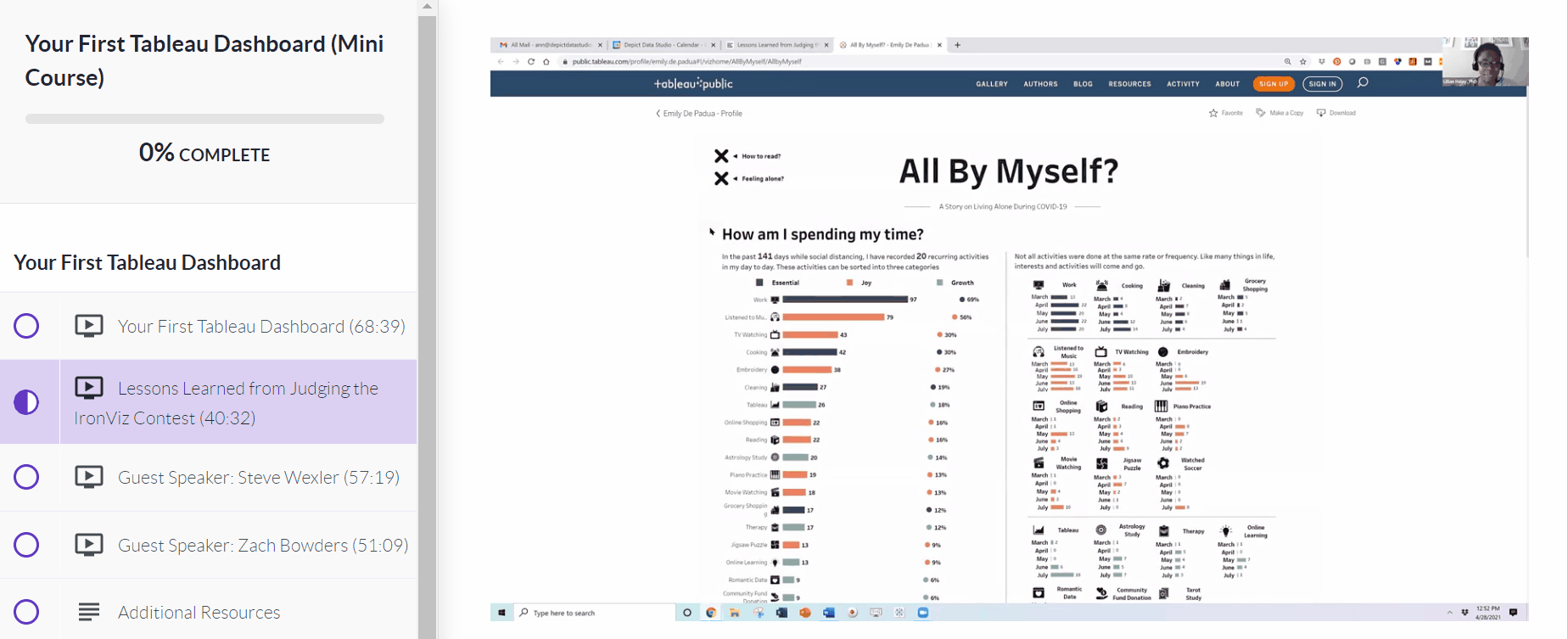 Guest Expert Session with Steve Wexler
57 min
Steve Wexler published "The Big Book of Dashboards" along with stars Jeffrey Shaffer and Andy Cotgreave. He also released a second book, "The Big Picture: How to Use Data Visualization to Make Better Decisions--Faster" in 2021. In this session, you'll learn Steve's favorite dashboard tips.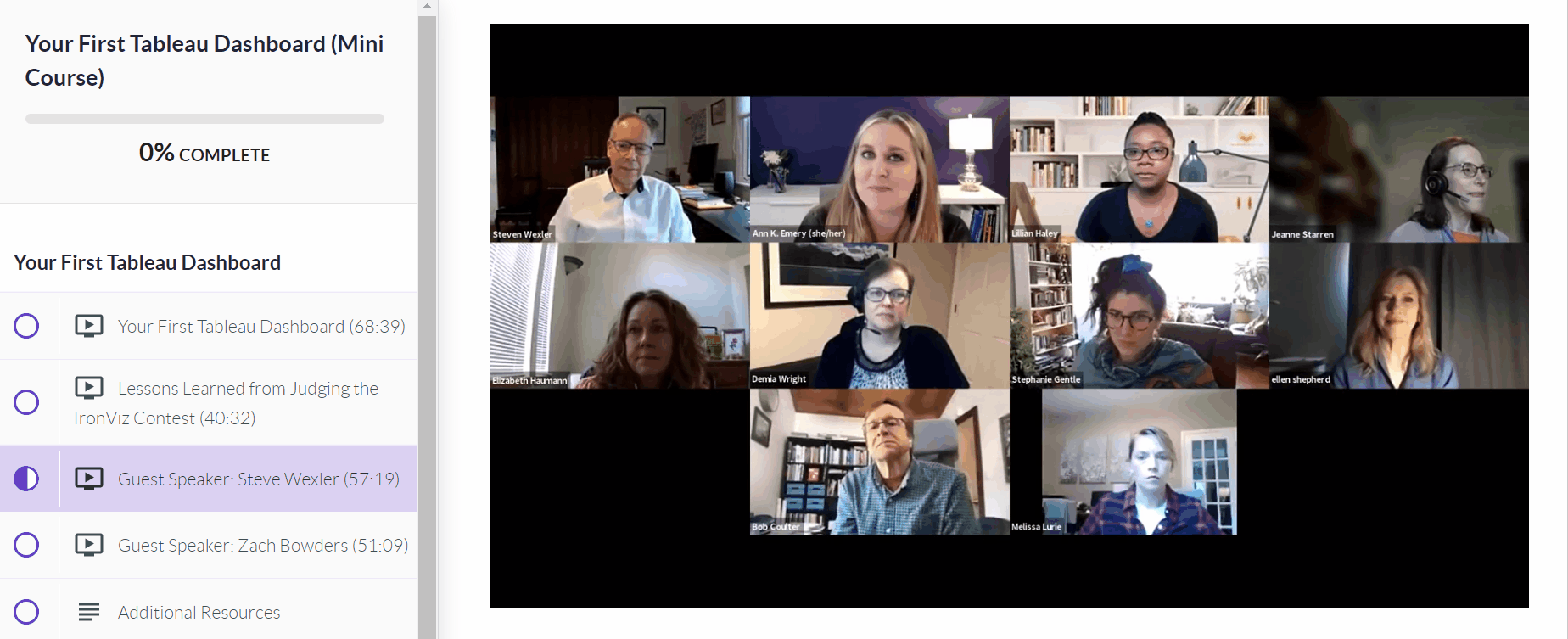 Guest Expert Session with Zach Bowders
51 min
You'll also learn from Zach Bowders, a Tableau Public Ambassador, Zen Master, and host of the popular Data + Love podcast. Zach's one of the most connected people to the Tableau community that I know, so I wanted to bring him in to teach us about all the different ways to get connected and practice our skills.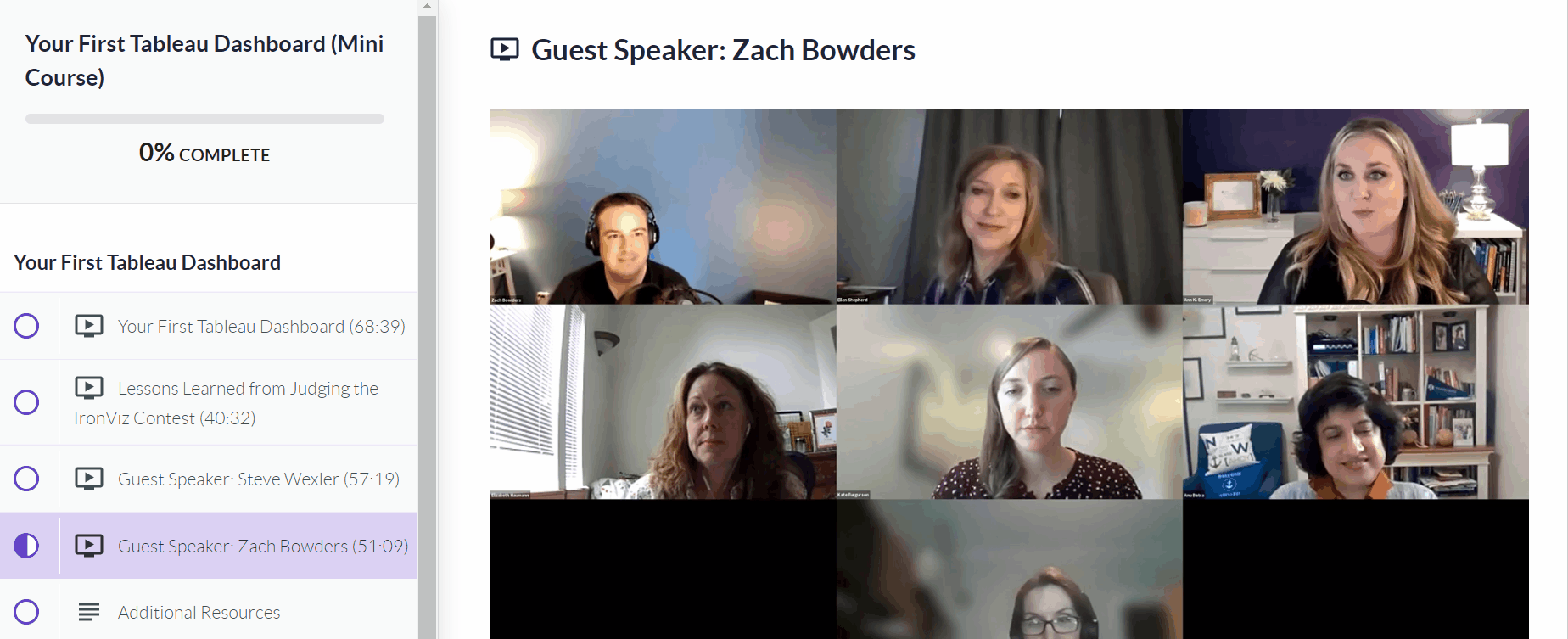 Captions on All Videos
By popular request, all our videos have been captioned.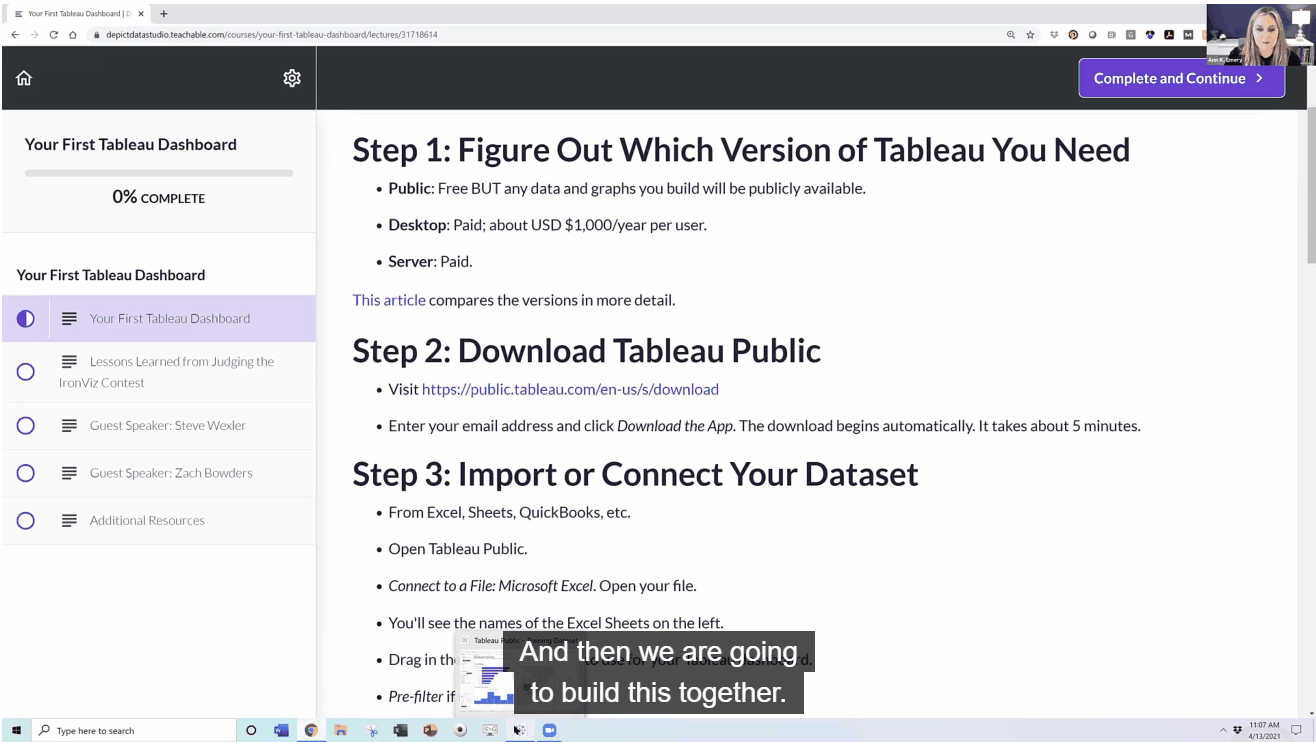 Spreadsheets to Download
You'll follow along as we build a dashboard together.
Data Vizards Community
You'll be invited to join our students-only group on LinkedIn.
Inside, you can:
Post screenshots of your draft reports, slideshows, or dashboards and ask others for feedback
Share tips, tricks, and links of your own (Figure out something cool in Excel? Share it with us here! Listen to a great dataviz podcast? Let us know!)
Post your resume (if you're job-hunting) or post a job opening (if you're hiring)
Network with fellow researchers, evaluators, analysts, and data people of all experience levels and skill ranges

Discussion Boards to Ask Questions
Every module includes discussion boards where you can ask questions, comment on the lessons, and share your own tips with the community.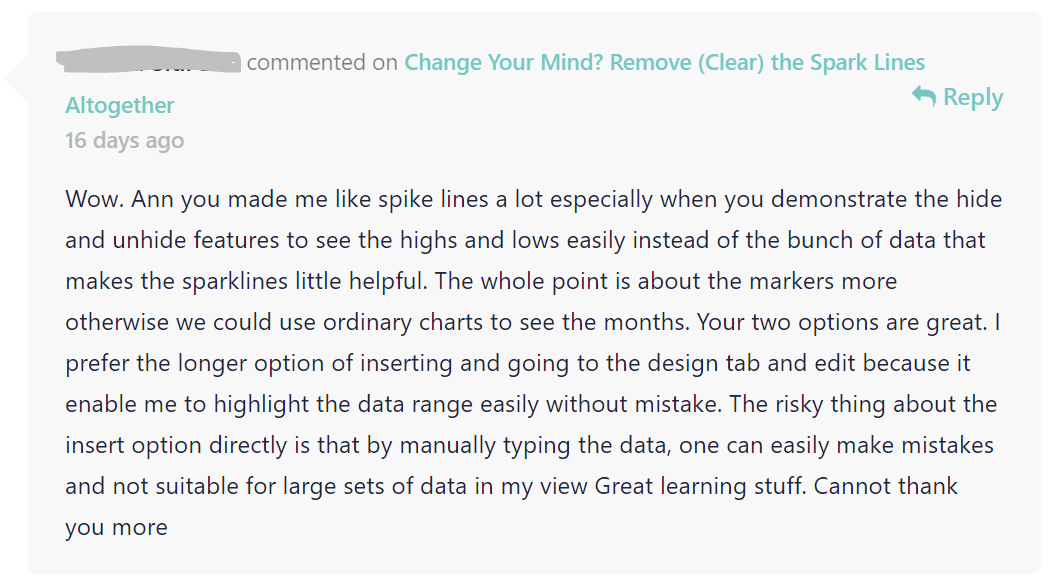 Certificates of Completion
Build your resume and share it on social media.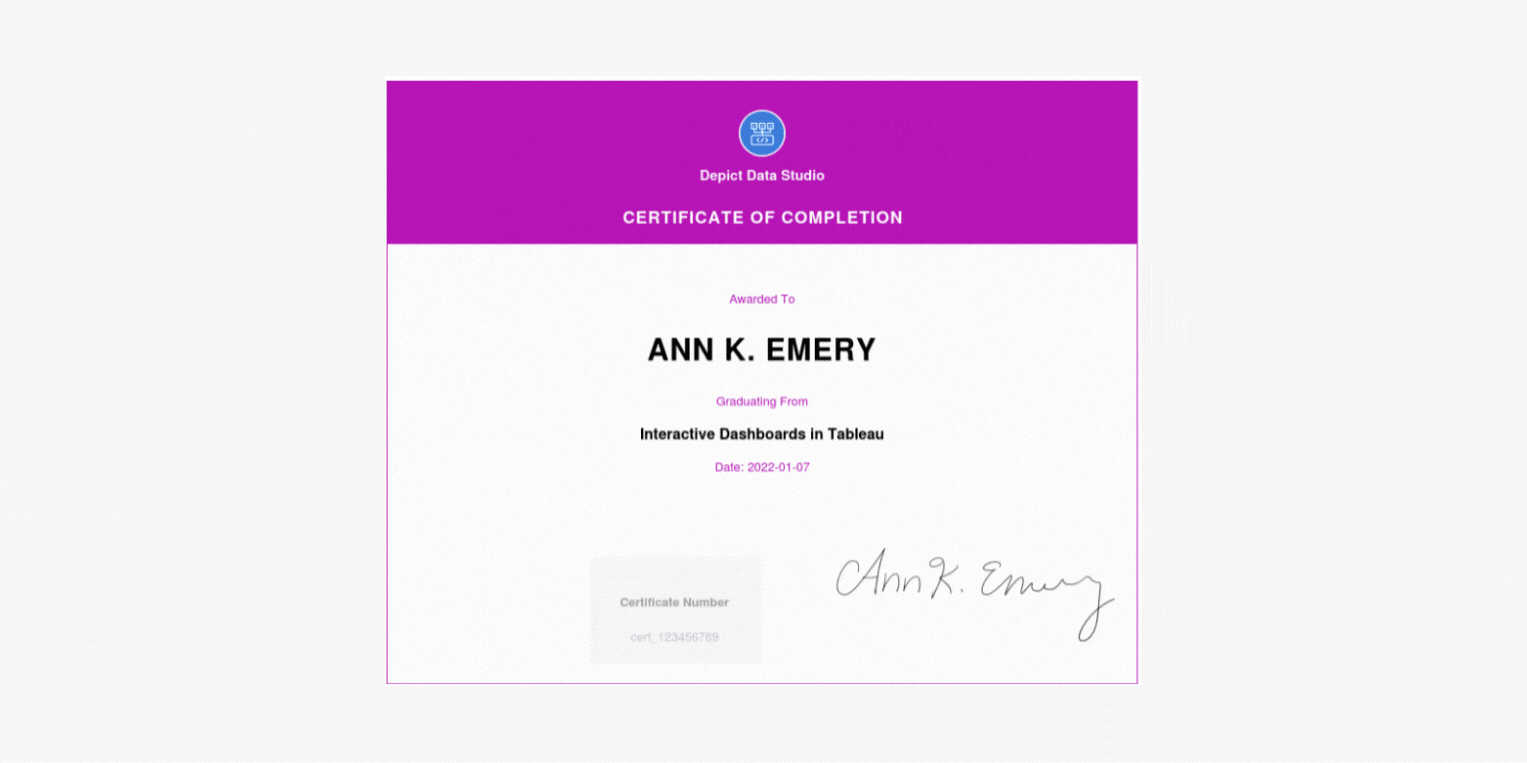 Your Instructor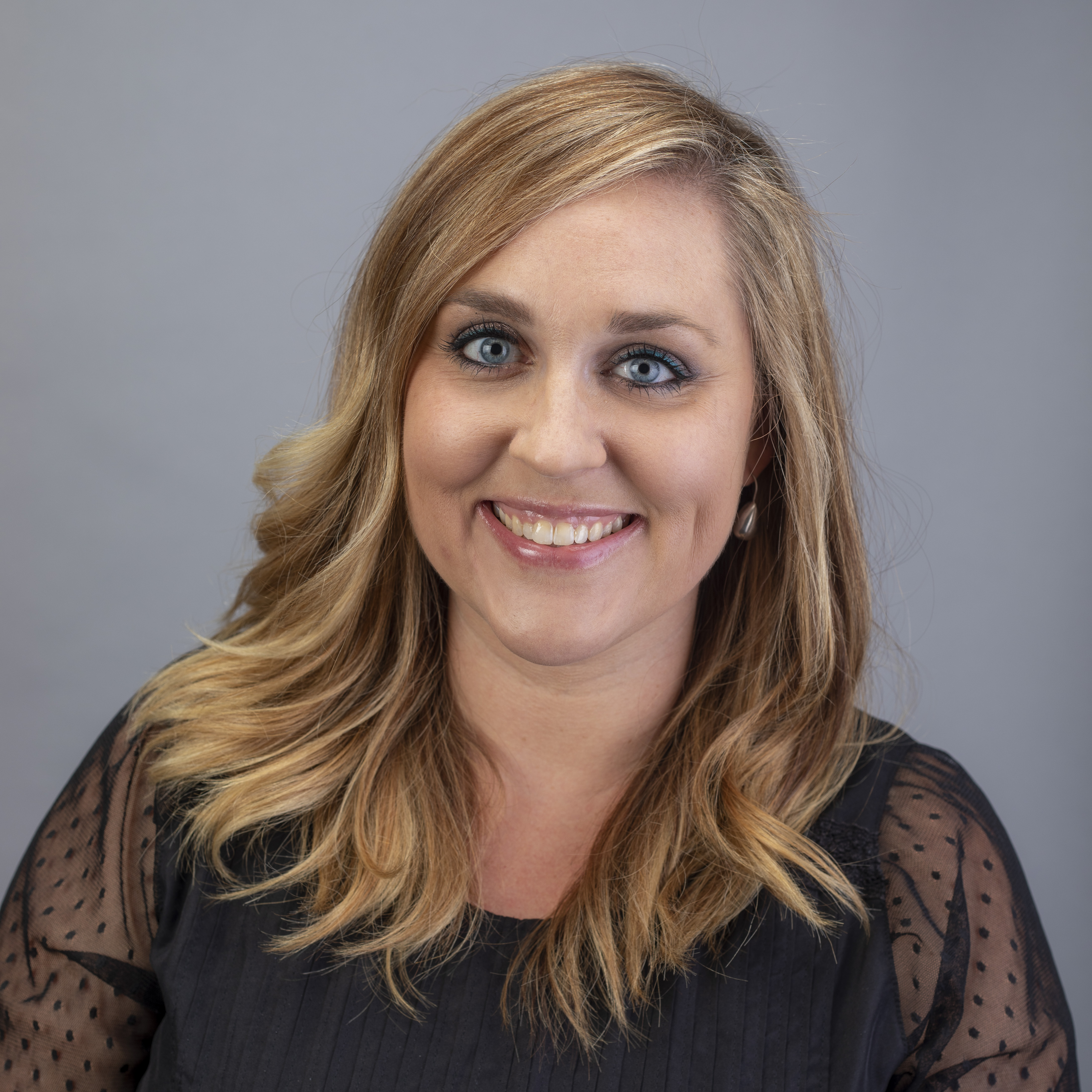 Ann K. Emery is an internationally-acclaimed speaker who equips organizations to get their data out of dusty spreadsheets and into real-world conversations.
Each year, she delivers over 100 keynotes, workshops, and webinars with the aim of equipping organizations to visualize data more effectively.
She has been invited to speak in 30 states and 11 countries; 9,000 people have enrolled in her online training academy; and she has consulted to 200 organizations, including the United Nations, Centers for Disease Control, and Harvard University.
She earned a Bachelor's degree from the University of Virginia and a Master's degree from George Mason University.
After traveling full-time as a digital nomad, Ann now resides in Florida along with her husband and fivechildren.