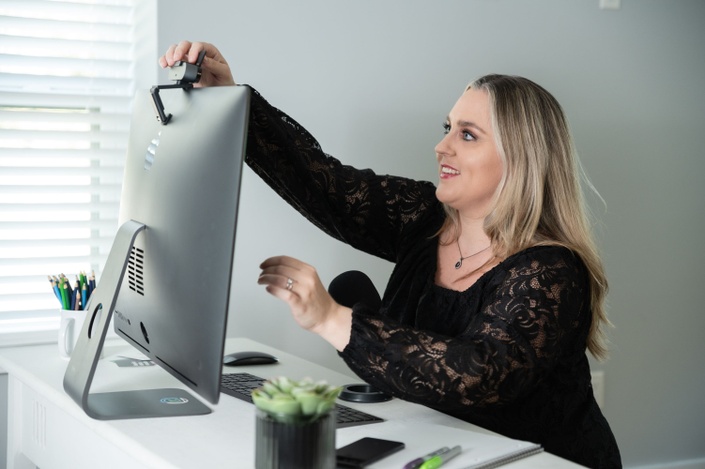 Simple Spreadsheets
Next Opening: September 12-16, 2022
Do Spreadsheets Stress You Out?
Need to make sense of spreadsheets? Not sure where to start? Chances are, there's a faster and easier way to get it done.

Spreadsheets Should Be Simple
In this course, you'll master a step-by-step process for exploring, cleaning, analyzing, and tabulating your dataset. These spreadsheet skills will save your time, energy, and sanity.

You'll be on your way from spreadsheet stress to superstardom in no time. Here's what's included to make that happen.
150+ video lessons that you can watch anytime (the equivalent of our multi-day Simple Spreadsheets workshop that we've delivered in 30+ states and 10+ countries)
Step-by-step instructions for cleaning and analyzing data in Excel
40+ spreadsheets to download so you can follow along
Office Hours sessions (almost) every week to review your datasets
7 additional Live Trainings just for participants in this cohort
Private Data Vizards community of fellow participants
Weekly emails to cheer you on
Lifetime access so you don't feel rushed
Examples from a variety of industries (public health, juvenile justice, museums, and more)
Behind-the-scenes Excel magic tricks guaranteed to make your jaw drop
Early bird bonuses like 1:1 consultations and Swag Bags
Step-by-Step Instructions
150+ Video Lessons to Watch Anytime
You'll get lifetime access to 150+ video lessons--the equivalent of a multi-day training. You can watch these lessons anytime around your own schedule.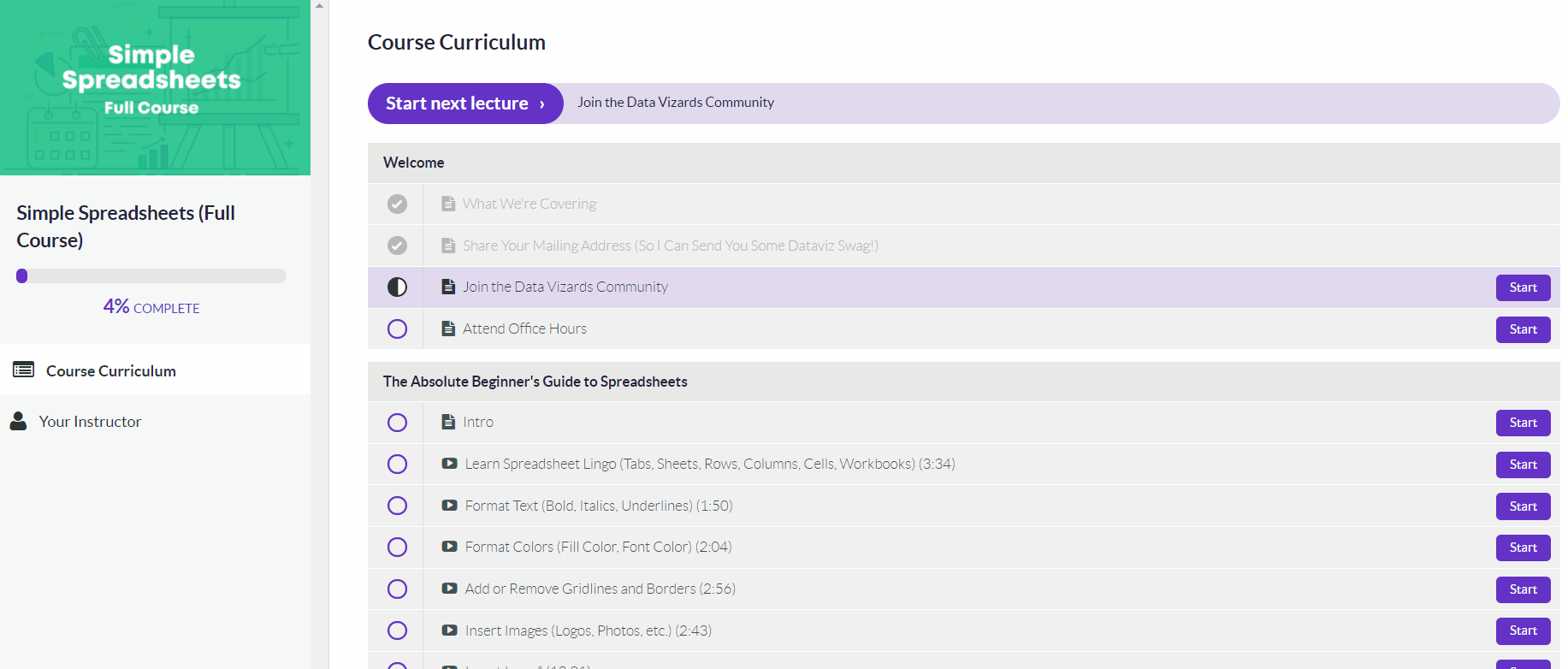 Module 1: The Absolute Beginner's Guide to Spreadsheets

12 lessons; 32 min
You'll get comfortable with the lingo. You'll insert icons, which have been shown to make our numbers more memorable. You'll save time with keyboard shortcuts.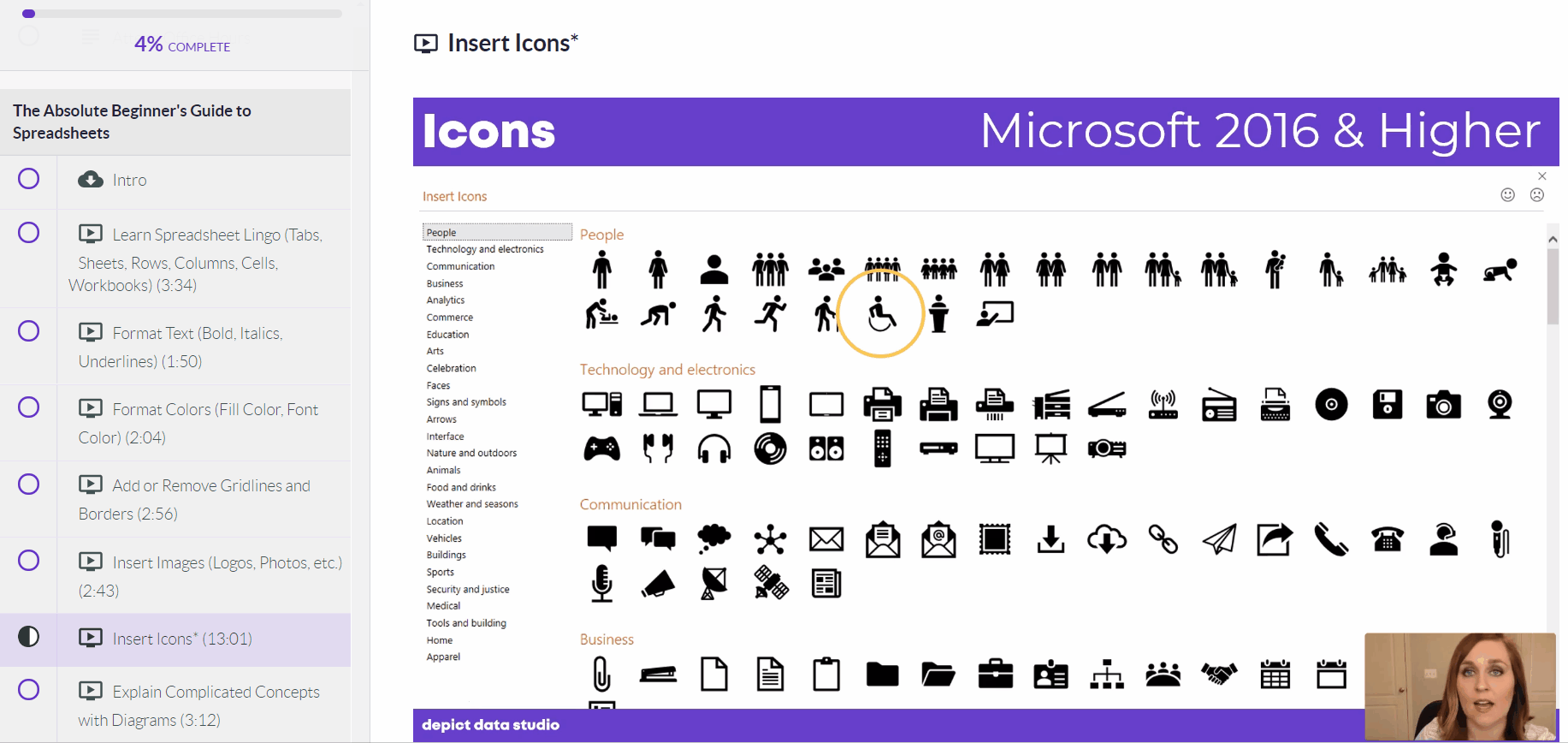 Module 2: Navigate Your Spreadsheets
17 lessons; 60 min
You'll learn exactly what to do when you start a new project--like building a Data Dictionary, naming your files well, and converting CSV files to Excel files.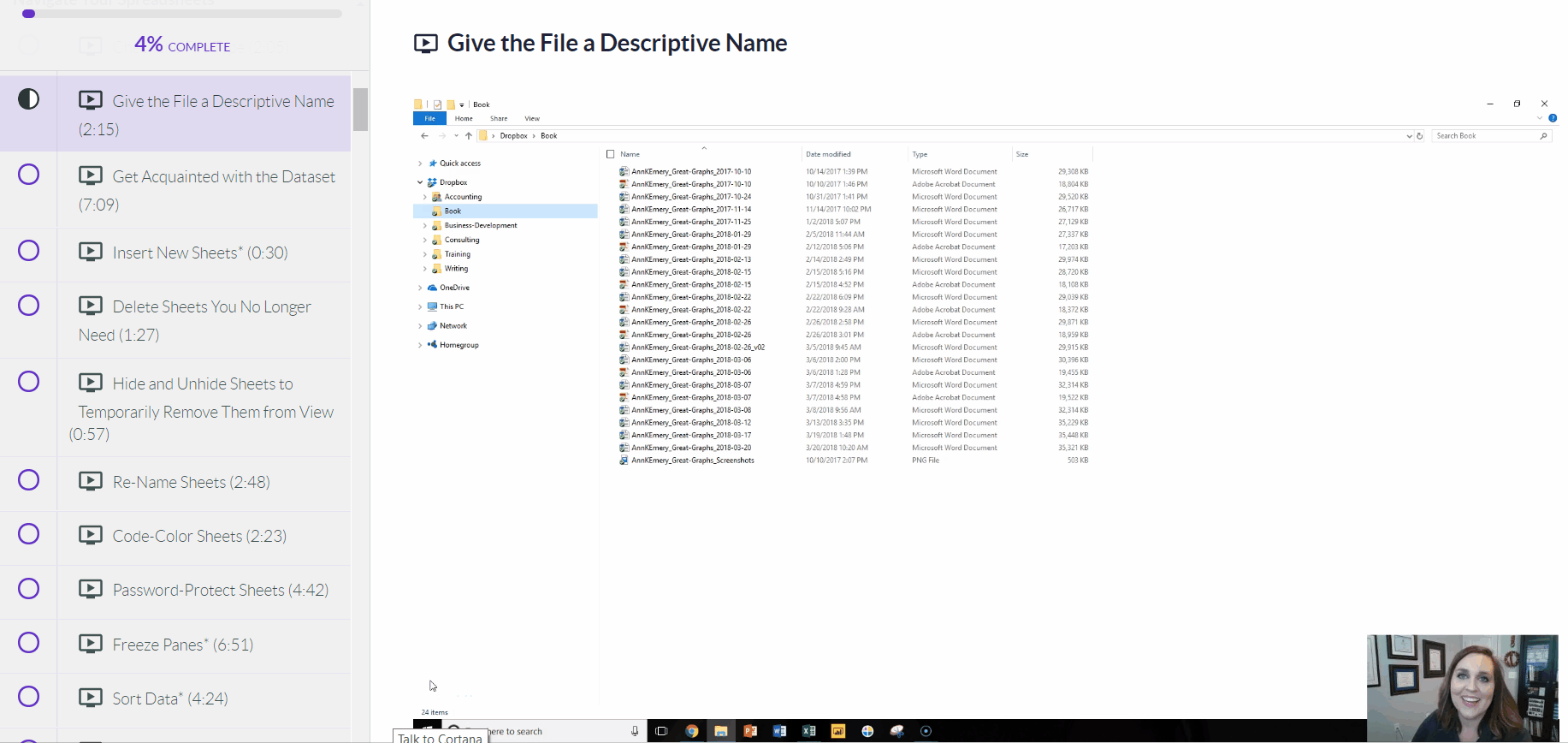 Module 3: Merge Variables Together and Pull Them Apart
9 lessons; 45 min
Most datasets come to us in pieces. You might have a few variables in one file and a few other variables in another file. You'll combine all these disparate data sources into a single, master dataset that you can use for your analyses and for your visualizations. You'll join tables with lookup functions and concatenation, and then peel them apart with a technique called text to columns.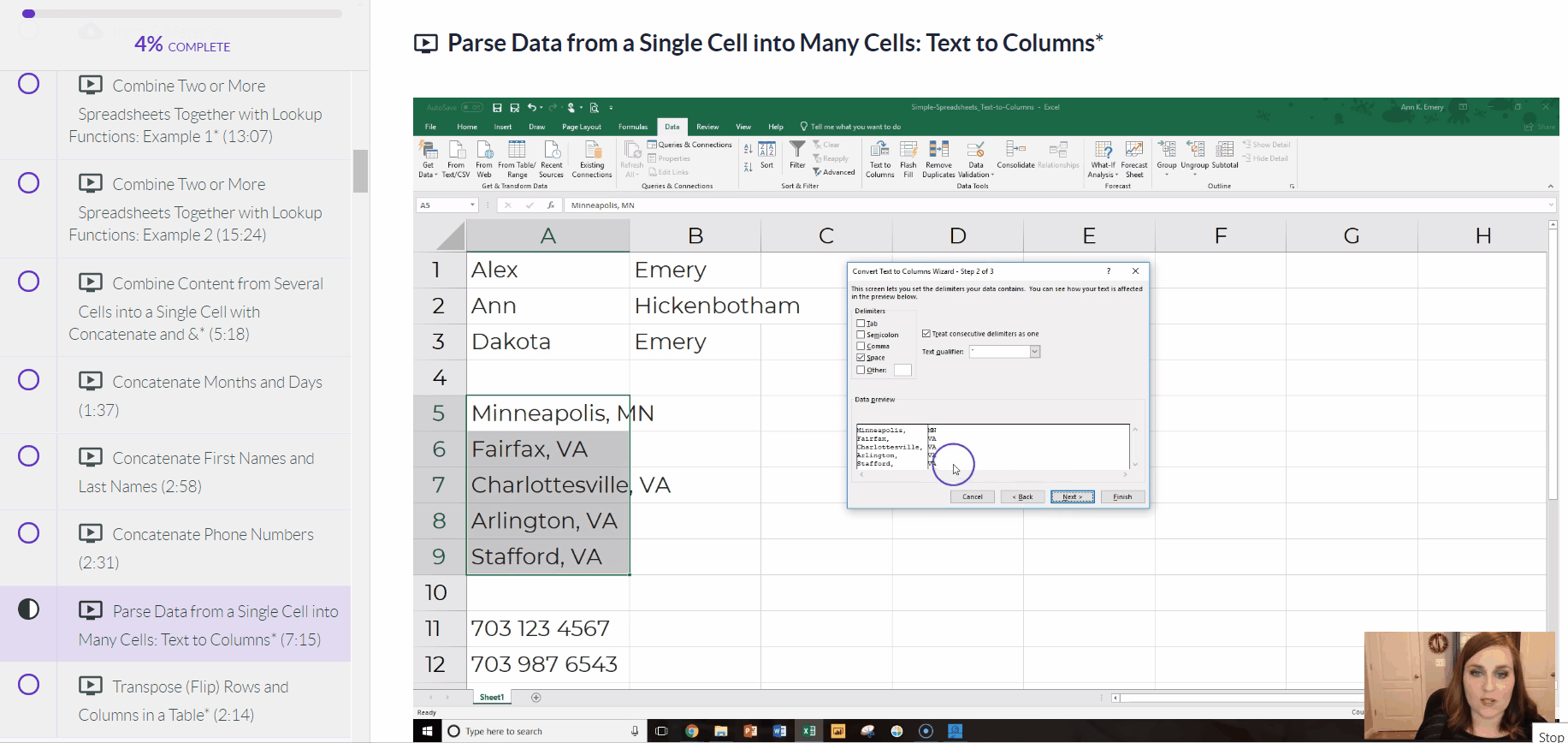 Module 4: Format, Clean, and Recode the Data
27 lessons; 1 hr, 40 min
You've built a master dataset. Now it's time to clean up that messy data! You'll learn my favorite techniques for transforming variables like dates, names, numbers, percentages, and currencies into formats you can actually use.
You'll also recategorize values with techniques =if, which are must-have skills for anyone dealing with data.
You'll learn how to define outliers--and how to handle them.
You'll identify missing data and deal with duplicates.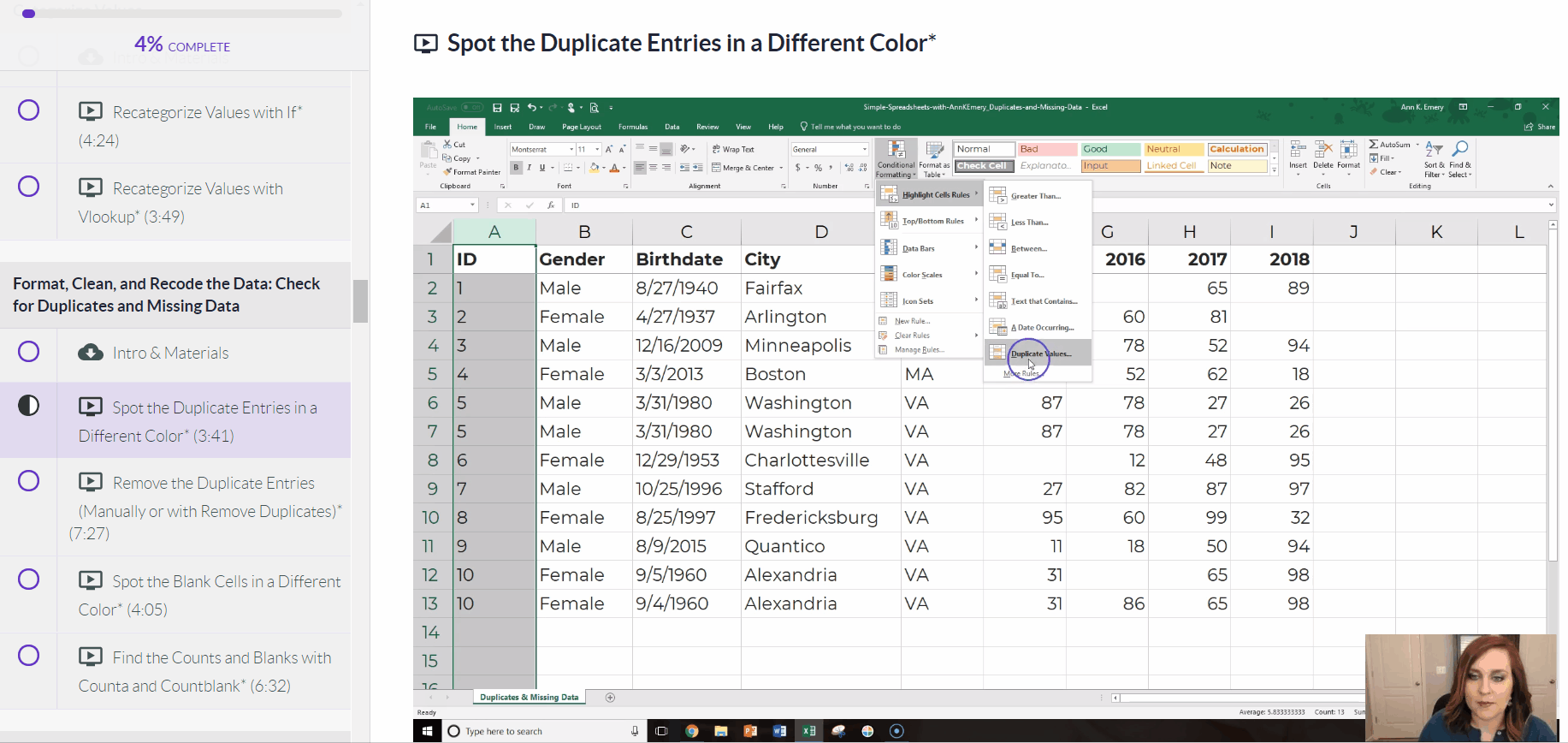 Module 5: Exploratory Data Analysis
18 lessons; 1 hr, 14 min
You'll build sparklines, spark columns, win/loss diagrams, and mini bar charts to explore initial patterns.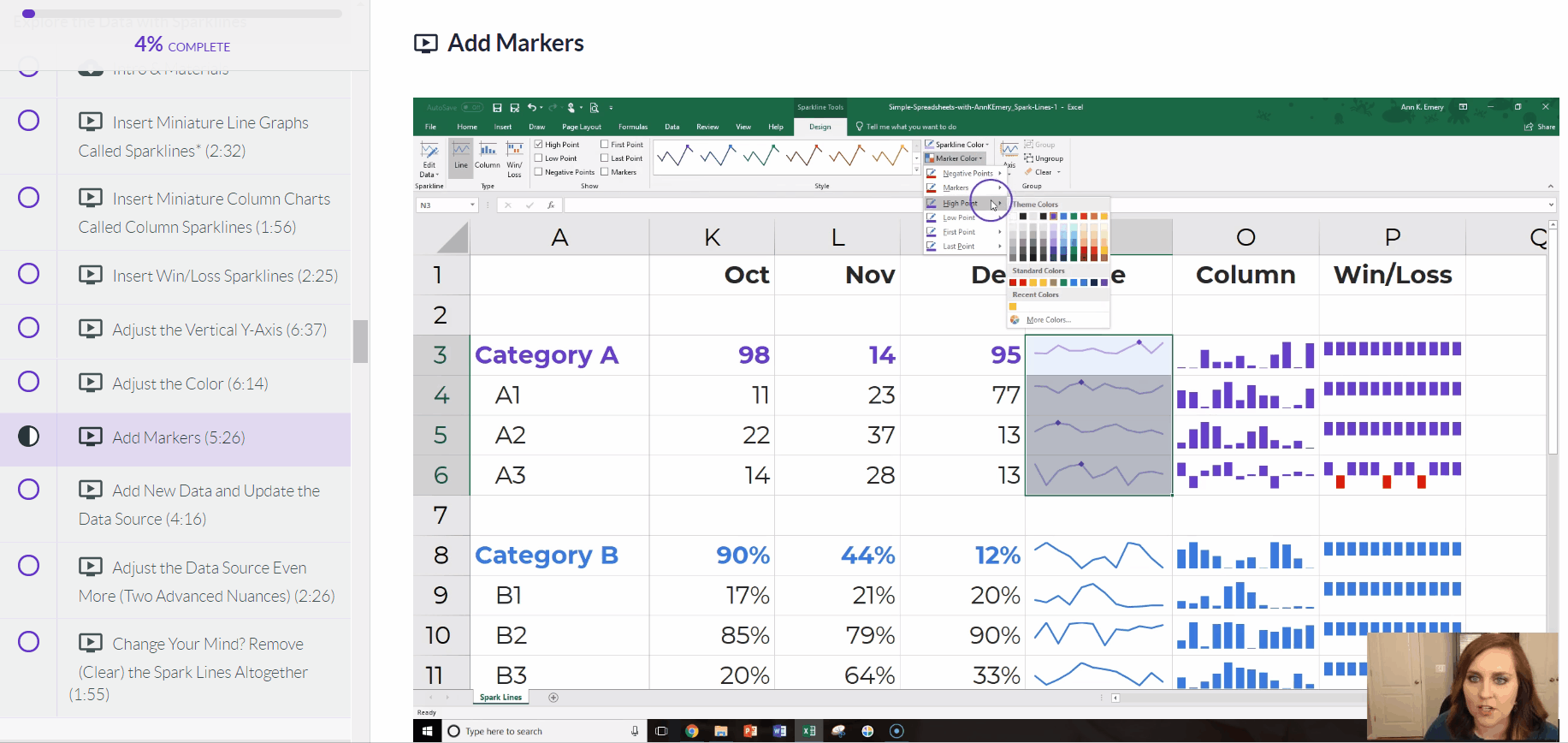 Module 6: Summarize the Data with Formulas
14 lessons; 1 hr, 20 min
Most data courses deliver a totally random smattering of formulas. In this course, I'm focusing on the analytical techniques that you'll need most often, especially if you're a scientist, researcher, or evaluator.
You'll see familiar faces like average and median.
You'll also meet new friends like kurtosis, quartiles, countif, and sumif.
I'll explain what these terms are, how to create the formulas, and how to apply the techniques to your own projects.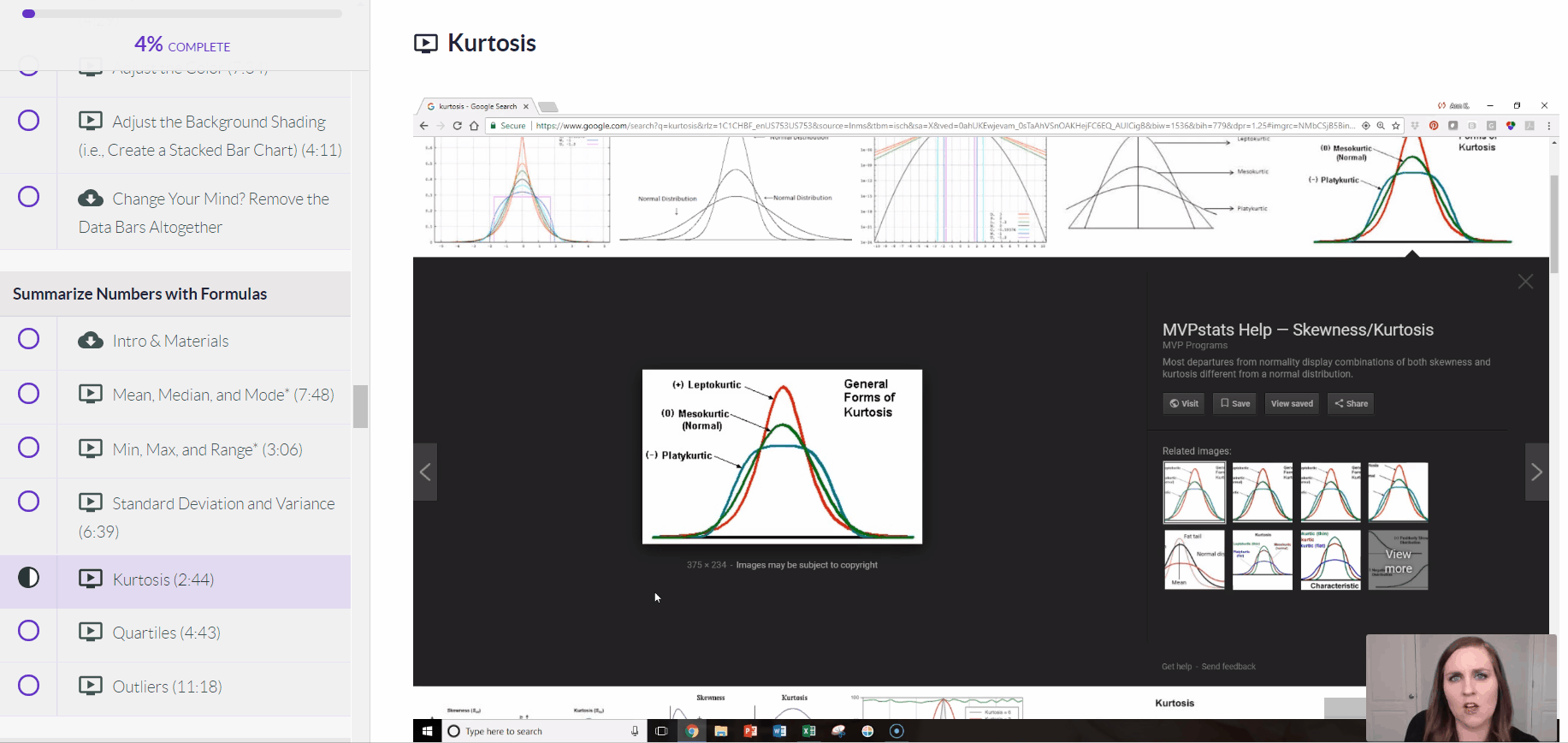 Module 7: Summarize the Data with Pivot Tables
20 lessons; 1 hr, 13 min
If you're brand new to pivot tables--prepare to have your mind blown! And if you're familiar with pivot tables, prepare to learn some lesser-known features that you may have missed. This will probably be one of your favorite topics from the entire course.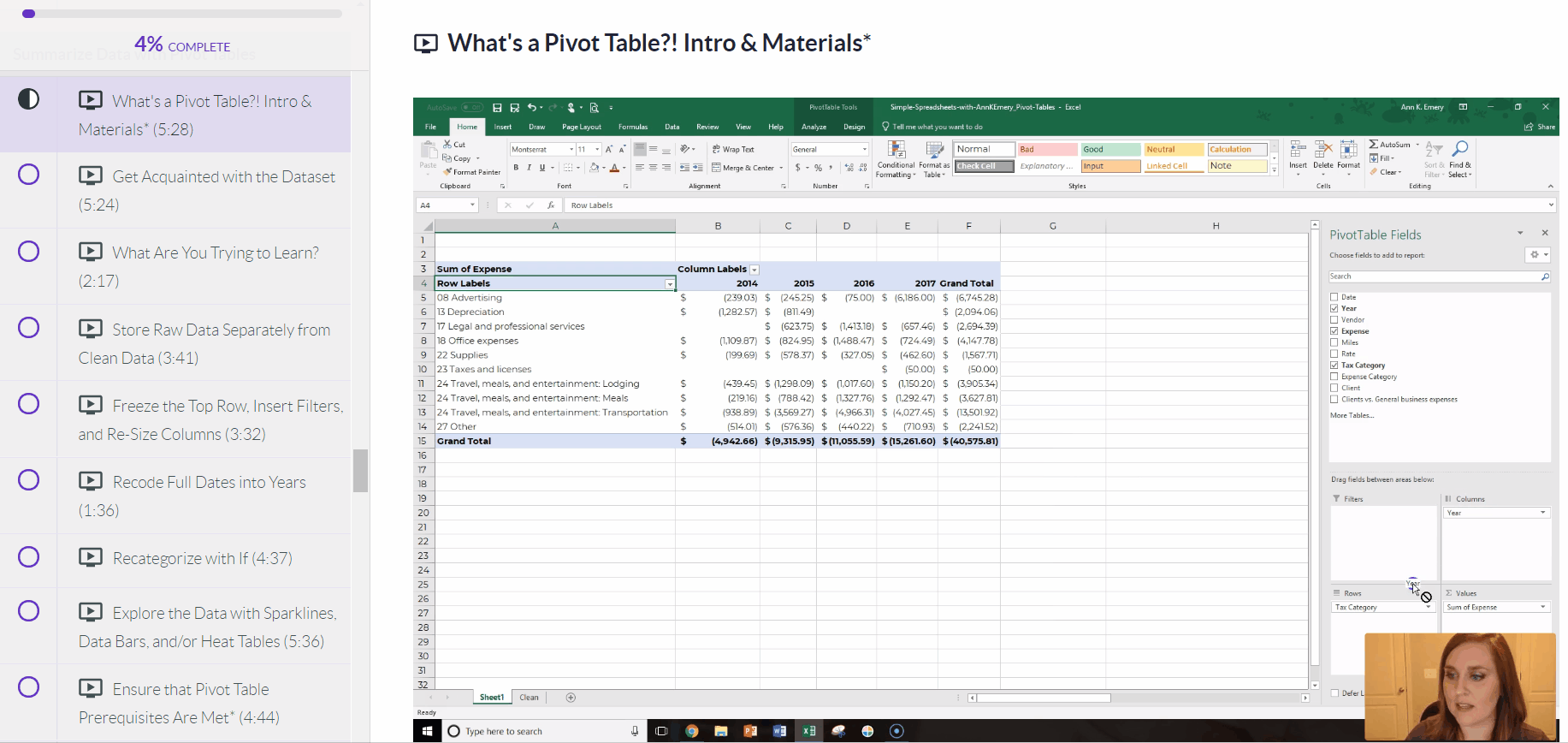 Module 8: Getting Started with Charts
11 lessons; 58 min
After you've crunched your numbers, it's time to showcase key findings with great visualizations. You'll create, declutter, color, label, re-size, and export your chart.
Modules 9, 10, & 11: Putting It All Together
24 lessons; 4 hr, 49 min
You've learned the basics. Now it's time to apply your skills in new ways!
We'll walk through three datasets from start to finish.
These case studies cover: (1) demographic data, (2) satisfaction surveys, and (3) pre-post tests.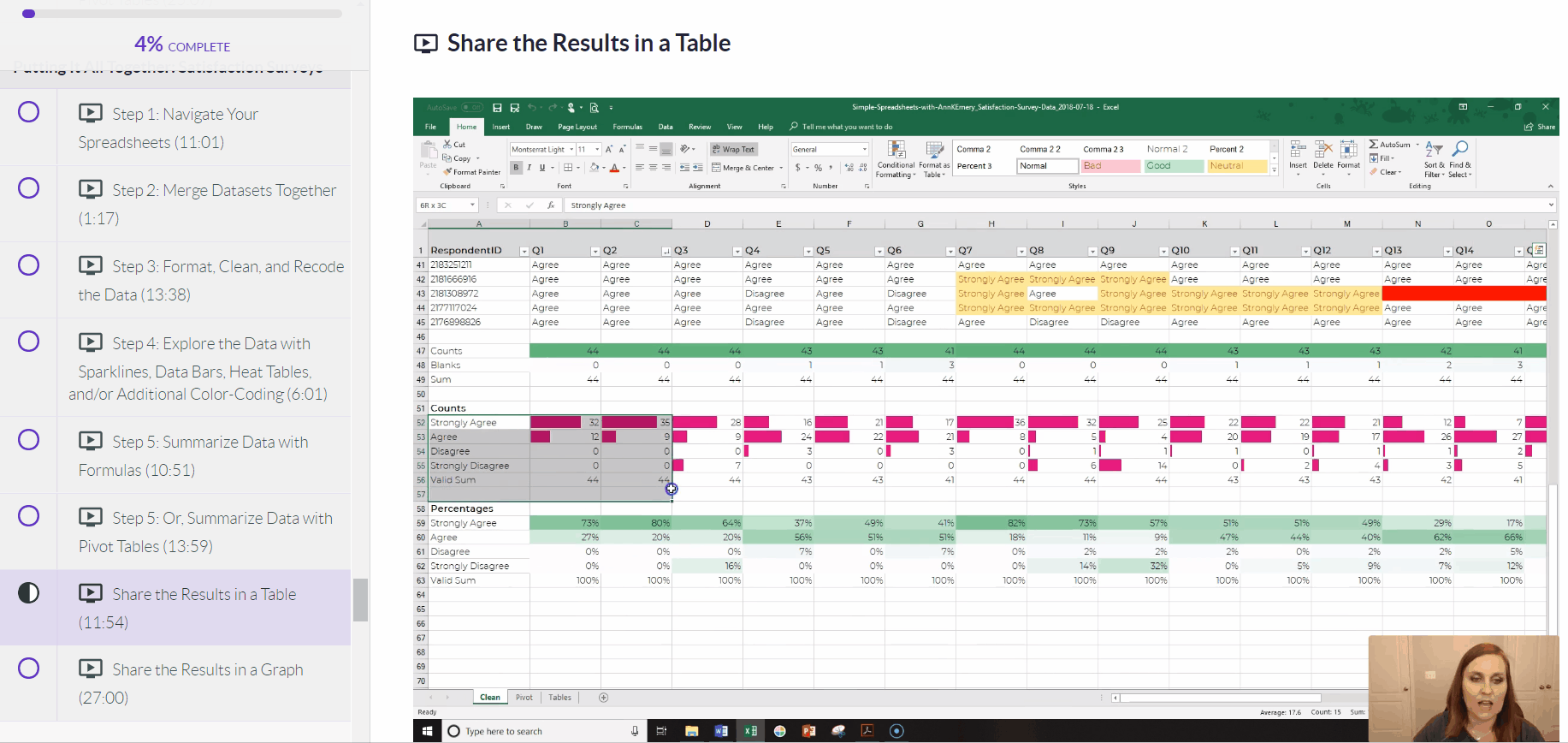 Module 12: Excel Tests
2 lessons; 1 hr, 28 min
First, you'll see if you can pass an Excel test from a real-life job interview.
Then, you'll hear lessons learned from my Microsoft certification exam process so that you'll be prepared to ace the exam.
Module 13: How to Automate Your Process
1 lesson; 38 min
You'll use drop-down menus, data validation, formulas, and pivot tables to automate your entire workflow.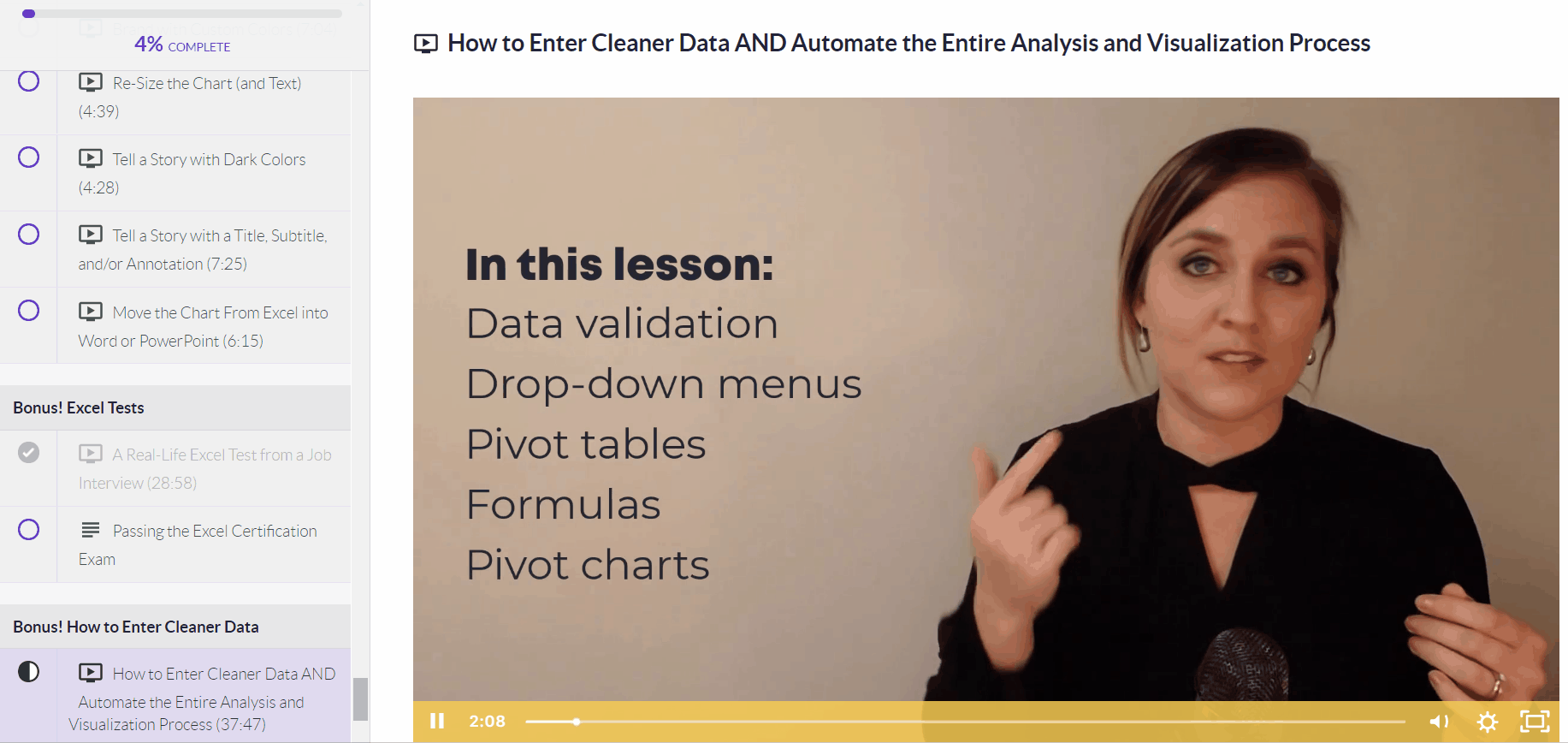 You'll learn alongside colleagues during our live sessions. These live trainings will be spaced out between April and September 2021. And yes, they'll be recorded in case you can't make it live.

Orientation
Bill Jelen, a.k.a. Mr. Excel
Maryfrances Porter and Alison Nagel West from the Partnership for Strategic Impact
Asya Spears from Rose Data Studio
Mynda Treacy from My Online Training Hub
Tips for Passing the Excel Certification Exam
Graduation Party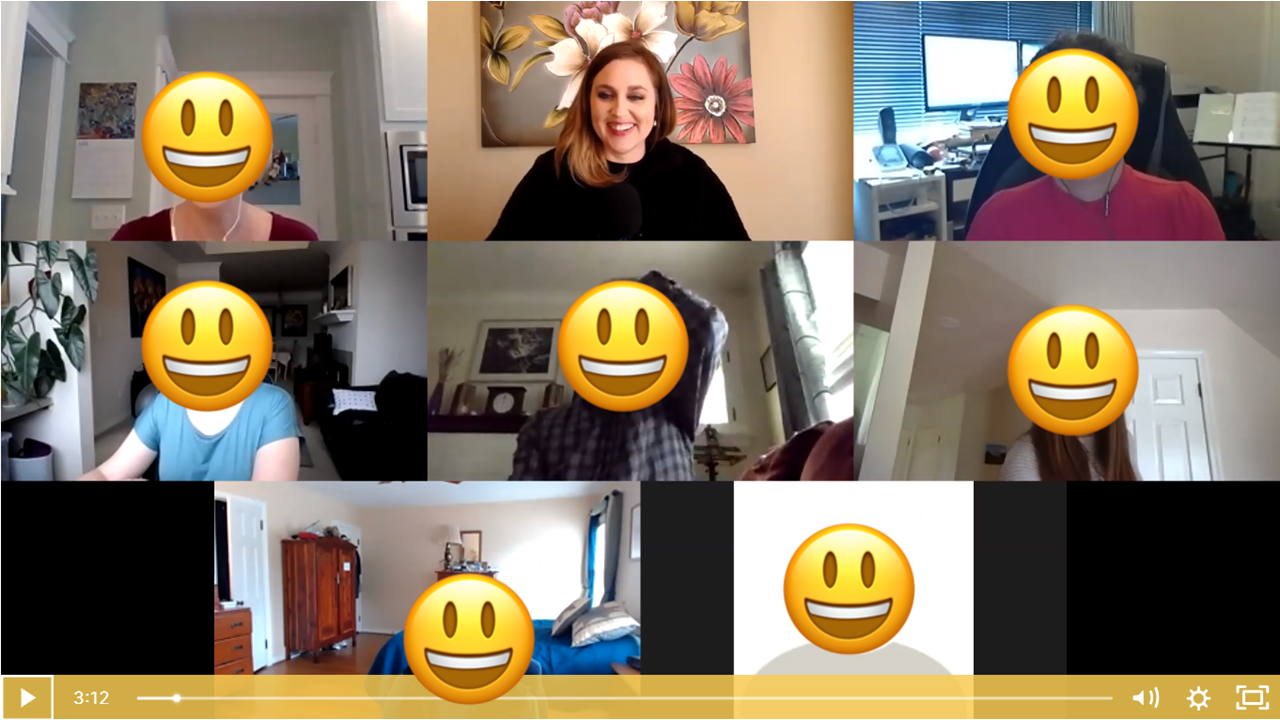 Office Hours (Almost) Every Week
Want me to review your formulas? Stuck trying to apply the lessons to your real-world dataset? Submit your questions to Office Hours and I'll livestream my answers nearly every week.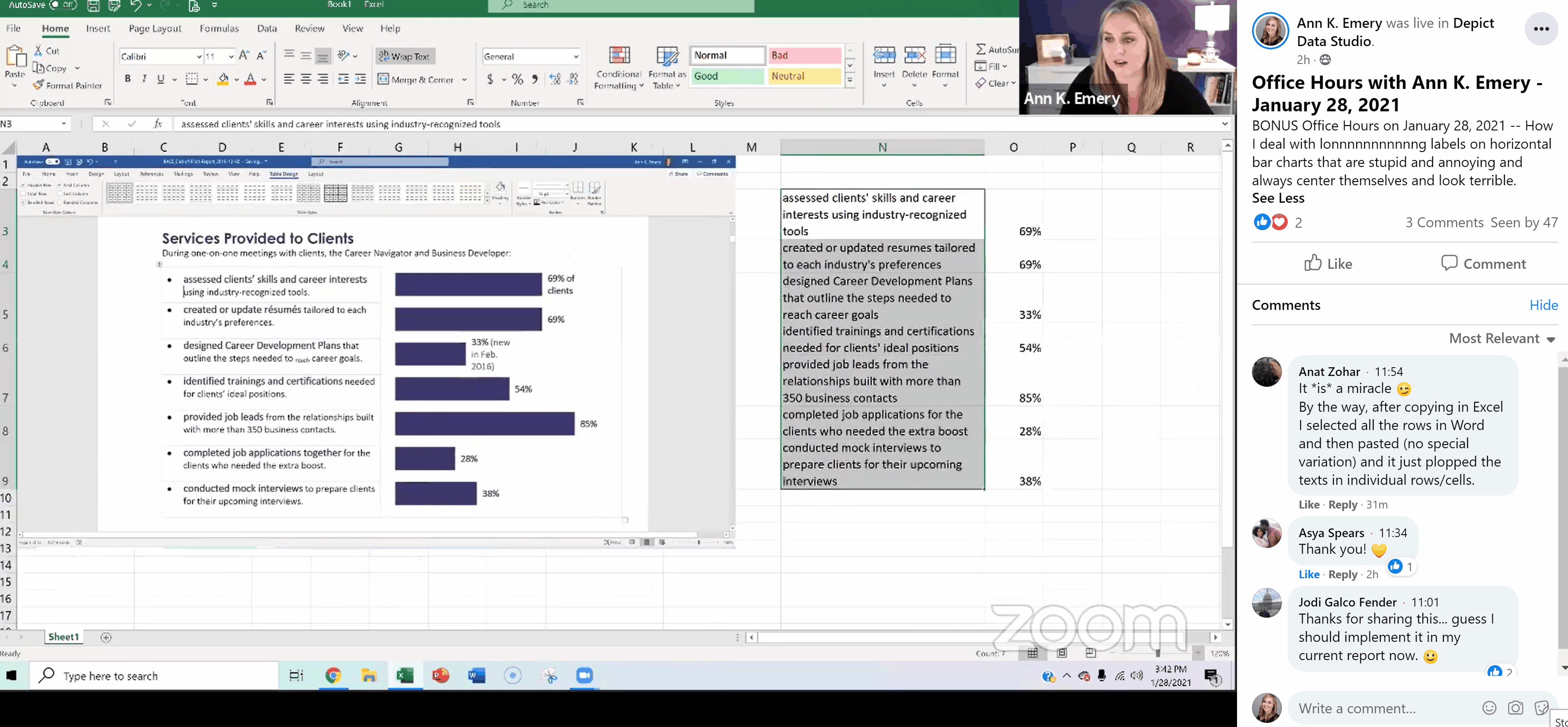 Guest Speakers in Office Hours
We invite guest experts to speak with us during Office Hours. We've heard from:
Elizabeth Grim about Connecticut's COVID-19 response
Ione Farrar about Tennessee's COVID-19 response
Brenna Butler about user experience
Jane Zhang about freelancing in dataviz
Chris Lysy about using data for social action
Sara Vaca about visualizing qualitative data
Jason Melchi on designing dataviz for users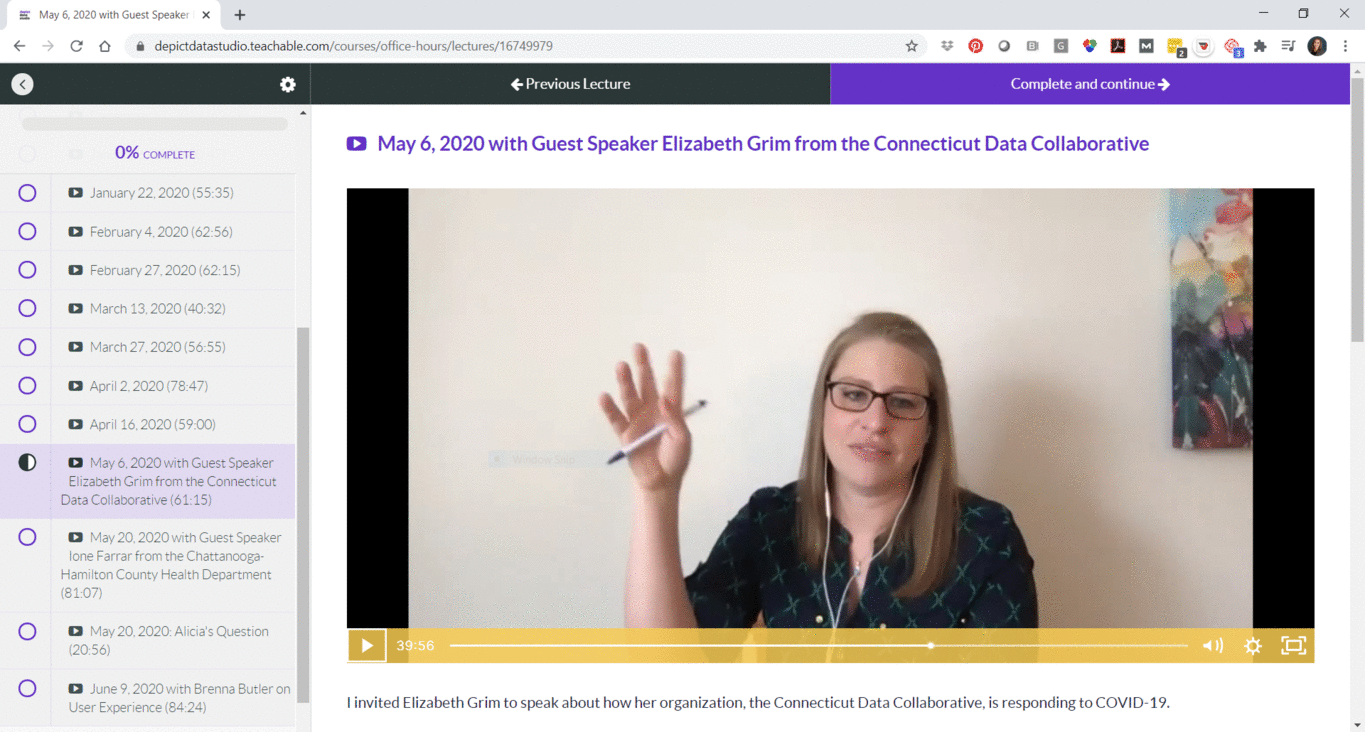 Private Data Vizards Community
You'll be invited to join our private community, which is only open to people taking Full Courses with us. This is a great place to connect with colleagues, post drafts, get feedback from each other, and watch the streamed Office Hours Q&As.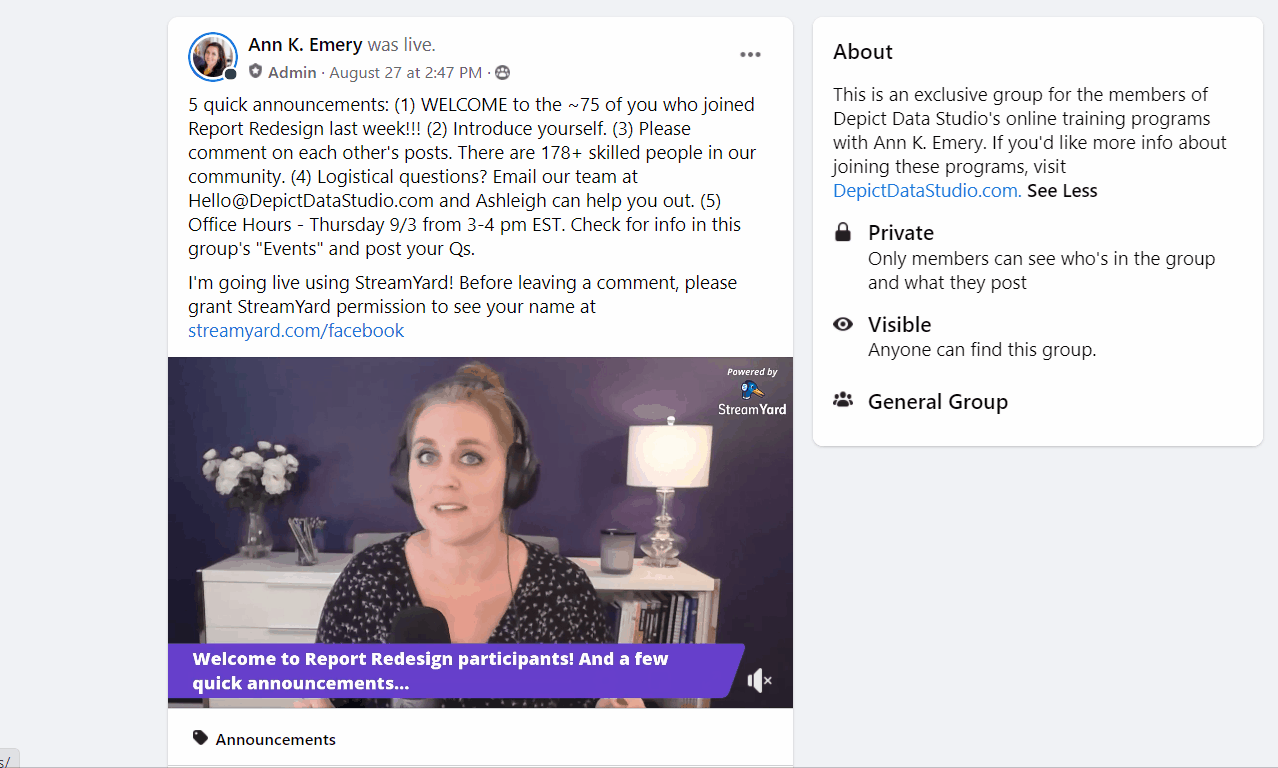 Monday Messages to Cheer You On
I know you're going to skip straight to the juicy magic tricks, but I'm going to email you on Mondays around 11 am EST and pretend like we're working through the course one module at a time.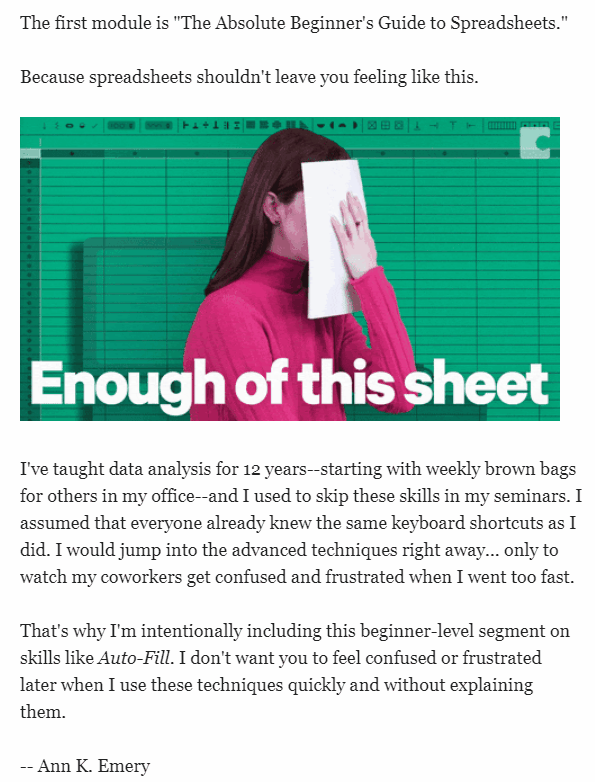 4,448+ participants from around the globe have taken our online courses since 2018.
Here's how those researchers, evaluators, scientists, and professors are describing this course.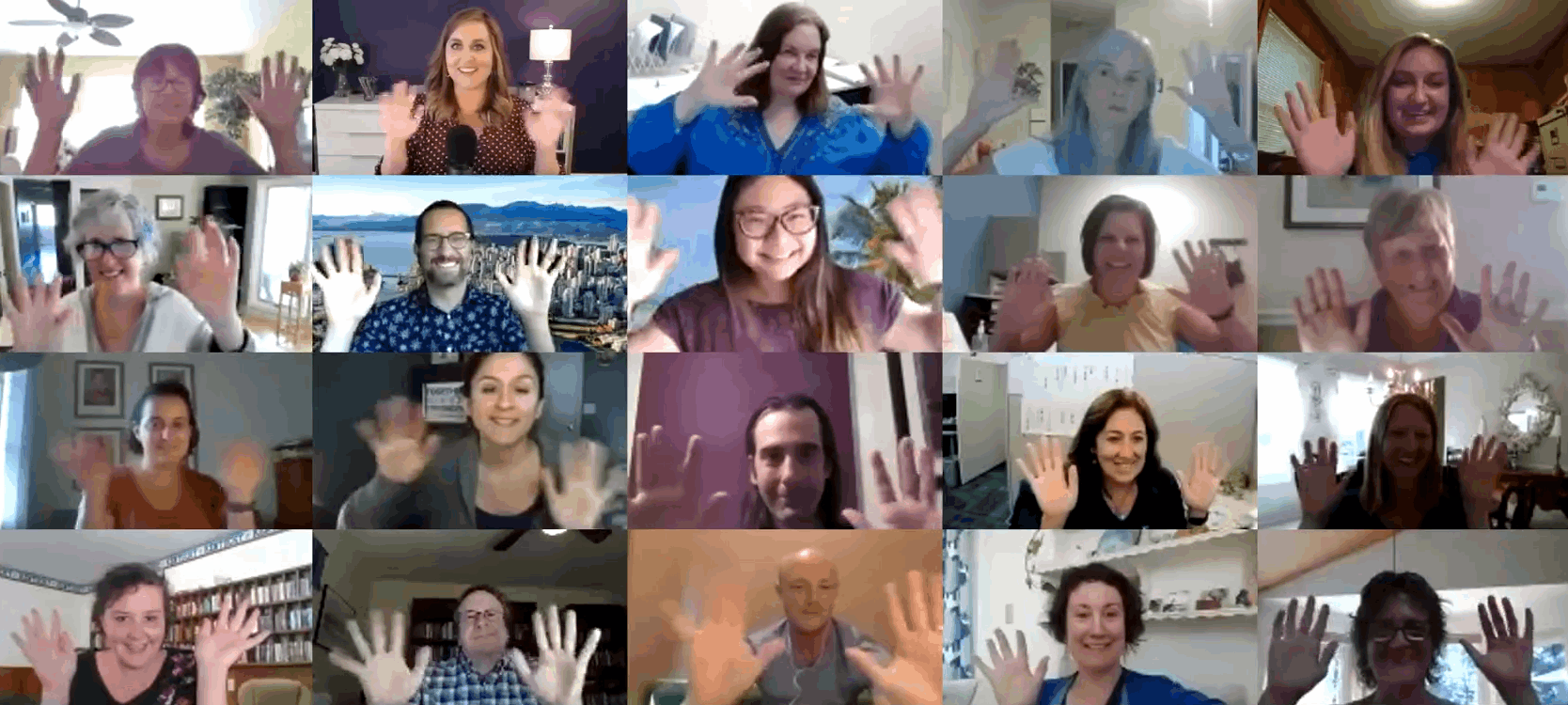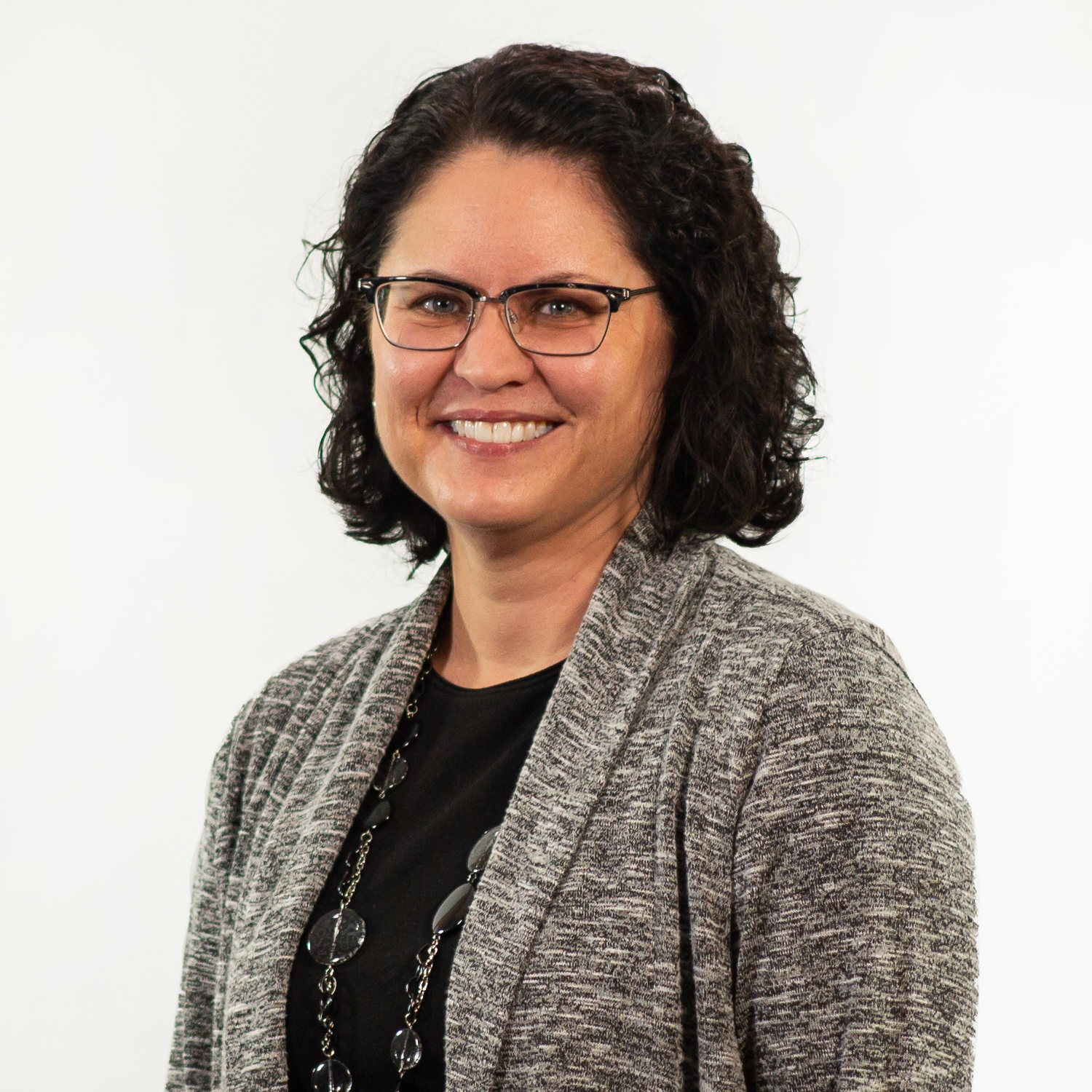 "I love the format…short videos with detailed explanation, repetition, tips and tricks, the ability for us to practice on our own time, ability to access it whenever we need it, etc. I learned many valuable things, but perhaps the vlookup is most useful, as I don't think I'd have learned that on my own. I've done pretty much all the things you said not to, so it was good to see the correct way to do things or at least understand why I was having trouble. Thanks for the great training."
- Kristin Gushuliak, United Way Regina

"As a 20+ year Excel user I can not BELIEVE the things I didn't know, and that I learned to master in moments from Ann's brilliant and engaging teaching. This course is by far the most well prepared and executed online course I have ever taken. The videos are short, and perfectly instructed. The course materials are actual Excel files embedded with the skills, tricks and formulas that are taught in the video segments. As far as who this course is best suited to, I think it could help Excel users of all levels, from beginners to advanced (which is what I would have called myself before taking this course and realizing my knowledge gaps!). For beginners it would be a one-stop shop of all you need to know to excel at Excel. For long-time users it will provide short-cuts, helpful formulas and other tricks you might not have known were hiding in this program. I truly can't say enough about it, and have already recommended it to research colleagues, data/social indicator experts and policy folks."
- Lynn Davey, Ph.D, Davey Strategies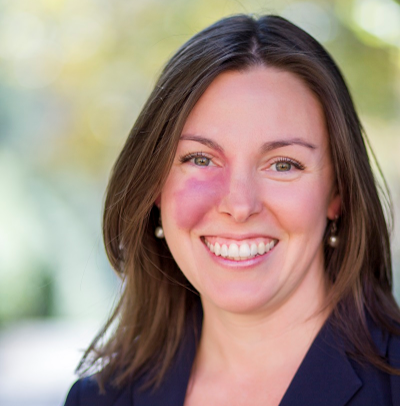 "While I was taking Ann Emery's course, I was given a large dataset that required hundreds of VLOOKUPs. Her mention of using F4 saved me multiple hours that would have been lost in manually inserting four dollar signs in each lookup. It is this type of time-saving tip that made her course most valuable for me. Even after using Excel professionally for 18 years, I learned more efficient ways to do almost everything that I've been doing, and plenty of new skills too. Now that the course is finished, what I value most is having a one-stop shop for Excel tips. No more google searching – I just go back to the course and refresh my memory with Ann's short and to-the-point videos."
- Kristen Degan, Senior Associate - Monitoring and Evaluation, Sharp Insight, LLC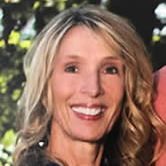 "You have helped me tremendously and I keep paying it forward by getting hundreds of my students connected to you and Depict Data Studio! I am so glad I invested early in your data viz training workshops. Lifetime Access means the world to me and I am very grateful I have access to these courses whenever I need a reminder on how to do things!!"
- Dr. Lori Thompson, Senior Lecturer, Central Washington University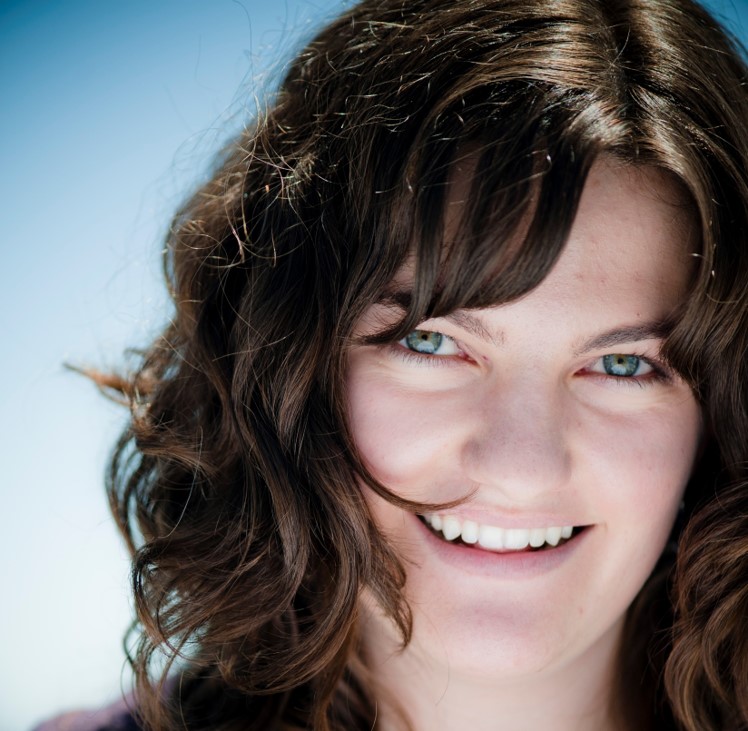 "The Simple Spreadsheets course provides the necessary skills for working professionals who need a solid understanding of data analysis in Excel, but don't have the time or desire for an overly technical course. This course is designed with users in mind, especially those with limited exposure or comfort with Excel. However, as someone who is quite comfortable working in Excel, I benefited from learning Ann's tips and tricks for organizing my spreadsheets and how to get the most out of Excel's features (e.g. conditional formatting, spark lines, pivot tables, etc.). In my current role, I provide support and training to 15 staff members across multiple countries and timezones on all areas of M&E. Data analysis has long been a skill that I've struggled to teach others, especially in a virtual format. After taking Ann's course I learned some cool new skills for myself, but better yet I learned how to walk others through an analysis project from start to finish -- from how to setup a spreadsheet, to data cleaning and recoding, to summarizing data with formulas, comparing variables with pivot tables, and finally how to present and share analyses. Ann's simple step-by-step approach has been tremendously useful in my work with others and I will continue to draw on what I learned for years to come. Thank you Ann!"
- Mia Schmid-Velasco, Monitoring & Evaluation Officer, Namati

"I work with charities and social enterprises in the UK. I carry out external evaluations but also help to build the capacity of the organisations in evaluation. I have taken part in a number of Excel courses in the past but these were all generic and therefore only somewhat useful. This course is exactly what any evaluator needs. It is full of useful tips for commons issues you may have. I have learnt many ways to speed up my analysis. I have learnt lots of new formulas and been given confidence that I was doing the right things for ones I was already using. The presentation of the course was also really useful for me. I could check in and do 20 minutes here and an hour there. It was also useful to have lifetime access as there are points in my schedule where I am very busy for months eg writing up reports and I have no spare time for learning and development. I am planning to do the data vis course next. Finally, I love Ann's style of presentation. It is never dull and the pace is perfect. "
- Sarah Menzies, Evaluator in the UK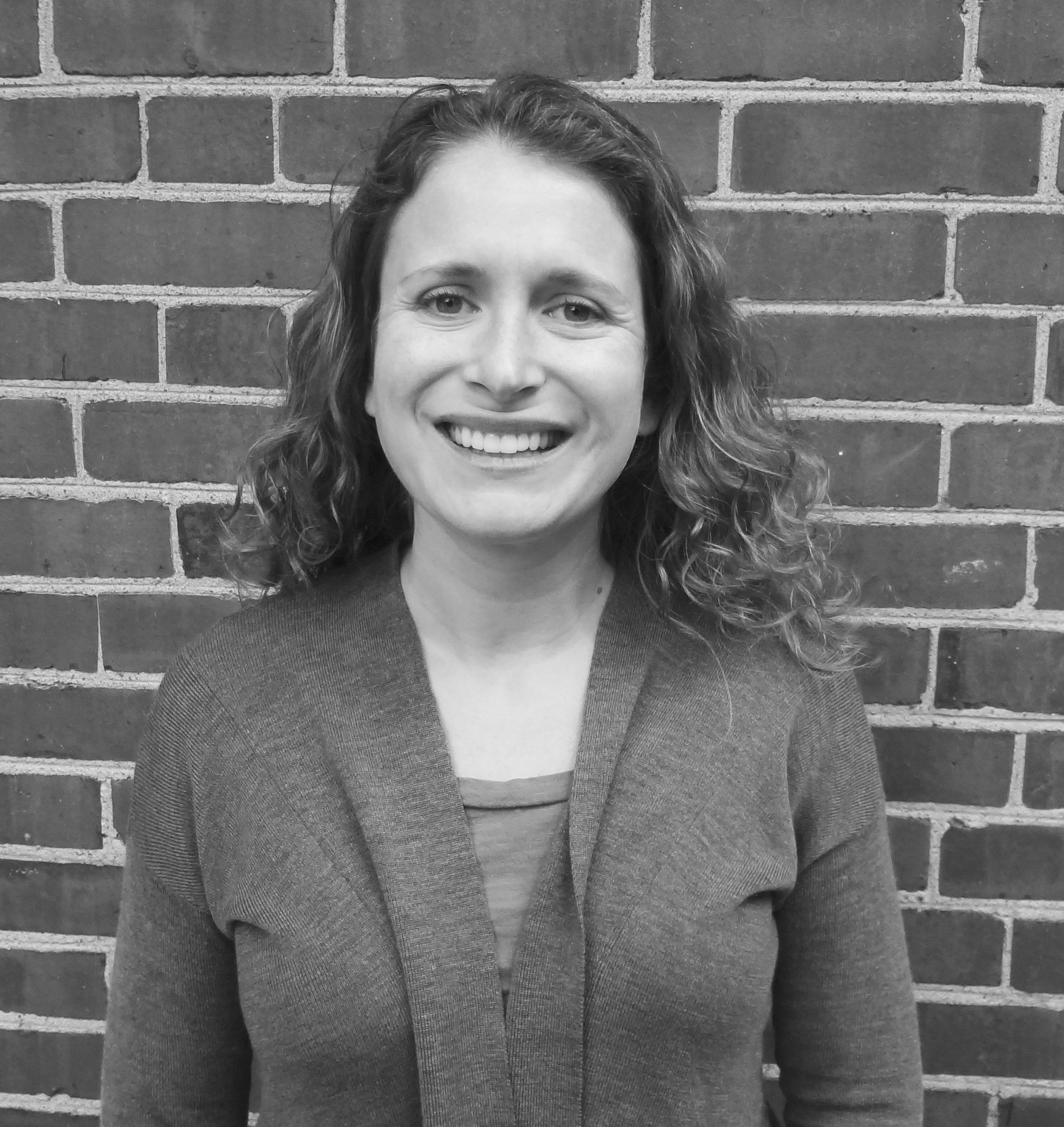 "I am a university researcher and have a lot of familiarity with data collection and statistical analysis programs/platforms (e.g. SPSS, SAS, etc.), but needed a low-cost, widely-used data collection and analysis tool I could recommend and teach to the community partners with whom I conduct research. I have known for a long time that Excel was likely the solution to my problem, but could never find time to learn to use it, except in the most basic ways (sort, sum). Last summer, I took Ann Emery's Simple Spreadsheets course and dramatically improved my Excel acuity. *Plus* the course was fun, straightforward, and immediately useful. Having the modules available for lifetime access meant that I could make up sessions I missed, and revisit material on which I needed refreshers. This course was more than worth the time and money I put into it, and I continue to learn and benefit from it (almost a year later). I highly recommend this course!"
- Sarah V. Suiter, Vanderbilt University

"Before taking the class, I was spending unnecessary and frustrating hours trying to sort and copy while cleaning a large data set on child and parent outcomes in a home visiting program. The unit on VLOOKUP changed my work life, saving me days of work! Ann's sessions are short, easy to follow and immediately applicable. I highly recommend the Simple Spreadsheets course to anyone interested in strengthening their Excel skills"
- Nadia, Research Analyst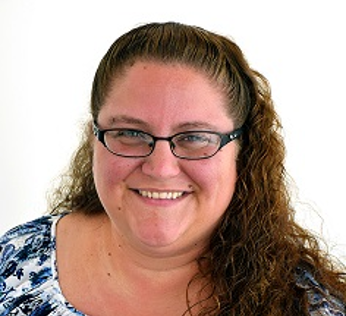 "I've known Ann for 10 years and in that time I've learned a lot from her. Her vision for turning text into something that a lay person would understand, visually, has been a life-saver. She has creative ideas that many organizations can turn into real world application. I've valued the trainings I've received from her and continue to learn new things in each class."
- Joyce Shelton, Senior Child Welfare and Education Operations Specialist, ICF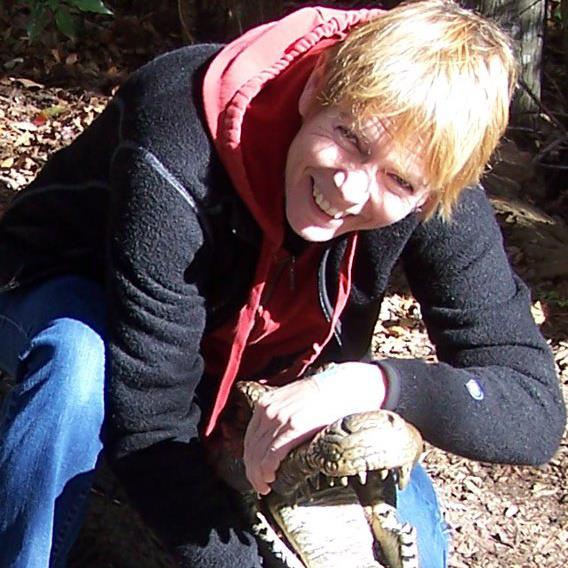 "This is a fantastic course for anyone who works intermittently with quantitative data sets and wants to build on any level of Excel skills. Even if you work daily with Excel already, you're bound to learn time-saving shortcuts. For those, like me, who have relied on others to do much of the Excel work, it's a godsend. Ann's short sessions and lucid, easy manner make it completely digestible, and, while I need to return to the course content frequently to remind me things I've learned and need refreshed, I feel so much more confident in this program. In addition, I've learned how to use Excel to help me improve the look of my reporting -- which means it will be more effective for my clients. Thank you, Ann! I'm so happy I decided to spend the money on this course. It has been more than worth it."
- Summer Wood

"I first heard of this course through a training opportunity at work. Being the data-junky that I am, I was thrilled to have an opportunity to learn something new. I was not disappointed! This course is great for all walks of life. Whether it's the hum drum of daily data entry or pulling together a final report, there are countless tidbits I now use on a daily basis. I went from hand counting and color coding to pivot tables and VLookUp. Albeit shakily at first, I slowly got the hang of it. The new approaches Ann shared changed the way I view data. Her teaching style is conversational and made me feel comfortable."
- Tyler Small, Grant County Community Corrections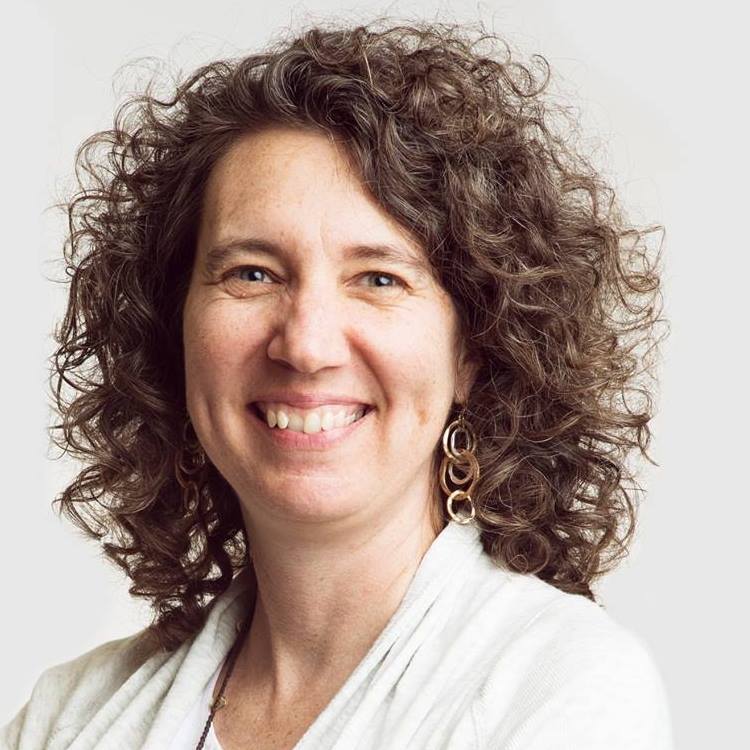 "As the learning officer at a small foundation, I regularly work with program staff that have vastly different skills and comfort levels with data collection and analysis. After completing this course, I feel like I understand Excel better and can therefore be a stronger coach for others. I have used some of Ann's explanations and techniques with staff and watched us make some real strides in how we approach and use data as a team. Thank you Ann!"
- Christine Mitton, Sisters of Charity Foundation of Cleveland

"I've learned many helpful tips. Even things as simple as how to highlight all the cells in a sheet, sort them by a particular variable(s), and order them in a specific way have saved me time and frustration. I have on multiple occasions gone back to lessons I've completed to watch them again and repeat the steps with my own work. Best of all, Ann speaks in an engaging, easy to understand way that makes learning Excel almost fun!"
- Judy Lee, Evergreen Evaluation & Consulting, Inc.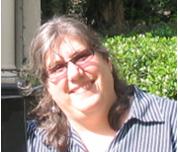 "Ann's course will be a real timesaver for independent evaluators, non-profits and public agencies alike! The logically organized videos show you step-by-step hacks and best practices for organizing and cleaning datasets. It covers all the tricks you wish you learned in grad school. I also appreciated Ann's encouraging demeanor and generosity in taking time to answer my questions. If you want to improve your data cleaning/management knowledge, invest in this course! Knowing how to use conditional formatting to create data bars and highlight duplications in my large dataset has saved me tons of time. Thanks Ann!"
- Robin Kipke, Evaluation Associate, University of California, Davis

"This course is great for staff at small non profits who use Excel. It's an affordable way to get professional development in segments that are easy to fit into your schedule. It's great to be able to digest the info, try it out in your own scenarios and then re-watch segments as necessary. This course helped me display data in easy 'bites' for our board and staff to digest. I also really enjoyed the pivot table set of videos--they were way more helpful than anything I've ever seen before. Ann's explanations are very clear and her examples are relatable to our nonprofit work. Thanks, Ann! I'm so glad to have found this course!"
- Mary Henriques, Development Director, Valley Family Center

Your Instructor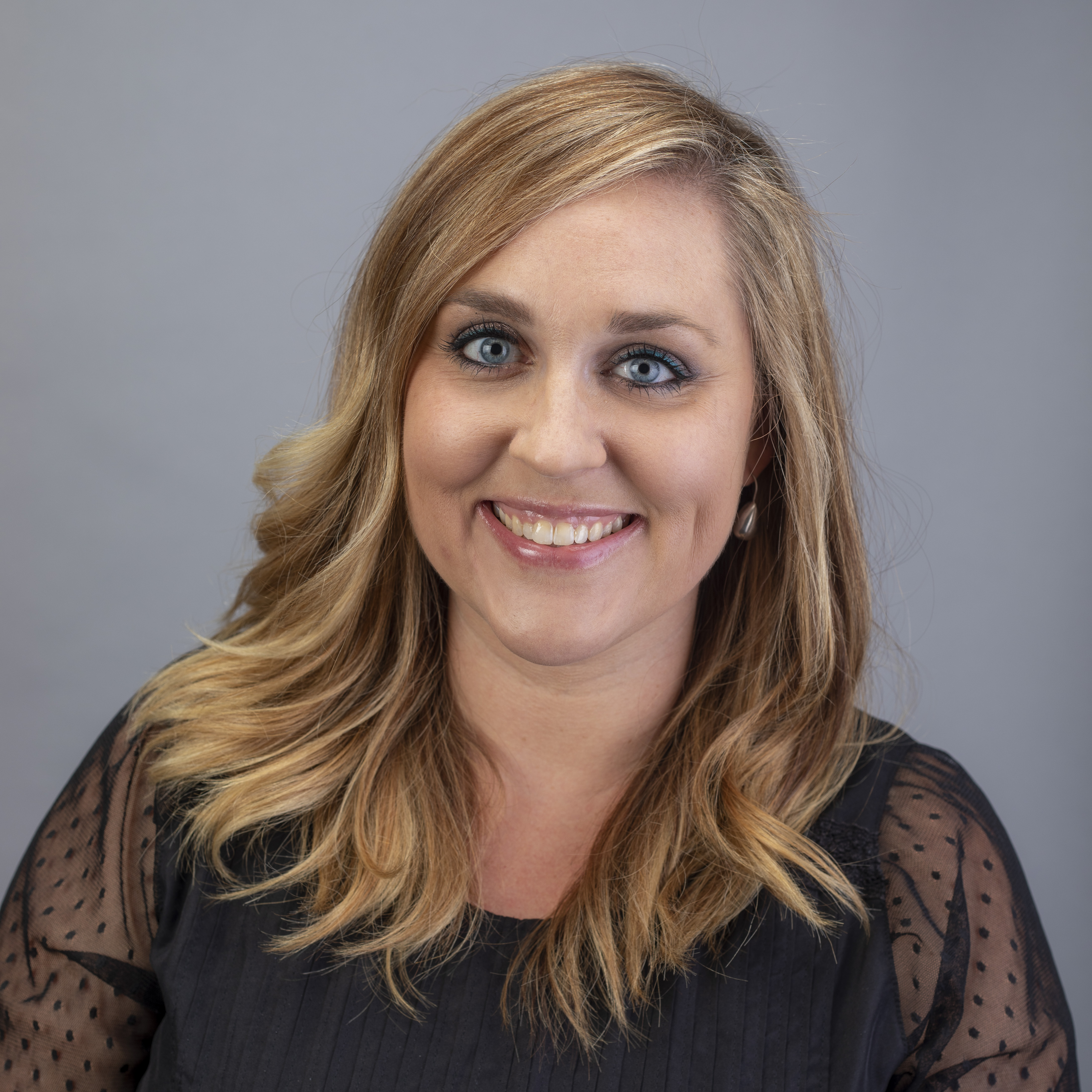 Ann K. Emery is an internationally-acclaimed speaker who equips organizations to get their data out of dusty spreadsheets and into real-world conversations.
Each year, she delivers over 100 keynotes, workshops, and webinars with the aim of equipping organizations to visualize data more effectively.
She has been invited to speak in 30 states and 10 countries; 6,000 people have enrolled in her online training academy; and she has consulted to 200 organizations, including the United Nations, Centers for Disease Control, and Harvard University.
She earned a Bachelor's degree from the University of Virginia and a Master's degree from George Mason University.
After traveling full-time as a digital nomad, Ann now resides in Florida along with her husband and three children.

Mark your calendars! The 2021 enrollment window is Monday, March 29 through Friday, April 2. When it's open, it's open. When it's closed, it's closed.
First 25 People - SOLD OUT

We've got special Early Bird Bonuses for the earliest registrants.

The first 25 people to register will receive a Swag Bag with a dataviz shirt, stickers, buttons, and magnets. We don't sell the t-shirts separately; they're exclusively available for our Early Birds.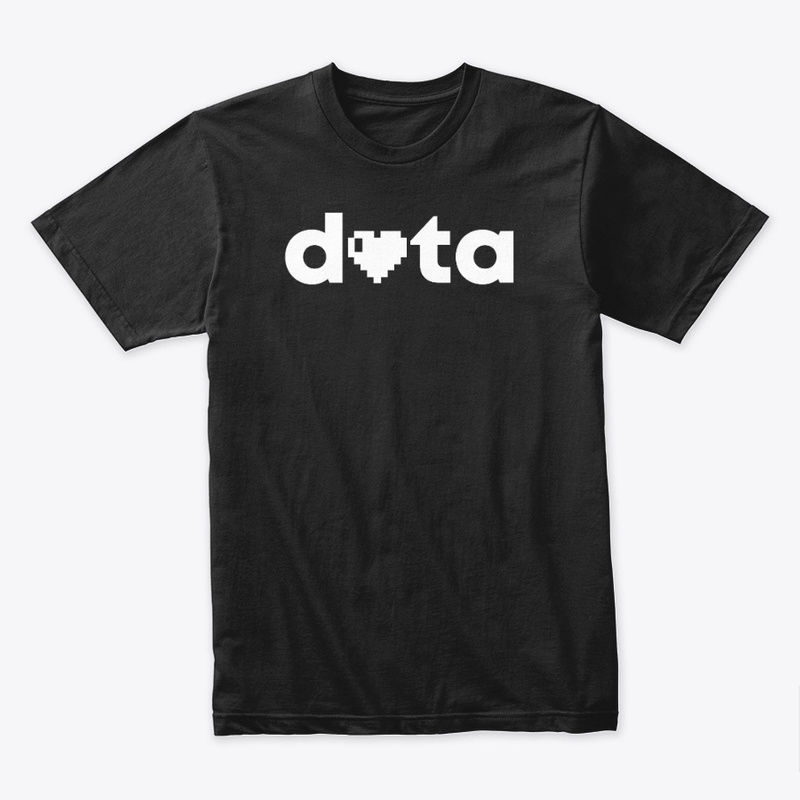 First 10 People - SOLD OUT
The first 10 people to register will ALSO receive a 1:1 consultation with me about your spreadsheets. We'll meet over Zoom for 30 minutes and work through your questions together. The feedback will be recorded and posted as a case study inside the course.