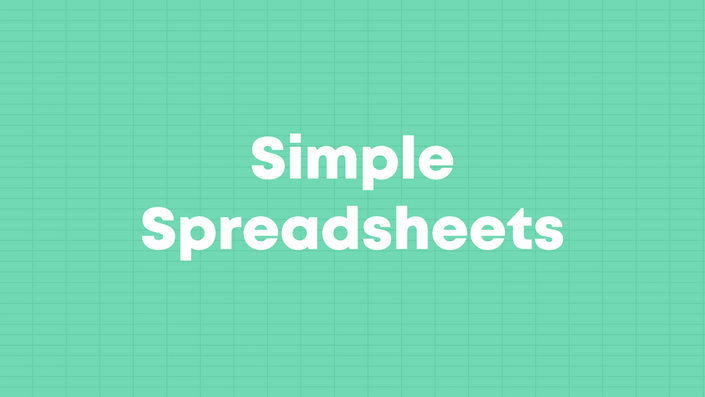 Simple Spreadsheets
From Spreadsheet Stress to Superstardom. Data Analysis Techniques & Time-Saving Secrets for Busy Number-Crunchers.
Does this sound familiar?
"I'm after tips to help me represent statistics in a more appealing, understandable format."
"I work with a lot of data and struggle to figure out what data to focus/highlight and how to create a story with the data."
"I'm self-taught so a lot of what I'm struggling with is feeling like I'm spending more time than necessary on projects. I spend a lot of time looking at examples and then become overwhelmed with the information out there! I'm hoping to 'work smarter and faster not harder.'"
"I work with similar data sets over and over but feel like I do a lot of manual work in Excel."
"I would say that my projects are lacking a bit of organization and follow through. I am excited to learn how to use strategies to equip myself with the know how on how to deal with these problems when they arise."
"I am new and need to learn how to best present statistical data from spreadsheets into summaries that don't put folks to sleep."
Ever feel like you're swimming upstream in data? Need to make sense of spreadsheets, but not sure where to start? Have a gut feeling that you're not getting the most out of your data?
Spreadsheets aren't just for statisticians, accountants, and economists. These days, most of us are using spreadsheets like Microsoft Excel, Google Sheets, or Apple Numbers for all types of projects at our jobs. Spreadsheets are massively powerful tools, and chances are, no matter what you're working on, there's a faster and easier way to get it done.

I'll share my favorite techniques for saving your precious time and energy. We'll cover beginner, intermediate, and advanced number-crunching skills from vlookup to pivot tables. We'll even cover basic data visualization skills, like designing new graphs and exporting them into other programs like Word or PowerPoint. You'll be on your way from spreadsheet stress to superstardom in no time.
This course includes:
150 lessons delivered through 13 hours of video
Optional monthly "office hours" webinars
Optional 1-to-1 consultation with me about your individual project
Downloadable spreadsheets, templates, & handouts
Practical how-tos in Excel
Examples from a variety of industries (public health, government, education, grantmaking, international development, hospitals, universities, and more)
Special focus on using data in research and evaluation settings
Year-long access to materials
I'm only offering the Simple Spreadsheets course once a year. When it's open, it's open! But when it's closed, it's closed. Enrollment is limited to just 50 students. You deserve one-on-one attention. The 2018 course sold out in two weeks!
Your Instructor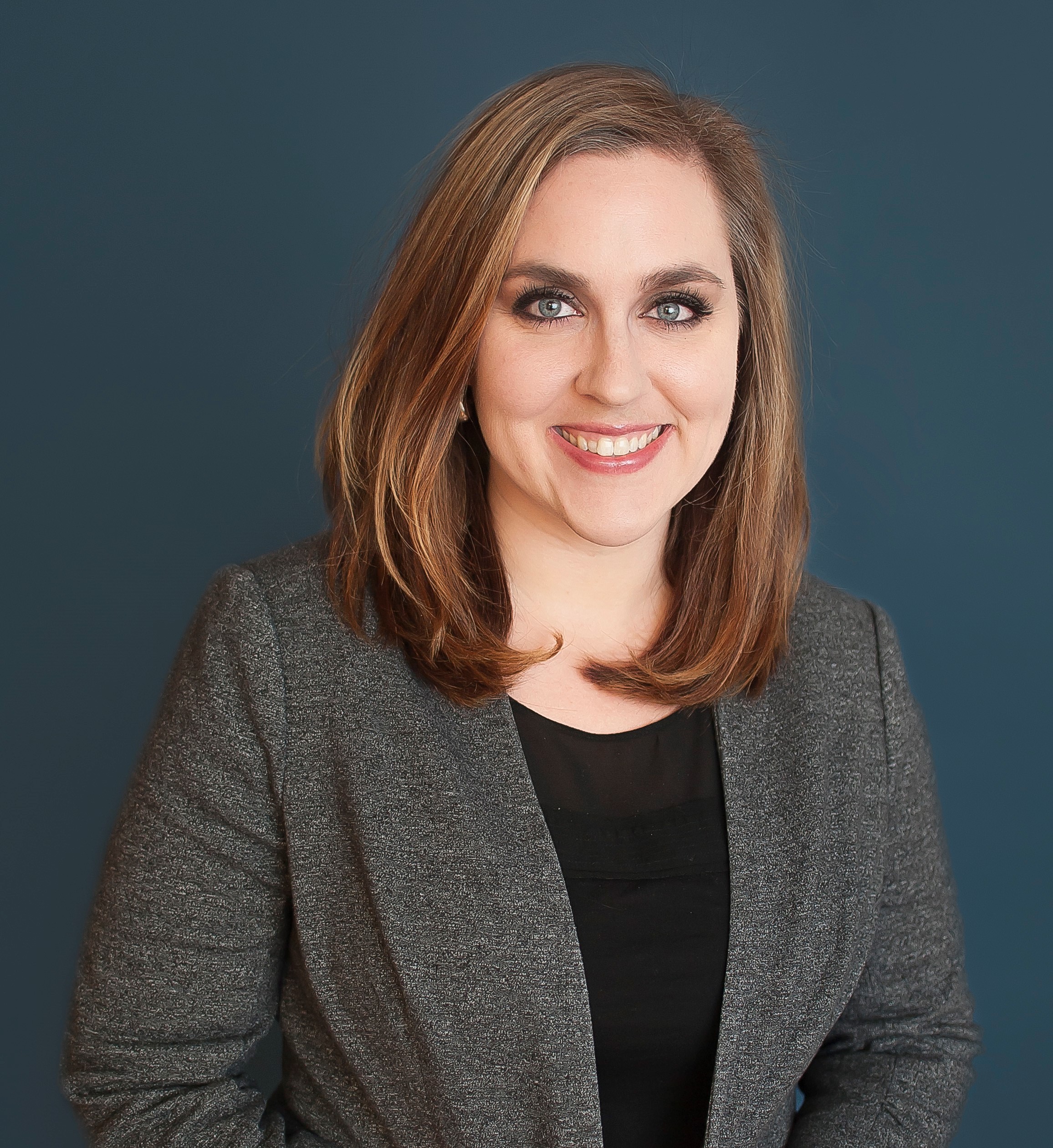 Your data deserves to be out in the world--actionable, talked about, used--not gathering dust in spreadsheets. Let me transform your technical information for non-technical audiences. I've consulted to clients like the United Nations, State Department, and Centers for Disease Control, plus dozens more foundations, nonprofits, film companies, banks, hospitals, and universities worldwide. Each year, I lead dozens of in-person workshops for thousands of people. My online courses bring those skills to you, too.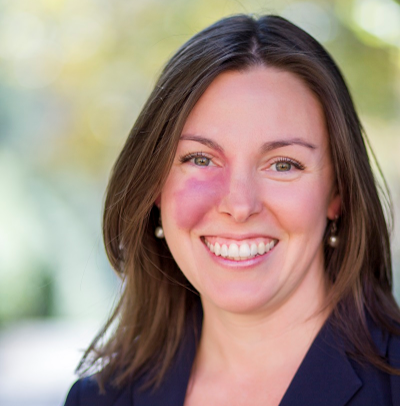 "While I was taking Ann Emery's course, I was given a large dataset that required hundreds of VLOOKUPs. Her mention of using F4 saved me multiple hours that would have been lost in manually inserting four dollar signs in each lookup. It is this type of time-saving tip that made her course most valuable for me. Even after using Excel professionally for 18 years, I learned more efficient ways to do almost everything that I've been doing, and plenty of new skills too. Now that the course is finished, what I value most is having a one-stop shop for Excel tips. No more google searching – I just go back to the course and refresh my memory with Ann's short and to-the-point videos."
- Kristen Degan, Senior Associate - Monitoring and Evaluation, Sharp Insight, LLC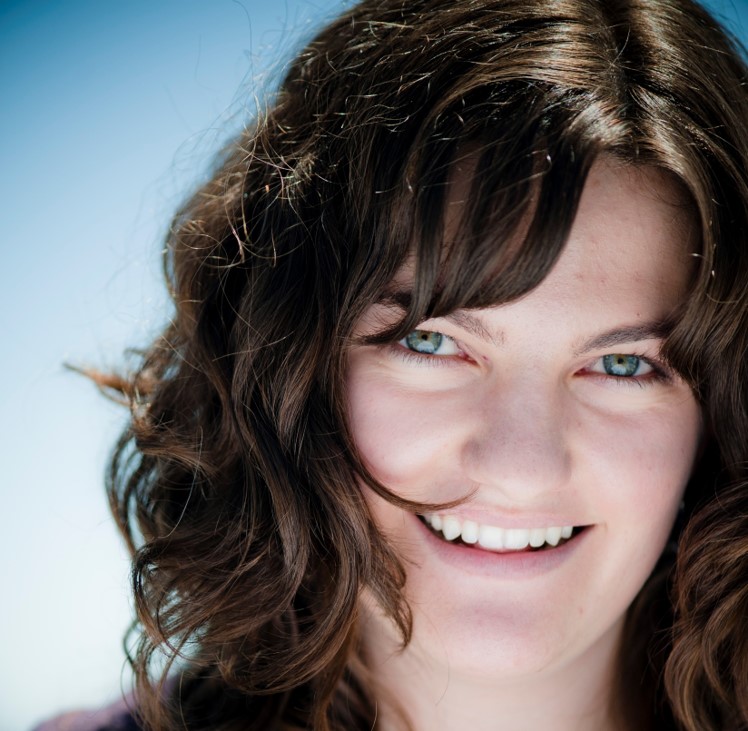 "The Simple Spreadsheets course provides the necessary skills for working professionals who need a solid understanding of data analysis in Excel, but don't have the time or desire for an overly technical course. This course is designed with users in mind, especially those with limited exposure or comfort with Excel. However, as someone who is quite comfortable working in Excel, I benefited from learning Ann's tips and tricks for organizing my spreadsheets and how to get the most out of Excel's features (e.g. conditional formatting, spark lines, pivot tables, etc.). In my current role, I provide support and training to 15 staff members across multiple countries and timezones on all areas of M&E. Data analysis has long been a skill that I've struggled to teach others, especially in a virtual format. After taking Ann's course I learned some cool new skills for myself, but better yet I learned how to walk others through an analysis project from start to finish -- from how to setup a spreadsheet, to data cleaning and recoding, to summarizing data with formulas, comparing variables with pivot tables, and finally how to present and share analyses. Ann's simple step-by-step approach has been tremendously useful in my work with others and I will continue to draw on what I learned for years to come. Thank you Ann!"
- Mia Schmid-Velasco, Monitoring & Evaluation Officer, Namati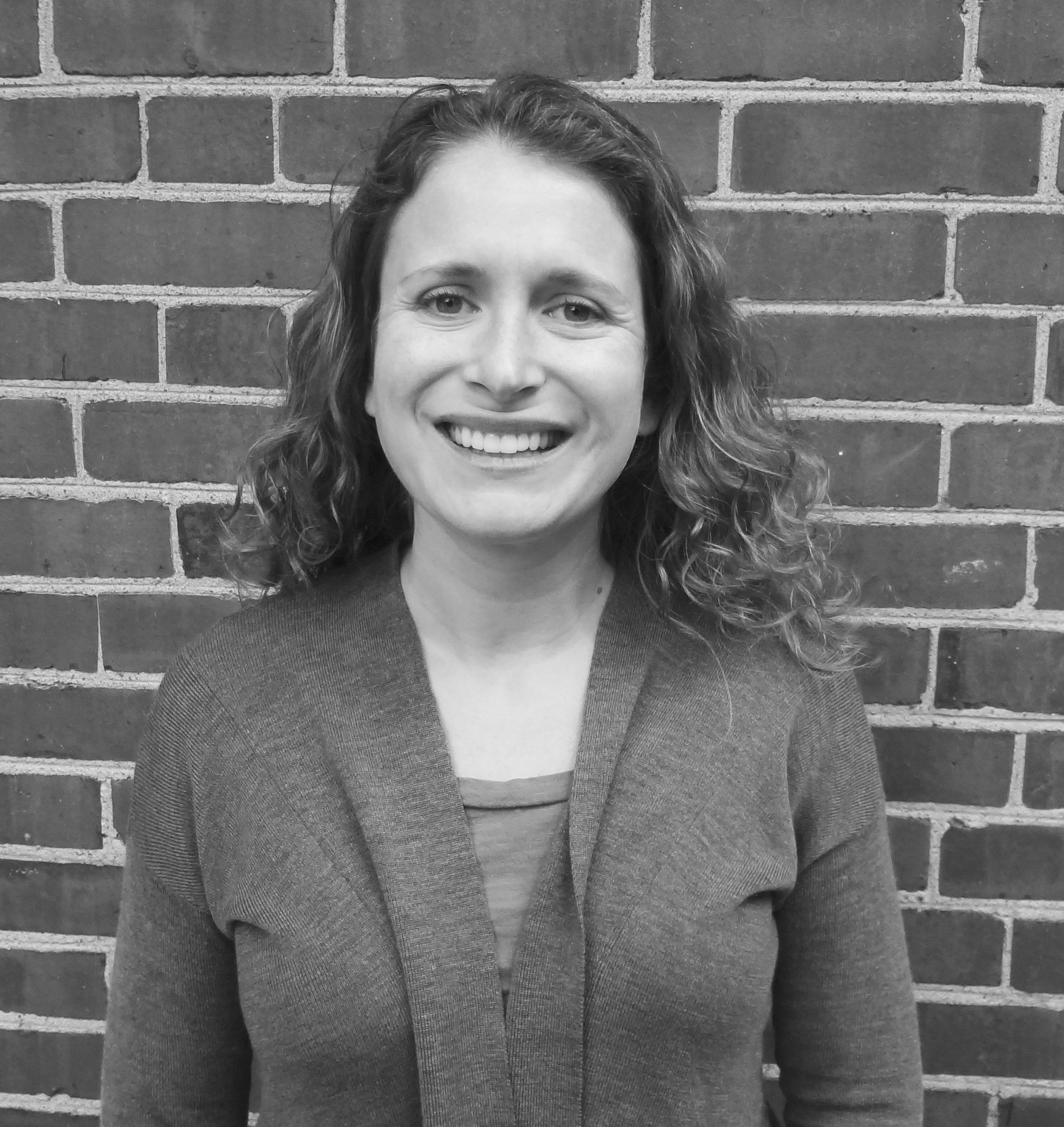 "I am a university researcher and have a lot of familiarity with data collection and statistical analysis programs/platforms (e.g. SPSS, SAS, etc.), but needed a low-cost, widely-used data collection and analysis tool I could recommend and teach to the community partners with whom I conduct research. I have known for a long time that Excel was likely the solution to my problem, but could never find time to learn to use it, except in the most basic ways (sort, sum). Last summer, I took Ann Emery's Simple Spreadsheets course and dramatically improved my Excel acuity. *Plus* the course was fun, straightforward, and immediately useful. Having the modules available for a year meant that I could make up sessions I missed, and revisit material on which I needed refreshers. This course was more than worth the time and money I put into it, and I continue to learn and benefit from it (almost a year later). I highly recommend this course!"
- Sarah V. Suiter, Vanderbilt University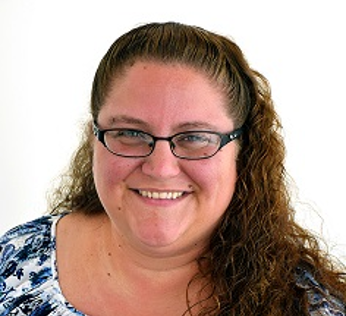 "I've known Ann for 10 years and in that time I've learned a lot from her. Her vision for turning text into something that a lay person would understand, visually, has been a life-saver. She has creative ideas that many organizations can turn into real world application. I've valued the trainings I've received from her and continue to learn new things in each class."
- Joyce Shelton, Senior Child Welfare and Education Operations Specialist, ICF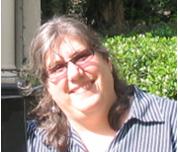 "Ann's course will be a real timesaver for independent evaluators, non-profits and public agencies alike! The logically organized videos show you step-by-step hacks and best practices for organizing and cleaning datasets. It covers all the tricks you wish you learned in grad school. I also appreciated Ann's encouraging demeanor and generosity in taking time to answer my questions. If you want to improve your data cleaning/management knowledge, invest in this course! Knowing how to use conditional formatting to create data bars and highlight duplications in my large dataset has saved me tons of time. Thanks Ann!"
- Robin Kipke, Evaluation Associate, University of California, Davis
Frequently Asked Questions
When does the course start and finish?
This course is only open once a year. The 2019 cohort will begin in April 2019 and students will have access to the content 24/7 for an entire year (until May 31, 2020). I'll email you throughout the course with encouraging messages to make sure you keep progressing.
How long do I have access to the course?
You'll have access to this course for an entire year, and there will be opportunities to gain access beyond that, too.
Can't I just find this information on the internet or in books?!
Sure. It onnnnnly took me a decade to teach myself all these tricks. I took classes. I checked out books from the library. I searched through hundreds of (really bad) videos. I took classes. I learned the hard way so you don't have to. This course is a shortcut. I'll teach you what it took me a decade to learn on my own.
Can I get the same information from your blog?
No. I freshly-recorded 150 lessons just for this course. I used to post tutorials on YouTube, but that was back in 2012, and I posted the videos as the mood struck me, not in a logical, cohesive course.
What makes this course's focus unique?
The vast majority of Excel courses are taught by people with finance and accounting backgrounds. If you're working on Wall Street, then this course isn't for you. This course is designed for people in applied research and program evaluation settings. Want to know whether your program, policy, or initiative is effective? These are the formulas you need to know--and the order you need to learn them.
What if I have questions about my individual dataset?
Enroll in the Gold Tier and you'll get one-to-one consulting time with me. We'll share screens and work through your individual questions together. Together, we can tackle what it would take you all day to fiddle with on your own.
Which software program are we using?
The videos use Excel, but this isn't strictly an Excel course. It's a spreadsheet course. If you join the Silver Tier, you'll get access to three additional 60-minute webinars. During these group Q&A sessions, we'll review common questions that have popped up AND you'll learn how to apply these skills in other programs like Google Sheets and Apple Numbers. It's like learning three software programs in one! There are slight differences between each software program, but for the most part, spreadsheets are spreadsheets, and you need them for every project on the planet.
Which version of Excel will we use?
I'm demonstrating all the skills on a PC with Excel 2016. It's okay if you have another version of Excel. It's okay if you have a Mac. I've been using spreadsheets since the 1990s--my Ph.D. economist dad starting teaching me Lotus 123 when I was in first grade!--so I've used virtually every version of spreadsheets imaginable. I can help you find the right buttons on your computer.
How do I know if your teaching style is right for me?
Enroll in my mini course called Beyond the Dusty Shelf Report. You'll see examples of before/after makeovers from real reports, dashboards, and slideshows. The spreadsheet techniques covered in this Simple Spreadsheets course are the foundation of those data visualization techniques. I don't read from scripts. I sound like a human. If you want a dry, robotic teacher reading from a script, then this course isn't for you.
I'm an absolute beginner when it comes to data analysis. Can I still enroll?
I start at the beginning so you get a confidence boost early on. As soon as you register, you'll get access to the first bonus module, The Absolute Beginner's Guide to Spreadsheets. You'll reinforce the basics like changing font colors and inserting logos. When you're learning a new skill, half the battle is affirming that you're on the right track. I'll tell you when you're doing it right (and when you're not).
How did you choose which skills to include?
I teach skills in a verrrrry intentional sequence, from merging datasets together... to cleaning data... to exploratory visualizations... to calculating summary statistics... to graphing key patterns. In other courses I've taken, the instructors just cover a random set of skills with no cohesion between them. I've always felt lost and frustrated in those settings. I carefully crafted this syllabus just for you.
I need help figuring out what to do first, second, and third in my dataset. Can you help with that?
We start with the basics--just one formula or technique per video. Then, we go through "Putting It All Together" skills, in which we'll approach a real-life dataset from start to finish. The lessons are easy at first, and then we put the skills together in increasingly advanced ways. You'll master the basics first so that you'll be ready to roll later on. But wait, there's more! There's also some bonus content on data visualization.
I took some data analysis and research methods back in grad school, but I need a refresher. Is this course right for me?
YES. I designed this course with YOU in mind. You probably learned about concepts like data cleaning back in college or in graduate school. We'll spend an entire week on data cleaning strategies so that you have a refresher on the critical thinking skills AND practical how-to lessons.
I learned SPSS/STATA/SAS/Mplus in school but now I only have access to Excel. Is this course right for me?
YES. I designed this course with YOU in mind. I learned SPSS and STATA as a college student, and I taught myself SAS during my honors thesis and while working in research labs. We touched on SPSS in my graduate program too. Then, I left academia and went into the real world. I worked for a huge consulting firm with a huge budget. Despite the huge budget, we didn't have SPSS! It was deemed too expensive. We were expected to learn Excel on our own and adapt, fast! I checked out books from the library, took seminars, and learned everything I could from coworkers. It was a long, arduous process. There was no one to guide me along the way. This is the course I wish I could've taken! This course is your fast track to transitioning from other programs into Excel.
What if I am unhappy with the course?
We would never want you to be unhappy! If you are unsatisfied with your purchase, contact us in the first 30 days and we will give you a full refund.
This course is not open for enrollment.