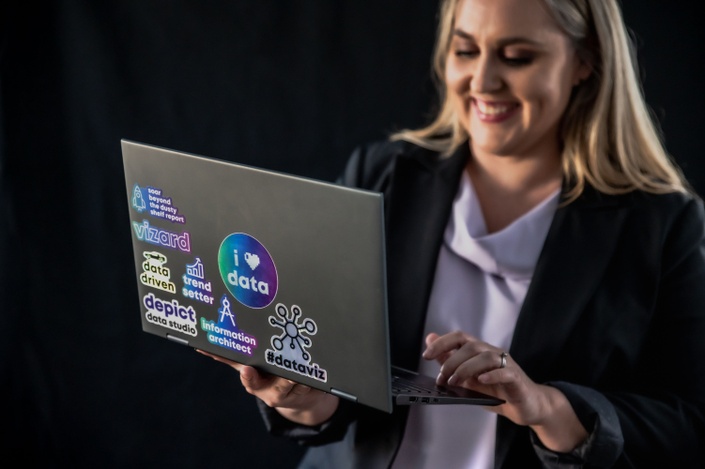 A Series of Matching Dashboards
How to Churn Out Identical One-Pagers in Excel
Do you need a series of matching dashboards?
One per program, school, or state?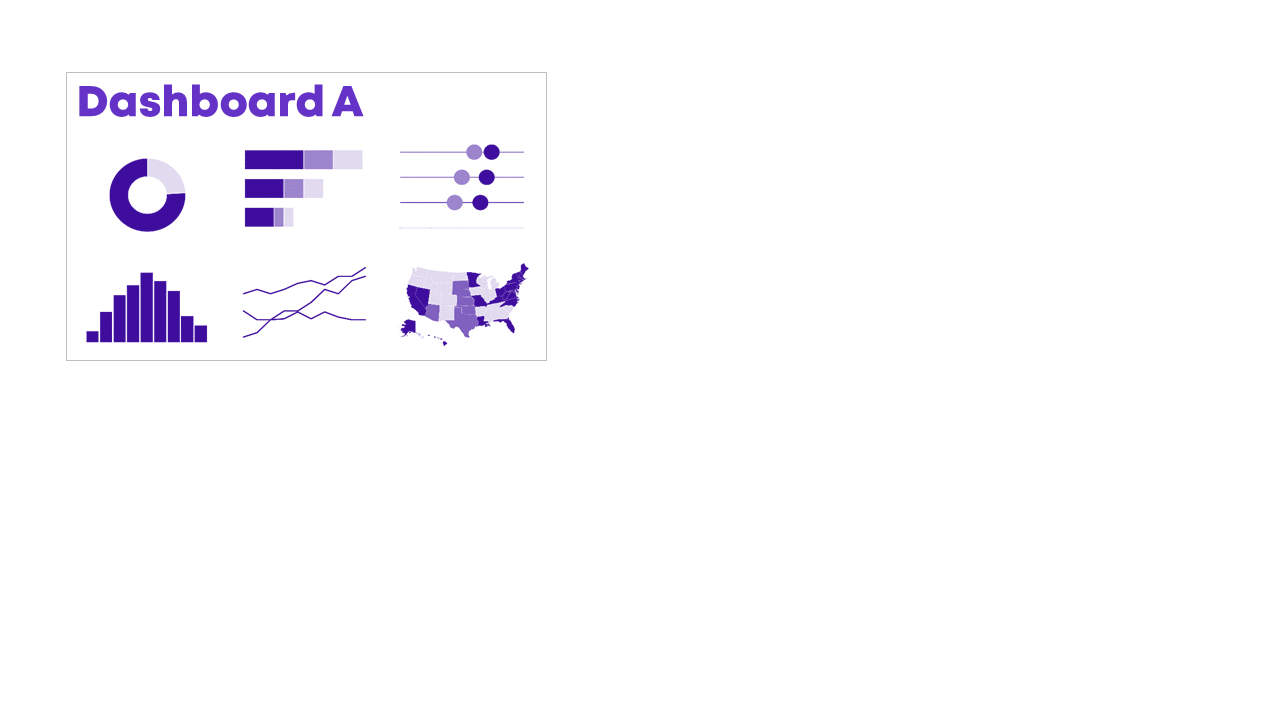 Copying and pasting is tedious
and destined for typos.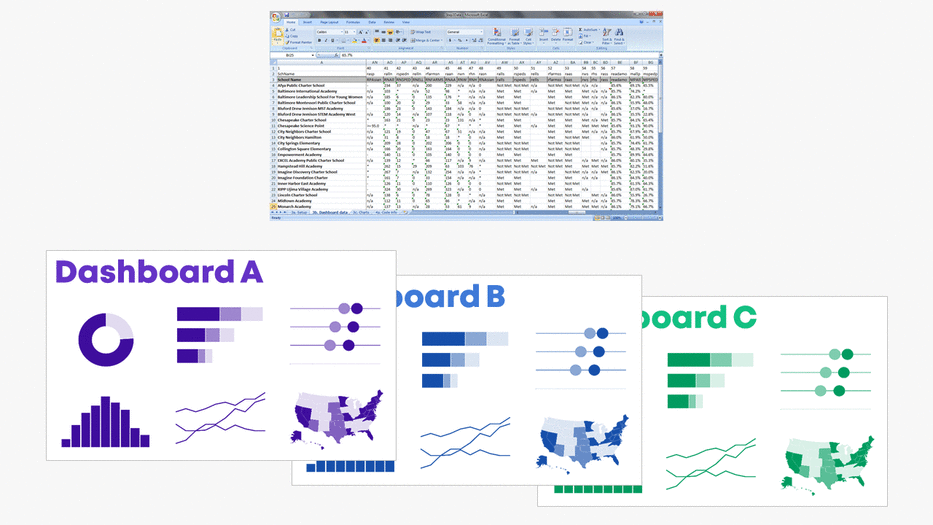 Save time with our automation process.
Make one template and auto-magically populate it with each entity's data.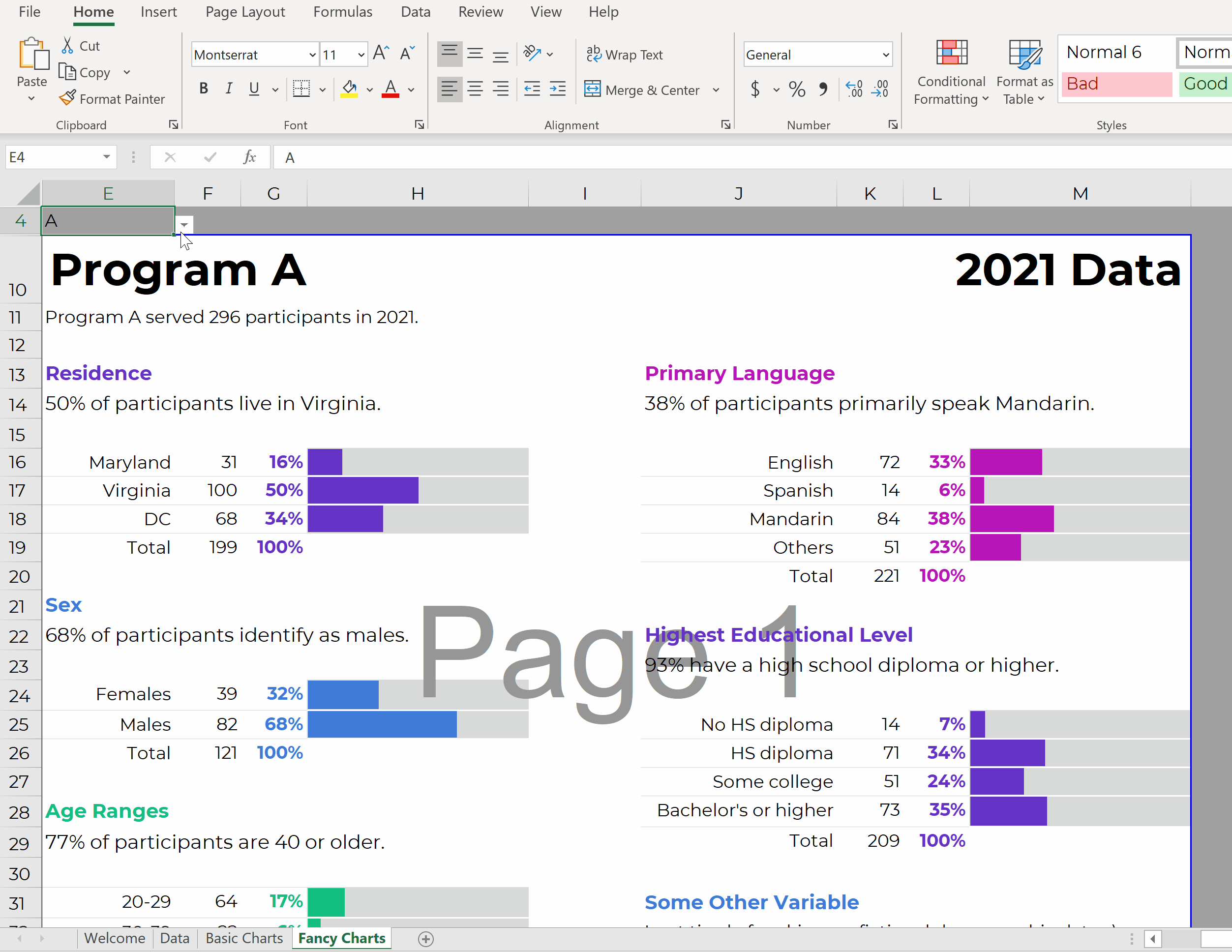 Case Study 1
4 lessons; 46 minutes
You'll use a fictional dataset to build a series of matching dashboards about demographic data.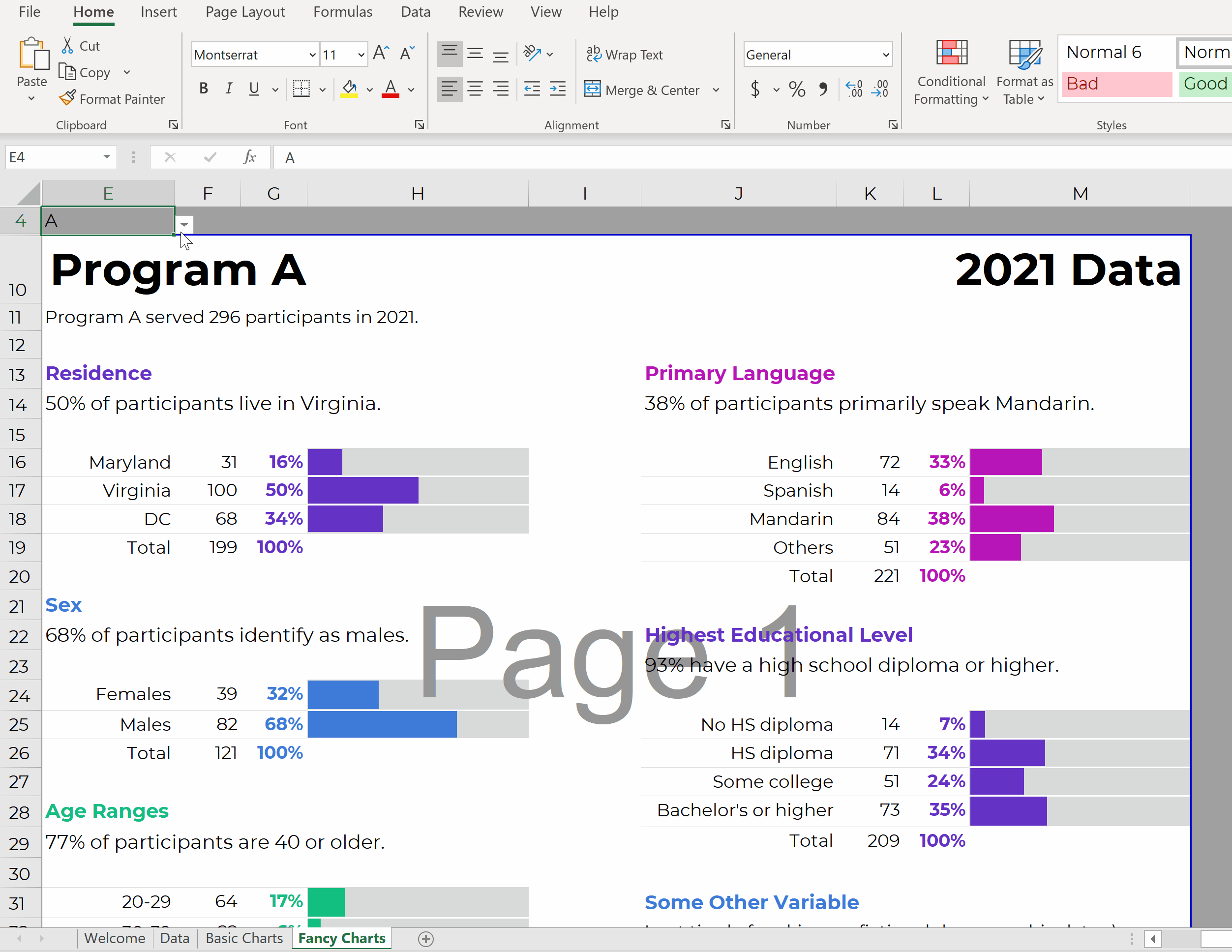 Case Study 2
4 lessons; 60 minutes
Next, you'll use a fictional dataset to build a series of matching dashboards for social media data.

Captions on All Videos
By popular request, all our videos have been captioned.


Spreadsheets to Download
You'll follow along as we build dashboards together.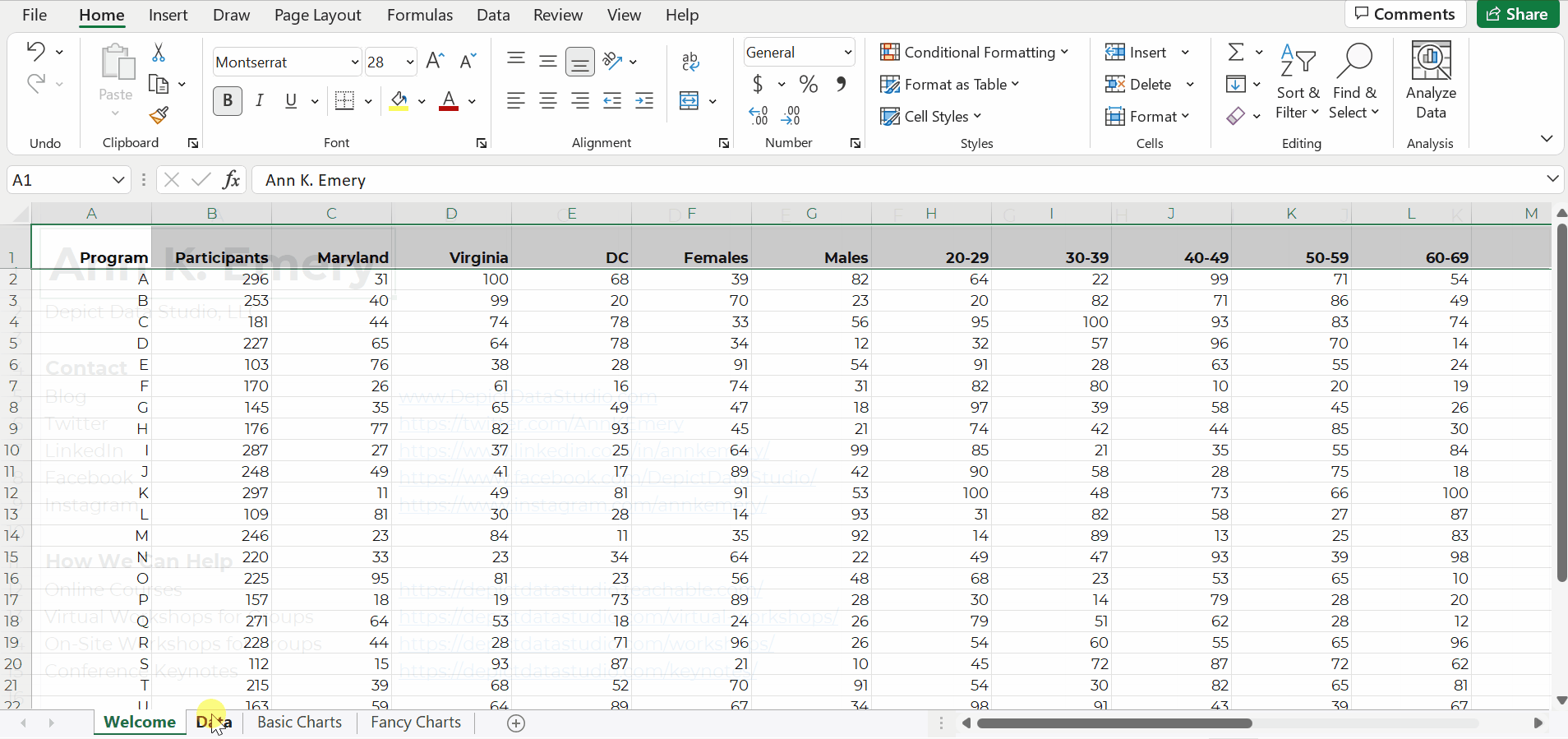 Data Vizards Community
You'll be invited to join our students-only group on LinkedIn.
Inside, you can:
Post screenshots of your draft reports, slideshows, or dashboards and ask others for feedback
Share tips, tricks, and links of your own (Figure out something cool in Excel? Share it with us here! Listen to a great dataviz podcast? Let us know!)
Post your resume (if you're job-hunting) or post a job opening (if you're hiring)
Network with fellow researchers, evaluators, analysts, and data people of all experience levels and skill ranges

Discussion Boards to Ask Questions
Every module includes discussion boards where you can ask questions, comment on the lessons, and share your own tips with the community.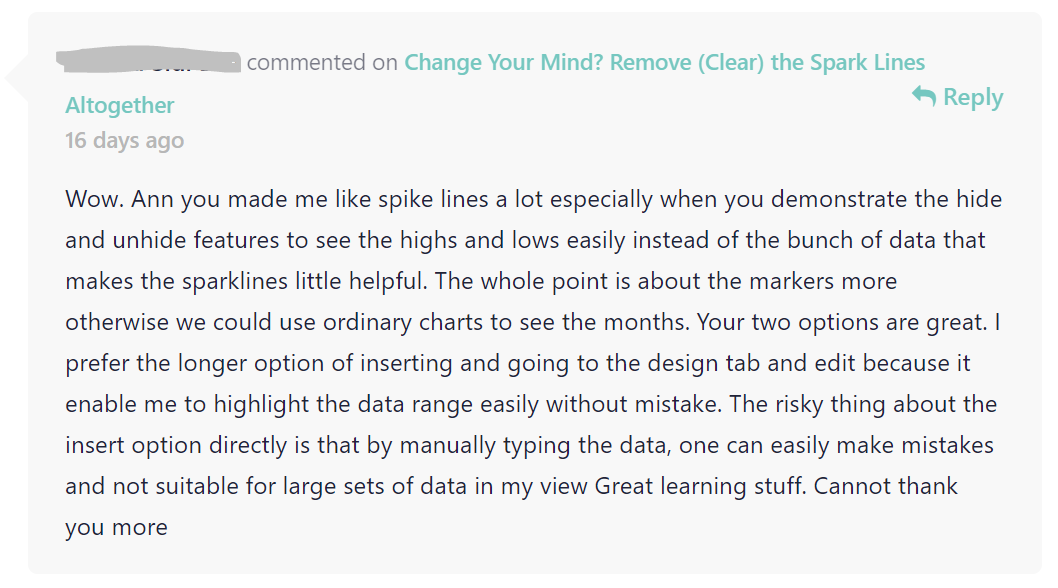 Certificates of Completion
Build your resume and share it on social media.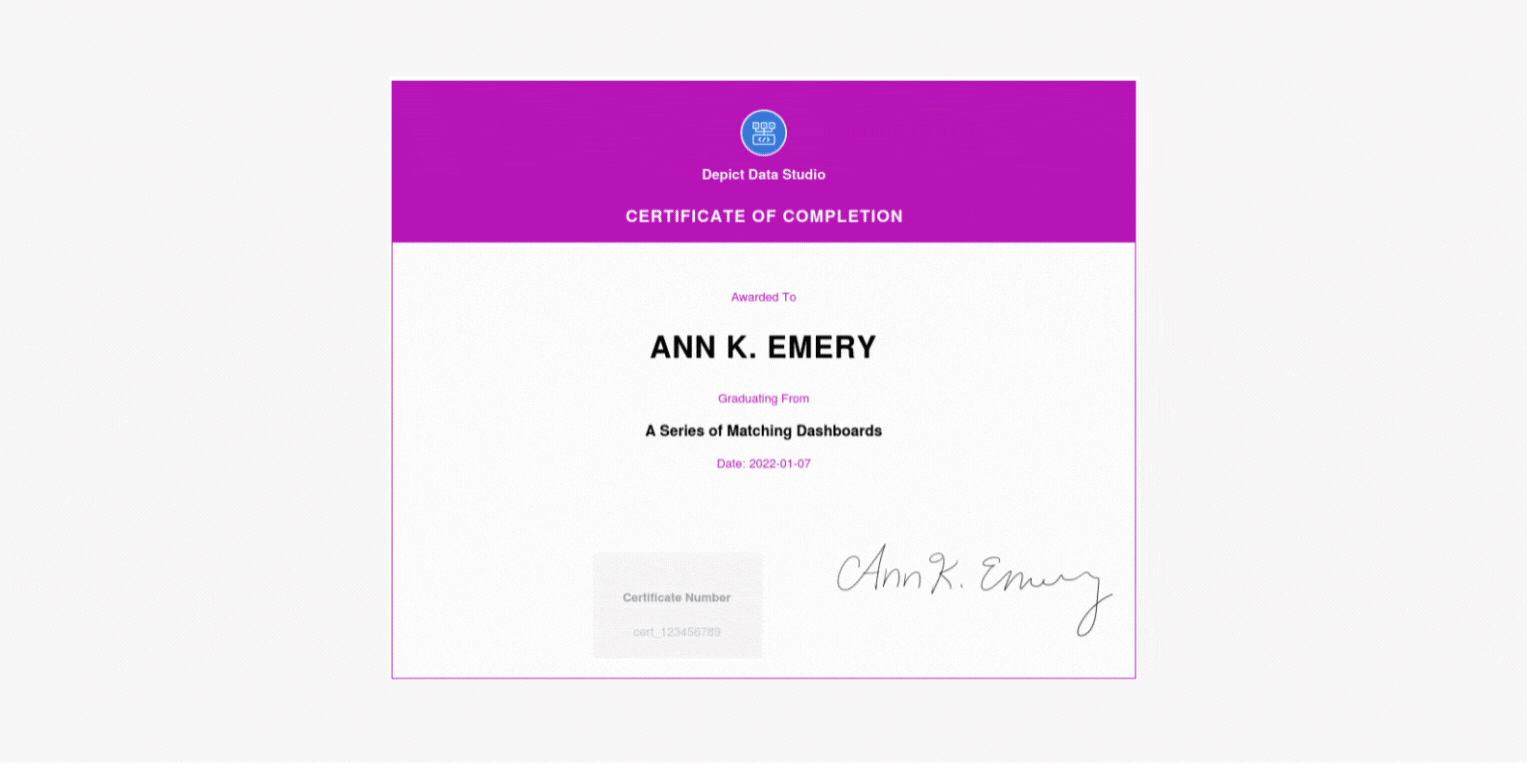 Time Required: Half a Day
There are two case studies inside the course. You can watch the videos and follow along with the spreadsheets.
If you've got advanced Excel skills, you'll only have to watch the videos once. In that case, the course will take about 3 hours to complete.
If you've got beginner or intermediate Excel skills, you'll need to watch the videos a few times. Pause. Rewind. Re-watch. Take your time.
What Participants Are Saying
9,000+ participants from around the globe have taken our online courses since 2018.
Here's how those researchers, evaluators, scientists, and professors are describing our courses.

"I work at a grantmaking organization and it is my job to update the board three times a year on the grant applications we are considering for awards, the grantmaking budget, and other information...
Fortunately, after completing about 70% of the Dashboard Design course, I was able to revitalize a tired spreadsheet into an information powerhouse and a colorful budget visualization into a professional presentation.
It's the same information, just presented differently!...
This resulted in a much more well-received document with lots of compliments from board members!...
The lessons were fun and I was able to put my skills to the test in a matter of weeks!"
- Kristen Summers, Senior Grants Manager, Saint Luke's Foundation, Dashboard Design participant

"The outcome: More effective use of data in decision-making.
Our new performance monitoring dashboard has made it so much easier for our team to review quarterly progress in one place and visualize how our system of early childhood programs are working for children and families in the county. The dashboard has become a quarterly staple at our staff meetings, where we review as a group and use the data to generate next steps.
It is also easy to share with senior leadership, so they can see at-a-glance the important work our programs are doing."
- Shawna Rohrman, Ph.D.,, Evaluation Manager, Cuyahoga County Office of Early Childhood, Dashboard Design participant


Your Instructor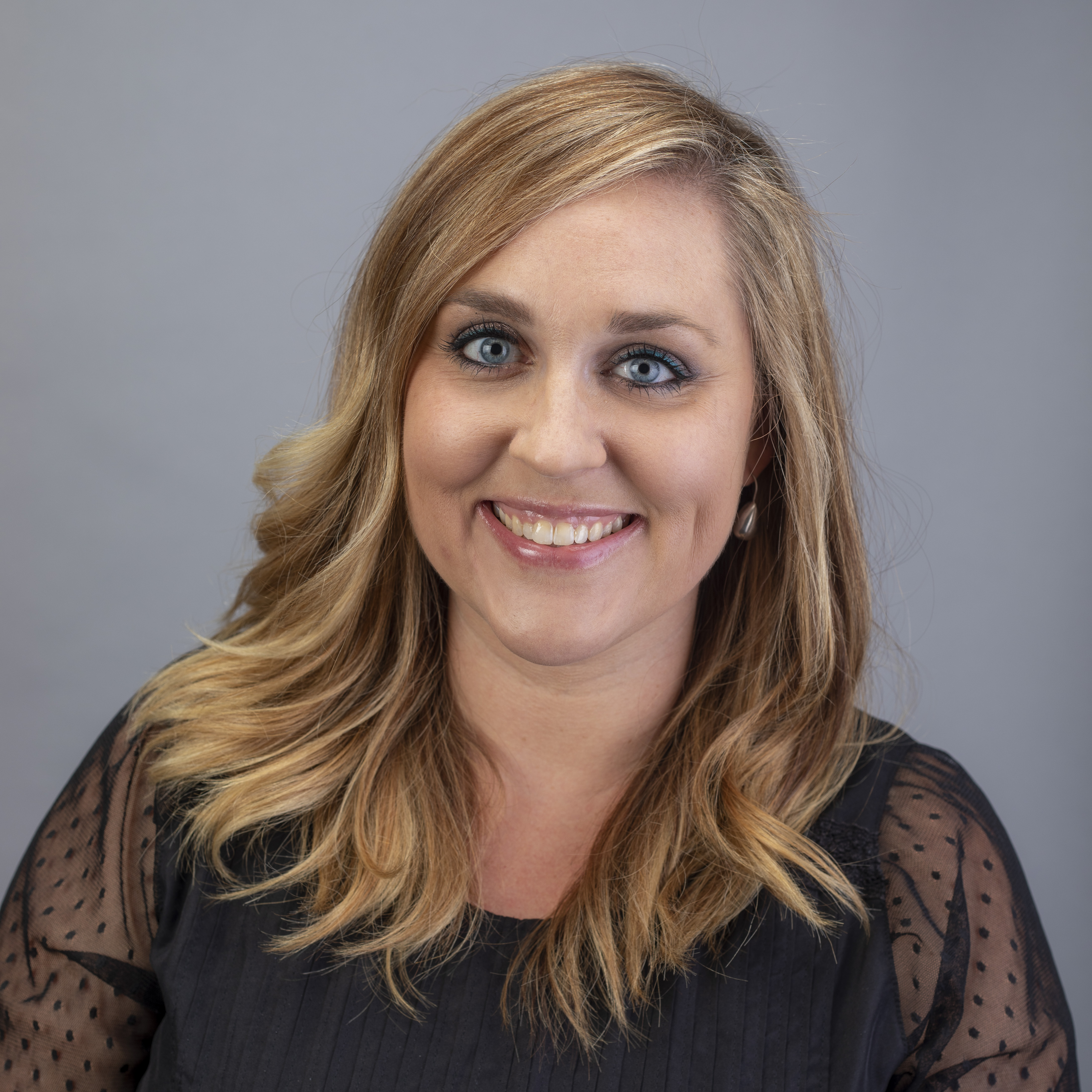 Ann K. Emery is an internationally-acclaimed speaker who equips organizations to get their data out of dusty spreadsheets and into real-world conversations.
Each year, she delivers over 100 keynotes, workshops, and webinars with the aim of equipping organizations to visualize data more effectively.
She has been invited to speak in 30 states and 11 countries; 9,000 people have enrolled in her online training academy; and she has consulted to 200 organizations, including the United Nations, Centers for Disease Control, and Harvard University.
She earned a Bachelor's degree from the University of Virginia and a Master's degree from George Mason University.
After traveling full-time as a digital nomad, Ann now resides in Florida along with her husband and fivechildren.